I found myself beginning to write this short comics essay during the summer of 2020, as Black Lives Matter protests filled the headlines of the day. Very much inspired by the political essay comics of Nate Powell, I sought to share my personal reflections as I grappled with how to process the acts of the Trump administration and the GOP / conservative supporters who have backed this utterly vile man. The poetic refrain from an Alan Moore Swamp Thing story arc echoed in my head. Knowing that there are no simple answers to the philosophical question of Evil, I present to you my train of thought on the subject – with acknowledgement to the original artists I homage here, who illustrated Swamp Thing #47 for DC Comics, Stan Woch and Ron Randall, as well as Swamp Thing #50, illustrated by Stephen Bissette, John Totleben, and Rick Veitch.
We have read many essays by now detailing the countless atrocities of the Trump administration and the Republican party. (Even now, the Republicans seek to curb voting rights in the USA.) My aim in this piece was to attempt to present a new angle on all this, and to emphasize some examples that we haven't already seen listed many times before. Last week revealed that Trump's own former Chief of Staff John Kelly attests that Trump insisted: "Well, Hitler did a lot of good things." The final sequence in my essay comic asks the reader to consider that the Republicans have consistently enabled (and let off the hook) a man who is absolutely the kind of historical figure that tends to nudge forward horrible, mass destructive events.
(Click on the individual images below to open into a larger view. Alternatively click on the first image and then use the side left and right arrows to navigate backwards and forwards).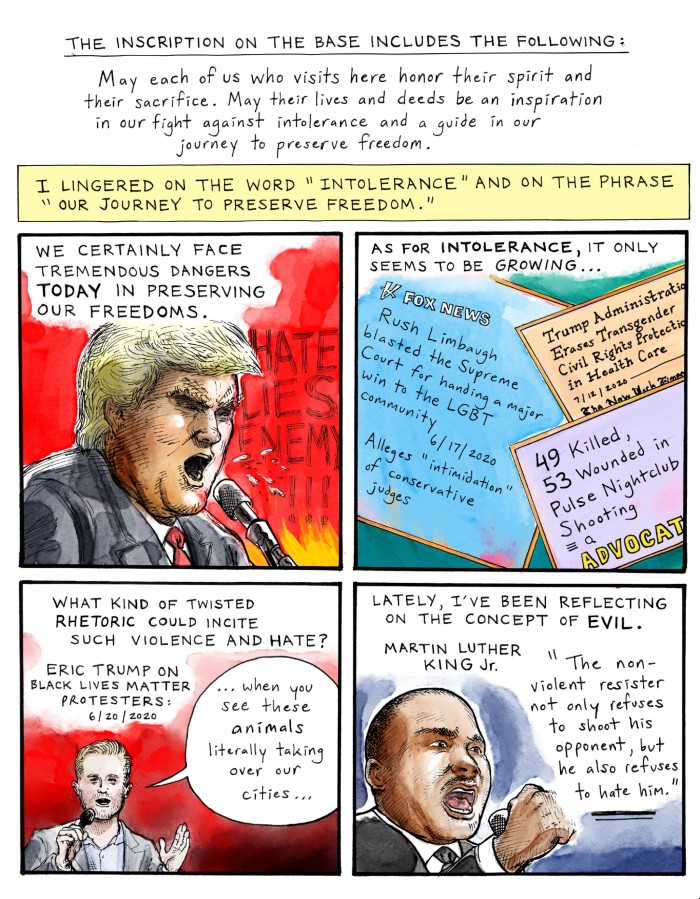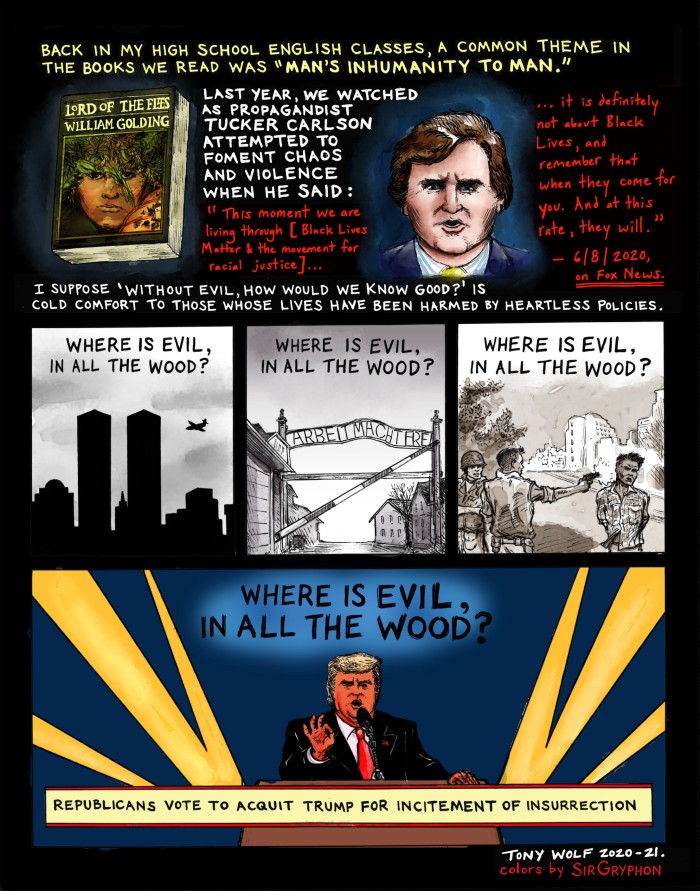 Tony Wolf is a comics creator and actor in NYC. He has written & drawn 4 comics for The New York Times, and had comics featured in New York Magazine's Vulture and The New Statesman. He can be seen in an upcoming role in Season 4 of The Marvelous Mrs. Maisel later this year. Find him on Twitter & Instagram at @tonywolfness. www.tonywolfactor.com
Thomas Gryphon aka SirGryphon is an artist, colorist, and graphic designer in NYC. He has colored & formatted many comics with Tony, including 3 New York Times pieces and "Greenpoint of View." He co-owns a comics shop, Anyone Comics, with Dimitrios Fragiskatos in Brooklyn, NY. Find him on Twitter & Instagram at @sirgryphon and his store's site: www.anyonecomics.com
Article by Tony Wolf