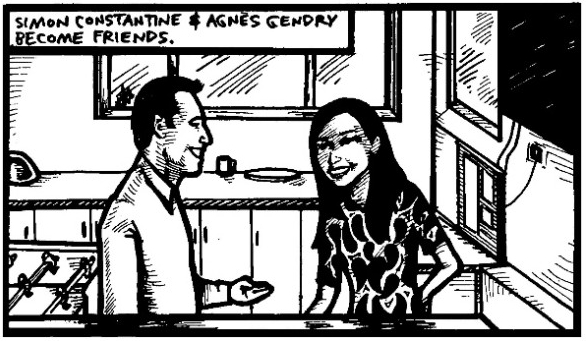 On the Trail of Sandalwood Smugglers was the first graphic novel published by Lush Comics, an imprint of the Lush cosmetics company, earlier this summer. The book is an account from two of Lush's buying team – Agnès Gendry and Simon Constantine – of what the pair uncovered when investigating the illegal activities that have built up around the trade in sandalwood, a much desired aromatic wood that is an essential ingredient in a number of their fragrances.
Gendry and Constantine's collaborator on the book is Chicago-based artist Steve Krakow, aka Plastic Crimewave, who brings to life this "true tale of deceit, duplicity and decapitation". Following a global route that includes stop-offs in New Caledonia, Australia and India in search for sustainable supplies of sandalwood, On the Trail of Sandalwood Smugglers fits neatly into the graphic journalism genre, as we discover the lengths criminal elements will go to in order to further their unlawful interests in the trade. It also recounts the history of notorious bandit smuggler Veerappan whose two decades of involvement in illicit sandalwood dealings – amongst many other crimes – would take in beheadings, and even the kidnapping of Bollywood star Raj Kumar, before his criminal reign of terror came to an inevitable violent end.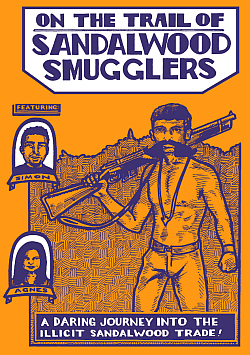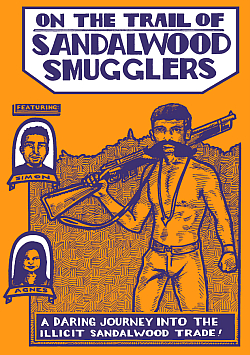 Complementing our review of On the Trail of Sandalwood Smugglers here at Broken Frontier this year, I took the opportunity to chat with co-writer Simon Constantine and artist Steve Krakow/Plastic Crimewave about how a cosmetics company entered the graphic novel market, the dangers of investigative journalism and just why comics as a form was the ideal medium to bring these issues to a wider audience…
BROKEN FRONTIER: The graphic novel centres on the sandalwood trade and the illegal activities that have built up around it. To provide some context for those unaware of the value of this highly sought after aromatic wood can you give us some background on the use of sandalwood, why it is such a valuable commodity and the intrigue that surrounds it?
SIMON CONSTANTINE: Sandalwood is a widely used fragrance material, valued in fine fragrance for many years. Not only this but its  cultural significance throughout much of Asia as incense, in ceremonial use and also in tobacco and toothpaste flavours, means stocks have been put under considerable strain. As such governments, especially in India, have struggled to regulate its use and illicit black markets have sprung up around the collection and distribution of sandalwood.
To coin a phrase, you're the heroes of your own story in the pages of On the Trail of Sandalwood Smugglers. Given that, could you tell us a little about your roles for Lush and the type of investigations into sandalwood smuggling that the book recounts?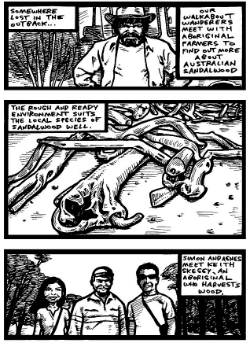 CONSTANTINE: I am Head Perfumer at Lush, working on developing new fragrances for our products, and more recently working with my Dad (Mark) on our fine fragrance brand, Gorilla perfumes. Sometime ago it became clear that we needed to be more thorough with our sourcing of materials and I began working with Agnes to learn more about where materials come from, how they are grown and who grows them. This has led to a 10 year investigation of sandalwood, meeting smugglers, tribespeople and even visiting illegal factories. All in an effort to build up a true picture of the industry we are involved in.
What was it about comics that made you feel it was the correct medium to tell this story? What did it offer that other forms of storytelling couldn't?
CONSTANTINE: The story unfolded in rather a messy way over 10 years and it seemed that a comic would be a lively and engaging way to pull this story together. Using Steve Krakow's unique artistry and style meant we could build this true story incorporating light humour and heavy subject matter with ease. Plus we look better as comic characters!
With the exception of artist Steve Krakow, aka Plastic Crimewave, this was the first comic project for all involved. How steep a learning curve was it? What challenges were there in adapting this particular narrative to the comics format?
CONSTANTINE: Of course it was a steep learning curve, and Steve really earned his money working with us. I wouldn't say it was a straight path, more a winding road of additional pages, re-works and a little confusion, but we got there in the end. The narrative evolved as we gained a clearer idea of how we wanted to tell the story and the style of writing.
There are four individuals credited in various capacities on the writing duties for On the Trail of Sandalwood Smugglers (Agnès Gendry, Simon Constantine, Plastic Crimewave and Matt Fairhall). How did the collaborative process between you work in terms of plotting, scripting and adapting events to the page?
CONSTANTINE: From my perspective, we worked collaboratively to first bring the story to one place and then craft that into a readable and engaging comic story. We met and talked regularly and I think everyone pulled their weight, although the ultimate work lay with Steve's artistry.
A graphic novel published by a cosmetics company is something of a unique proposition. Were eyebrows raised at Lush when telling this story as a comic was first mooted?
CONSTANTINE: We are a company that does many eyebrow-raising things, this is quite tame in comparison!
For such serious subject matter there's a certain pronounced level of humour throughout the book in the form of sight gags and good-natured banter. Were you consciously trying to balance some of the darker aspects you were reporting on with a lighter style of narration?
CONSTANTINE: Unfortunately I did read too many Beanos and Dandys growing up in the UK. Similarly Lush has a certain comic book pun and innuendo streak running through its product names and campaigns (think products like Lovely Jubblies or our anti-hunting campaign 'the hunts are still at it'). As a consequence it seemed inevitable that this would find its way into the comic book. Also, the aim of this book is to engage people on ethical purchasing. All too often this is done in a grave and solemn style and, not making light of the realities, it's important that people can feel a part of this tale and realise that their purchasing power can change things.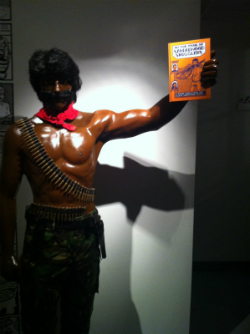 The notorious sandalwood smuggler Veerappan (who made an impression, left, at the book's launch in August…) is a notable figure in the second half of the book with a longer form account of his life, activities and death that underlines the violence inherent in this world. How aware were you during your investigations of the element of personal risk you were undertaking? Was it a constant presence?
CONSTANTINE: Personally I was less aware than I should have been. When the blacked out Mercedes picked us up we realised we were a long way from home. But overall risk is an element of the job and there were really only a handful of instances where we felt uncomfortable and we removed ourselves relatively quickly.
Moving over to Steve/Plastic Crimewave for a moment – your visuals on the book have a distinctively underground vibe to them. How has the world of comics informed your approach to your zine work on Galactic Zoo Dossier and your newspaper strip Secret History of Chicago Music?
PLASTIC CRIMEWAVE: Yes, I grew up training myself to become a comic book artist–first mostly with mainstream superheroes, through the edgier ones like Daredevil, New Gods, Dr. Strange, etc. Then I discovered underground comix around age 12 or so, and had my mind expanded a bit. Crumb, Kim Deitch, Moebius, Alan Moore and others showed me there was a lot more to comics than super-types…
How did you become involved with On the Trail of Sandalwood Smugglers? And given that the book is a very personal account of events what challenges did you face in bringing Agnès and Simon's adventures to life?
PLASTIC CRIMEWAVE: Having previously drawn a short comic for Lush/Gorilla Perfumes and designed most of their perfume labels, I was asked to do this project from its inception. It was challenging at times to be able to capture Simon and Agnes' experiences, so there were a lot of revisions, changes and back and forth to get things right. The factual info on Veerappan I was able to script myself and capture a bit more easily.
Have you any other upcoming comics projects in the works in the near future that we should be looking out for?
PLASTIC CRIMEWAVE: I just had a very personal yet out-there comic release come out, Speed Guru vs. Plastic Crimewave (right), which is a somewhat factual yet ridiculously cosmic tale of my history with Japanese psychedelic music legends Acid Mothers Temple, who co-scripted. It comes with a 45 of collaborative sounds as soundtrack, and was packaged like the 70s comic/record sets of my youth.
And, finally, what plans do you have for the future of Lush Comics? Have you had any thoughts about subjects for a follow-up?
PLASTIC CRIMEWAVE: There have been a few hints…but….? Excited to see this graphic novel translated into multiple languages soon at the very least!
CONSTANTINE: We are wondering if rosewood may make a good tale; Amazonian river pirates, death threats and explosions so far. But we'll let you know….
On the Trail of Sandalwood Smugglers is available from the Lush site here priced £9.95. Read the Broken Frontier review of the book here.