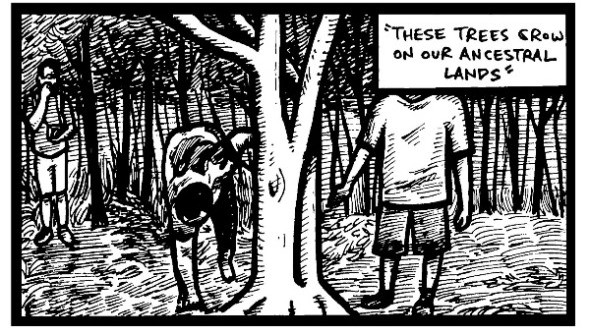 On the Trail of Sandalwood Smugglers is proof positive of the advantages of graphic journalism as a tool to educate and enlighten.
The power of sequential art as a means of economically conveying complex ideas, or efficiently summarising the salient points of topical issues, needs no elaboration to champions of the form. From Joe Sacco's influential, first hand, on the ground reportage to Daryl Cunningham's deft ability to précis the pertinent concerns of a given debate in books like Science Tales, graphic journalism – like graphic memoir and graphic medicine – is one of a number of uses of the medium in recent years that has firmly caught the imagination of a previously non-comics buying public.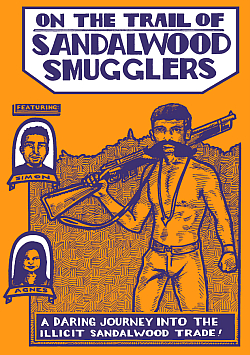 On the Trail of Sandalwood Smugglers follows in this tradition and is the first graphic novel published by Lush Comics, an imprint of the Lush cosmetics company. The book is an account from two of Lush's buying team – Agnès Gendry and Simon Constantine – of what the pair uncovered when looking into the illegal activities that have built up around the trade in sandalwood, a much sought after aromatic wood that is an essential ingredient in a number of their perfumes.
Billed as a "true tale of deceit, duplicity and decapitation" On the Trail of Sandalwood Smugglers takes a global route that will include stop-offs in New Caledonia, Australia and India as Gendry and Constantine search for sustainable supplies of sandalwood and discover the lengths criminal elements will go to in order to further their unlawful interests in the trade. It's at that final destination that we learn of the history of notorious bandit smuggler Veerappan whose two decades of involvement in illicit sandalwood dealings – amongst many other crimes – would take in beheadings, and even the kidnapping of Bollywood star Raj Kumar, before his criminal reign of terror came to an inevitable violent end. By the book's conclusion events have almost come full circle with a haunting reminder of just how dangerous this world can be for those caught up in its dubious web…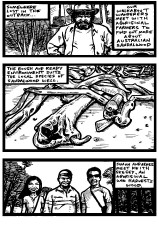 At around just fifty pages some may feel that this handsomely presented hardcover has only just begun to expand on on its fascinating subject matter by the time the reader reaches that final page. But Sandalwood Smugglers isn't so much attempting to give a comprehensive, all-encompassing dissection of the issue as it is trying to concisely introduce its audience to a topic they are almost certainly unaware of in an easily understandable format. In that regard there's an accessibility and clarity to this tale that communicates the significant core issues with a refreshing lack of pretension. By choosing comics as their method of delivery the Lush team have given the account a jaunty pacing it may not have had otherwise, allowing us to become invested in the personalities of its protagonists in a way that a dry appraisal of the facts in prose could never have allowed.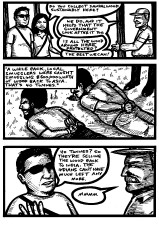 For such a serious subject it may surprise some to hear that On the Trail of Sandalwood Smugglers has an often very lighthearted tone that, in the circumstances, should feel quite incongruous but instead gives the narrative its own quirky, individualistic voice. The humour surrounds the two leads and ranges from unlikely visual jokes to linguistic running gags, with variations on "redolent rovers" and "wafty wayfarers" to describe Gendry and Constantine having their own repetitive charm. Whether the individual reader finds naiveties in some of the storytelling techniques the book adopts will depend on whether or not they find the use of comics conventions that have lost favour in recent years – like the heavy use of expository captions or the inclusion of thought bubbles – to be endearingly retro or stylistically anachronistic. Personally I'm in the former camp and feel it furthers this graphic novel's distinctive sense of identity.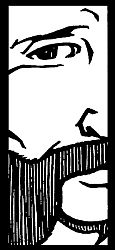 Chicago-based artist Plastic Crimewave illustrates the action with a noticeable underground vibe. His ability to mix high drama with playful moments of visual jocularity without undermining the narrative's authority is apparent throughout. The concluding section on Veerappen, for example, balances pop cultural imagery (an initial illo with all the trappings of a '60s/'70s super-hero comics splash page) with a more subdued and careful journalistic approach to the ensuing recounting of events.
On the Trail of Sandalwood Smugglers has a simple mission statement behind it. It's looking to inform its audience by utilising the particular strengths that comics have as a form in quickly communicating the gist of relatively involved issues. This isn't, perhaps, a sophisticated or overtly intricate use of the form but it is an effective one, and proof positive of the advantages of graphic journalism as a tool to educate and enlighten.
Agnès Gendry, Simon Constantine, Plastic Crimewave & Matt Fairhall (W), Plastic Crimewave (A) • Lush Comics, £9.95 
On the Trail of Sandalwood Smugglers is available to order online from the Lush site here.