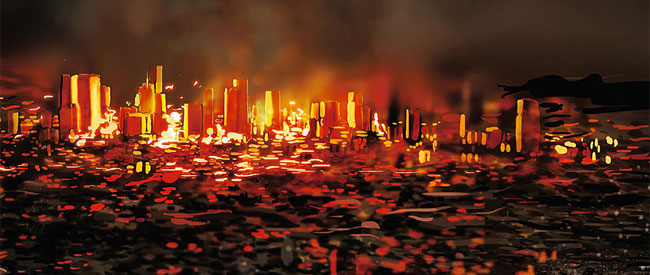 Something is certainly growing out of control in the first issue of Wildfire, by Matt Hawkins and Linda Sejic. But I'm not sure it's just genetically modified dandelions…
Wildfire, written by Top Cow publisher Matt Hawkins and illustrated by Linda Sejic, hasn't received quite as much fanfare as a lot of this year's Image titles, but its pitch – an examination of the ethics of genetically modified foods projected onto an eco-catastrophe thriller – appealed to me.
Sadly, the execution of the comic didn't live up to the anticipation.
We hit choppy waters within the first three pages of the book, with an instant pile-up of three fairly clichéd narrative devices: the newsreader info dump;  the flash-forward-to-something-exciting opening (LA ablaze, then "3 days earlier"); and the Heated Televised Debate that unpacks – at length – both sides of the argument that's going to be played out.
That debate is over the development and commercialisation of genetically modified organisms – especially in the food industry. On one side is a familiar figure: the idealistic scientist who's made a Faustian pact with Big Business, taking their money in the hope of making a breakthrough that will benefit humanity as a whole. On the other is an activist who sees problems with the possibility of one corporation patenting basic foodstuffs and gaining what could be a monopoly position over their production.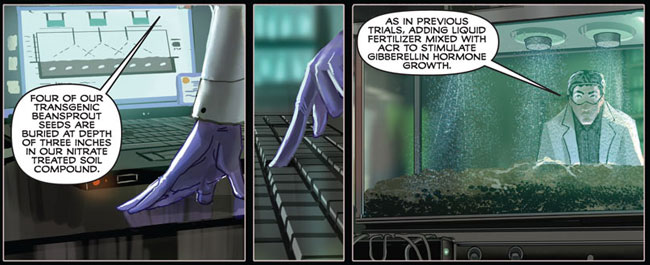 When the debate gets a little overheated, our scientist makes a few inflated claims for the work they're doing – work that the megacorp, Biogenesis, then feels the need to showcase.
As they hurriedly prepare their public demonstration and one of her team asks "You want us to showcase a plant we've not tested on yet?", you get a good idea of where this comic is going.
This first issue isn't the zippiest of reads, characterised by stodgy narrative that's laden with scientific jargon and extraneous dialogue; Linda Sejic is given little to do in the way of visual storytelling.
She introduces a few dynamically styled panel borders to give the impression of drama, but even that effort is undercut by the slight awkwardness of some of her character work and the gloom into which her sludgy colouring sinks the pages.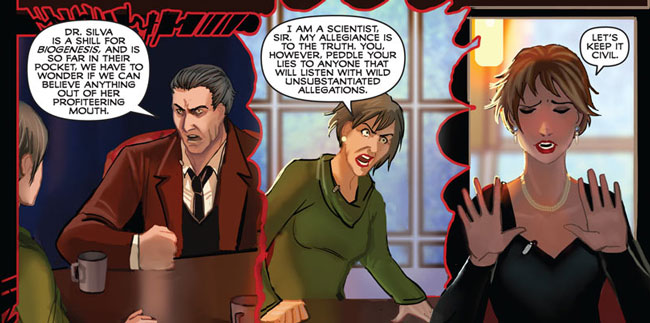 But more than anything, if you look at the pages from a little distance, what you see is speech bubbles. Big speech bubbles. Lots of them. If anything is growing out of control in Wildfire, it's not just genetically modified dandelions.
Maybe the status of Hawkins at Top Cow deterred the rigorous editorial guidance that this book badly needed, but there's no doubt that it would benefit from a much leaner style.
However, despite its ham-fisted execution, I wouldn't want to extinguish Wildfire just yet. It's a worthy attempt to examine a very relevant topic that might just be redeemed by its clear seriousness of purpose, as well as the perennial appeal of the eco-disaster genre.
It'll need to have its DNA modified a bit first, though.
Matt Hawkins (W), Linda Sejic (A) • Top Cow/Image Comics, $3.99, July 11, 2014