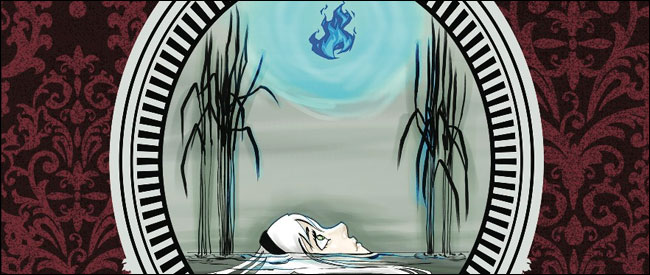 Creators Tom Hammock and Megan Hutchison take young readers into the world of Louisiana Hoodoo in this typically handsome volume from Archaia.
Since their merger last summer, the LA-based Archaia Entertainment and BOOM! Studios have been making some ambitious plans to push themselves up the comics food chain.
As well as an interesting range of floppies, including Curse and the high-profile Hacktivist, they're continuing to publish lovely volumes like this – a lavishly produced 224-page tale of Louisiana Hoodoo for young adults, written by Tom Hammock and illustrated by Megan Hutchison.
Once you get past the hardback cover, with its lockable clasp, and marbled endpapers (and Scott Newman deserves a nod for the book's design), you find yourself thrown into the story of the freshly orphaned Aurora Grimeon – a character for whom her creators and publisher clearly have high hopes.
After her parents fatally forage the wrong mushrooms for their pasta sauce, Aurora finds herself packed off to remote swamp community of Ossuary Isle to live with her eccentric and distant grandfather Silver – her only remaining relative.
When she arrives, she lands in a society ruled by Hoodoo – the mix of "spiritual traditions, folklore, superstition, botanical knowledge and folk magic" practiced in the southern US. More dramatically, she also finds herself menaced by a mysterious presence in the swamps – a murderous entity that manifests itself as the blue fire of the title.
As local inhabitants start to disappear, Aurora, her grandfather and the local 'wise woman', Mama Nonnie, peel away the layers of the mystery, revealing that the Grimeon family – and Aurora herself – are at the heart of it.
As you'd expect given Hammock and Hutchison's shared background in production design, the book looks gorgeous. Hutchison's artwork has the atmospheric polish of film animation (and the odd panel does look like a video still), but there's also a lot of nice comics craft, in terms of layout and pacing: it's not just a movie pitch.
The creators' confidence in their strong visual storytelling also means they're not afraid to leave lengthy action sequences 'silent'; Hammock does well to resist the temptation to give the book a more florid faux-literary feel to match the packaging.
Aurora herself is quite an appealing character, primarily for her striking, vogueish goth-tinged design. She keeps the teenage smart-arsery to a minimum, but there's also a sense that she's a bit of a blank beyond her striking appearance; she spends a lot of time asking questions and having things explained to her by Silver or Mama Nonnie.
And this is where I found my I biggest problem with the book: its almost total reliance on the superstitions of Hoodoo. I'm sure Tom Hammock is sincere in his wish, expressed in the introduction, to keep disappearing folk traditions alive. And it's hard to disagree with his pessimistic assertion that the world is becoming increasingly uniform.
However, for all the colour Hoodoo brings to the book, the sight of a community privileging superstition over science and reason leaves a bad taste. Even Silver, a man of reason who initially explains phenomena in natural terms, ends up surrendering and admitting that his pesky new-fangled 'science' can't compete with the tried and tested lore of Hoodoo.
Now I know this is essentially 'fantasy' fiction, and it's a little unfair to unload all of this on Hammock and Hutchison's generally enjoyable and charming book, but we're already living in worrying times for rationalists (with the theory of evolution under attack in the educational system, to cite one prominent example). Science and reason need all the support they can get, not further marginalisation.
Another problem with the ubiquity of Hoodoo in the story is that it ends up like the sonic bloody screwdriver in Doctor Who: every time Aurora and the islanders face a new threat or mystery, Mama Nonnie can pull some fresh little ritual out of the bag to combat or solve it. Conversely, every time the stakes need to be raised, a new supernatural threat or complication can be conjured up.
Anyway, despite that rant, Will O' The Wisp is a substantial and engaging book that should find an eager audience among fantasy-hungry young readers. We probably haven't heard the last of Ms Aurora Grimeon.
Tom Hammock (W), Megan Hutchison (A) • Archaia Entertainment, $24.95, January 2014