Another month, another guest-artist filled D&D! The Gosh! Comics and Broken Frontier Drink and Draw is back this coming Tuesday May 23rd with another top trio of artistic talent in Korinna Mei, Woodrow Phoenix and Hamish Steele.
We're once again at our current home, upstairs in the Coach and Horses pub on Great Marlborough Street. Your convivial co-hosts for the night are myself (Broken Frontier Editor-in-Chief Andy Oliver) and Gosh's very own Nora Goldberg. The evening begins at 6.00pm at Gosh on Berwick Street before we head off for our sketching and drinking antics at 7pm. Don't forget you can join the official Facebook event here.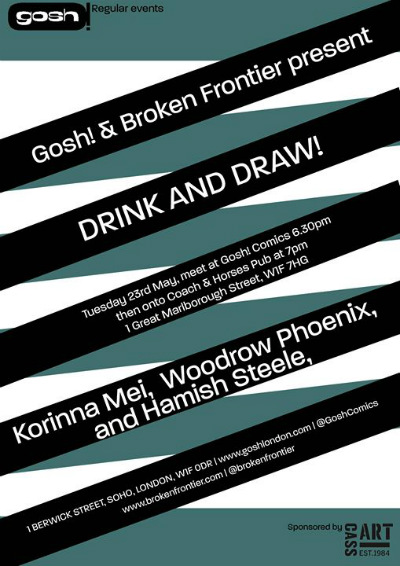 If you spotted the slightly earlier pre-D&D start time at Gosh that's because artist Korinna Mei will also be launching the first issue of her new series LDN 2050. This futuristic series "follows an unappreciated CCTV operator, beleaguered by his boss and stuck with some less than ideal co-workers. One day while keeping an eye out for various wanted criminals, he spots a tagger about to be caught by the cops. He's able to help this young kids escape, but he must pay the cost. This starts the story of an unlikely pair." Catch Korinna on Tuesday and get a signed copy then!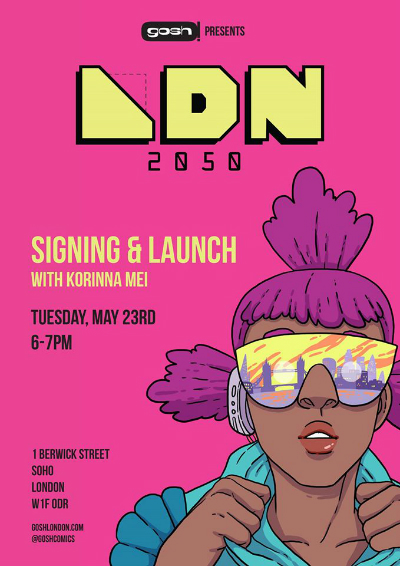 Woodrow Phoenix's achievements in comics are too numerous to do justice to here so I'm going to focus on just three of my fellow Myriad First Graphic Novel Competition judge's career highlights.
If you've ever heard Woodrow speak at an event then you will be aware of his passion for work that speaks the pure language of comics and uses storytelling methods unique to the form. That's self-evident in his own output. Woodrow was the creator who brought us Rumble Strip from Myriad Editions, a graphic exploration that both examined and asked difficult questions about our obsessional dependence on cars. We recently revisited the book here at Broken Frontier as part of our 'Myriad Week' celebration.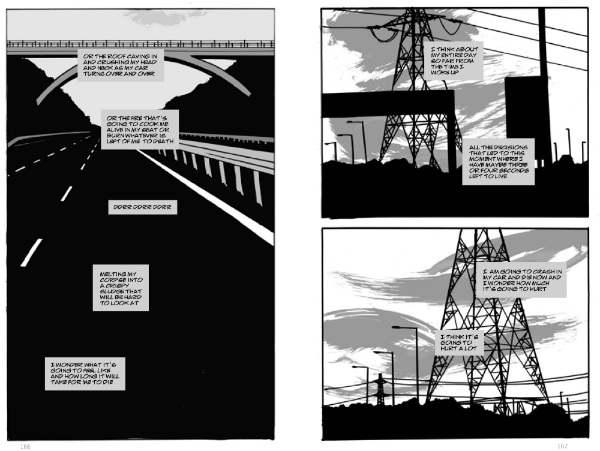 In 2011 he co-edited the hugely acclaimed and British Comic Award-winning Nelson with Rob Davis – a 54-creator extravaganza that told the story of Nel Baker from her birth in 1968 to the present day, focusing on one day in each year of her life. Its massive line-up of talent included Gary Northfield, Luke Pearson, Katie Green I.N.J. Culbard, Glyn Dillon, Simone Lia, Kristyna Baczynski, Adam Cadwell, Roger Langridge, Tom Humberstone and more.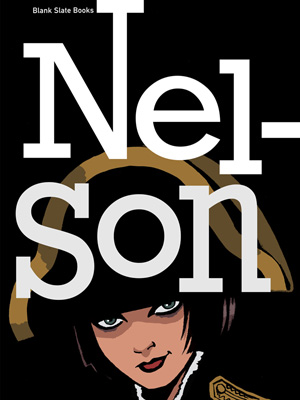 In 2014 we ran this piece about Woodrow's one-metre square book She Lives which has been exhibited at both the British Library and the Cartoon Museum. You can see more of this astonishing project below.
Hamish Steele's Pantheon was recently repackaged in a fabulous colour version by Nobrow Press. A deliciously ribald take on the Egyptian myths of Osiris and Horus I reviewed it here at BF saying "Describing something as hysterically funny is usually a strong indication of hyperbole in a review but it's not an inaccurate claim where Pantheon is concerned. Replete with a most beguiling wit, Hamish Steele's debut graphic novel is a frenetically paced and darkly comedic triumph." This is seriously one of your must-buy books of 2017 so far. Hamish will also be exhibiting at this year's ELCAF.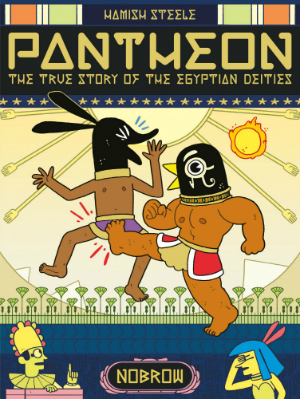 Join us next Tuesday night, then, for another fun evening of drinking, drawing and comics camaraderie. We kick off at 6.0pm in Gosh with both the LDN 2050 launch and a chance to get hold of signed comics and books from all our featured creators before moving over to the The Coach and Horses for 7. We look forward to seeing you then!
You can find the Facebook event group here.