We're back! Our fortnightly online Gosh! Comics and Broken Frontier Drink and Draw returns this Thursday, February 11th with guest artists Mereida Fajardo, Rebecca Burgess and Robert Wells – three creators who are all new to the D&D! Not only do our online D&Ds keep all those who would meet at The King's Arms in Soho, London every month (in those fondly remembered pre-March 2020 days) in regular contact, they also allow us to expand our reach for the event to a more global audience.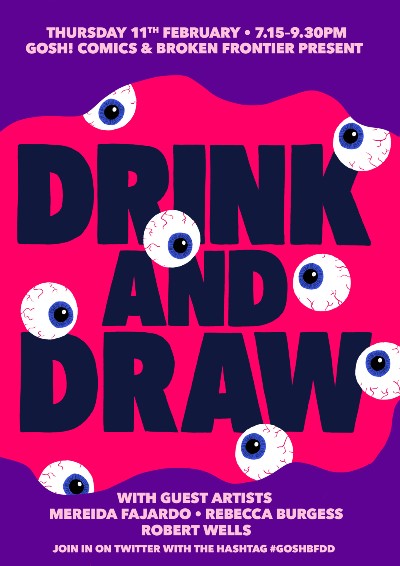 (Poster art, above, by Joe Stone)
We'll be starting a little earlier this week at 7.15pm to give everyone taking part on Twitter the opportunity to introduce themselves to each other as we look to foster an even stronger sense of community. Drawing rounds begin at 7.30pm UK time as usual.
So, once again if you're joining us online, here are the "rules"…
We're using our regular pub format, adapted for a digital platform. So if you've never attended one of our monthly sessions this is how it will work. Our guest artists will each choose a drawing theme for three sessions across the evening. We'll post each of these prompts with the hashtag #GoshBFDD in three batches at 7.30pm (GMT), 8.15pm and 9.00pm from both the Gosh! Comics Twitter account and the Broken Frontier Twitter account. You have 30 minutes to draw something fitting that theme, after which we'll spend 15 minutes picking a winner before the next round begins. Don't forget to post your drawings with the #GoshBFDD hashtag so everyone can see and join in. And also so we can easily retweet!
Time to meet our guest artists!
Mereida Fajardo is one of this year's Broken Frontier 'Six to Watch' artists. When we made the announcement at BF last week we said of her work: "Mereida has self-published a small number of short comics which we'll be looking at in the coming weeks at BF including Quivertree and Quark Soup, and also contributed to anthologies like Success and Progress from WIP Comics. Her work is diverse in approach and style, constantly surprising the reader with its playful manipulation of the medium. In short, exactly the kind of inquisitive new voice I love to champion through this process!"
You can follow Mereida on Twitter here and on Instagram here. Make sure to visit her site here and her online store here.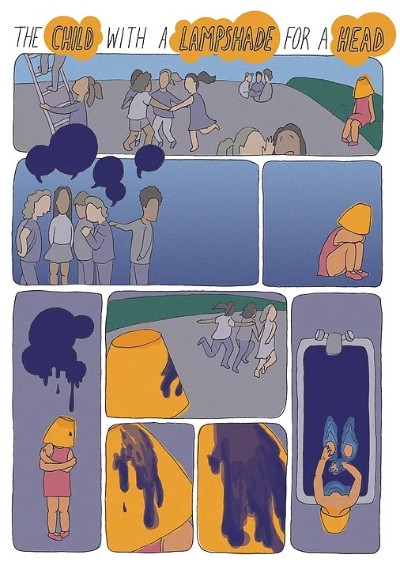 It's been an exciting few months of releases for Rebecca Burgess. Her graphic memoir How to Be Ace: A Memoir of Growing Up Asexual was published last year by Jessica Kingsley Publishers. It was described by our Holly Raidl as "informative and heartfelt" when reviewed here at BF last year. Holly also reviewed Rebecca's collaboration with writer Mark Dickson on queer all-ages graphic novel Cream Maid last month, calling it "an adorable, much needed and uplifting book."
You can visit Rebecca's website here and follow Rebecca on Twitter here and on Instagram here.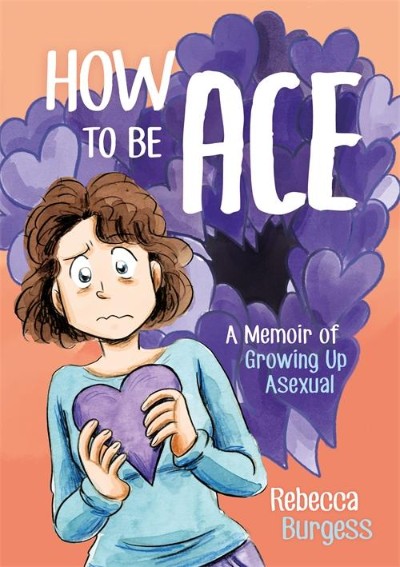 UK small press stalwart Robert Wells is a cross-genre comics creator whose work is often characterised by its deadpan or self-deprecating wit. A prolific self-publisher (check out or reviews of his recent small press collaborations genre parody Malty Heave with Phil Elliott here and the subversive "super-heroics" of Department of the Peculiar Goes POP! with Rol Hirst here) his first long-form work, the graphic memoir Back, Sack & Crack (& Brain) was published by Little, Brown in 2018. A raw and honest account of his own experiences with chronic illness we described it as a "debut book [that] puts the 'graphic' in 'graphic medicine' with a bleakly witty flourish. Not so much painfully amusing as excruciatingly, squirmingly and eye-wateringly funny" when we reviewed it here. 
You can visit Rob's online store here, and follow him on Twitter here and on Instagram here.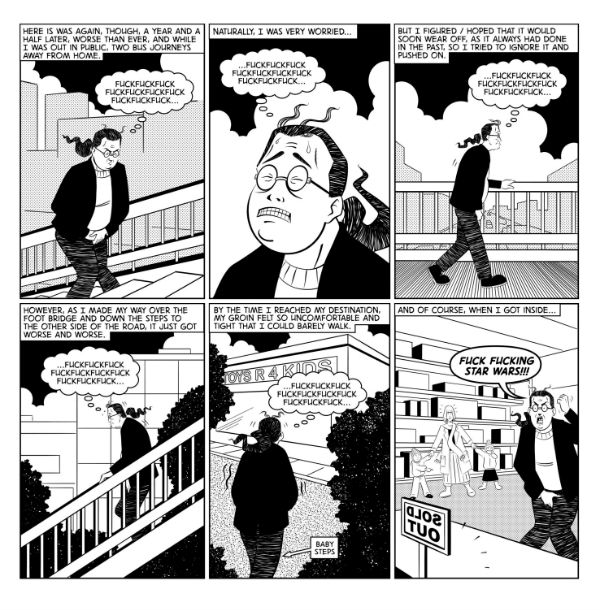 We'll see you all again on Thursday! Whether you're a regular or a newbie all are welcome so please do join in and be part of our international Drink and Draw fun! And if you enjoy this event why not check out the Gosh! Comics webstore here?