There are graphic narratives that exist to be experienced and absorbed rather than to be read and dissected in a traditional sense. Musician and artist Alexander Tucker's World in the Forcefield: The Godhead Saga from Breakdown Press is one such comic. Fragmentary and inexplicit in delivery it nevertheless touches on existential themes that its audience will connect with, even if their method of presentation is idiosyncratic and oblique in construction.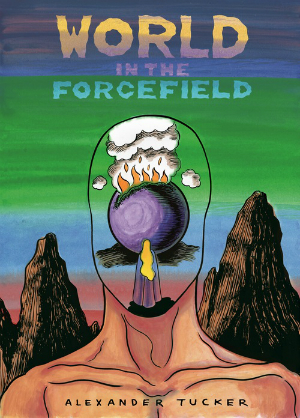 World in the Forcefield is set in a contradictory universe of capricious deities – a strangely desolate plane of supreme beings devoid of apparent worshippers whose inscrutable whims seem to govern its reality. It's here that we meet the brothers Blondy and Wold, destined to be separated by Wold's journey into the great beyond.
Both brothers will embark on their own quests of understanding on dividing sides of that titular forcefield. Wold travels off into space in astral form, encountering Death and attempting to deal with the profound disappointment of a distinctly lacklustre afterlife. Blondy, meanwhile, is making his own discoveries about the nature of his environment on a more terrestrial level.
There's a feeling of ennui that permeates this book, whether it's in the struggles of Blondy and Wold who seem to be helplessly swept along through their own narratives in a distinctly Gerber-ian fashion or in the actions of the god-like beings for whom eternity is characterised by its empty tedium.
That odd juxtaposition of the spiritual and the nihilistic is a firm part of the appeal of this often indefinable stream-of-consciousness narrative. Tucker's creative process (expanded upon in this interview with Paul Gravett) goes a long way to explaining how his initial almost haphazard world-building eventually coalesces into a more structured story.
On a more immediate level, though, it's his visual merging of the classically iconographic and the boldly pop cultural that catches the eye. In World in the Forcefield the Gods of antiquity sit side-by-side with omnipotent beings who could easily be taking refuge from the pages of a 1960s Marvel comic; echoes of the design sensibilities of Ditko and Kirby resounding.
There's something a little David Lindsay in this deliberately unfathomable world, and a meta self-deprecation in places that nods slyly in the direction of the observer with a knowing smile. A new creation mythology is forming here in often brashly unsubtle symbolism and metaphor, preaching of the insignificance and randomness of existence in a universe that we can never fully understand or perceive. That's all the more ironic given the dearth of mortal souls in these pages to hear its message.
Tucker undoubtedly makes his readership work to piece together the multiple inter-related strips and that thematic interpretation is often incumbent on the reader. Like Blondy, we too feel on the edge of a great discovery that remains tantalisingly just out of touch. In that regard World in the Forcefield's eschewing of narrative clarity will not appeal to every reader but there's a strangely captivating allure in the deific angst of Tucker's characters. A second volume is in the works. One can only hope it continues in as splendidly mystifying a fashion as its predecessor.
You can also follow Alexander Tucker on Twitter here and Breakdown Press here. You can order World in the Forcefield online here priced £10.00.
For regular updates on all things small press follow Andy Oliver on Twitter here.