EARTH DAY WEEK! What adds an extra layer of relevancy to World War 3 Illustrated's most recent themed anthology Frontlines of Repair is that it goes beyond just insightful commentary on the most important socio-political issues of the last three years by also exploring initiatives that can be taken to tackle our devastating effect on the planet, society and each other.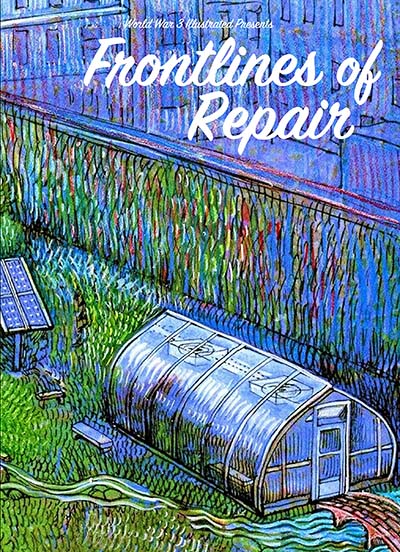 Founded by Peter Kuper, Seth Tobocman and Christof Kohlhofer in 1979, World War 3 Illustrated has evolved into an artist collective producing left-wing comics collections that examine the most relevant political questions of the day. Issue #52, Frontlines of Repair, does this from a multi-focussed vantage point, looking at the damage we continue to inflict on our world with work covering such subjects as climate change, the pandemic, police brutality, Black Lives Matter, the protest movement and the tyranny of capitalism. It's a compilation that is bold, uncompromising, righteously angry and, most important of all, both caring and community-based.
There are 30-plus creators involved in over 200 pages of comics and illustration work in Frontlines of Repair, something to bear in mind as I spotlight just a handful of the strips that particularly caught my attention here. As it's is our Earth Day Week event at Broken Frontier this week it's fitting to start with some of the material that has an environmental theme. While most of the work herein is either autobiographical or journalistic in approach Sabrina Jones' 'Frisco Makes a Mess' is an exception to that standard. Echoing one of Aesop's fables it uses the innocence of anthropomorphised animals like protagonist Frisco the rabbit to effectively communicate the importance of maintaining a symbiotic relationship with nature.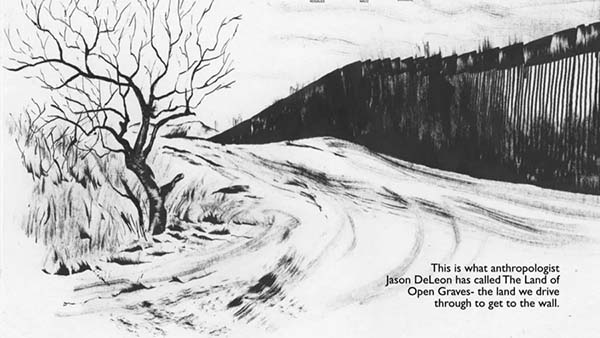 Kevin Pyle's 'Landmarks' (above) has a more psychogeographical slant, exploring humankind's interactions with the Sonoran Desert with a stark realism, including reflections on the wall between the US and Mexico, the lives lost there by those seeking a happier existence, and the Trump administration's outrageous destruction of sacred tribal sites. Paula Hewitt Amram's 'Water' really embraces the mission of the anthology with a short strip about four decades of community eco-activism that spotlights the kind of steps that can be taken on a personal level; each project described with a beautifully illustrated impressionistic tableaux realising it in visual terms. Terry Tapp's 'Fixin To'' culminates in a truly powerful piece of visual metaphor in its assertion that climate catastrophe is ignored because profits are more important than the future.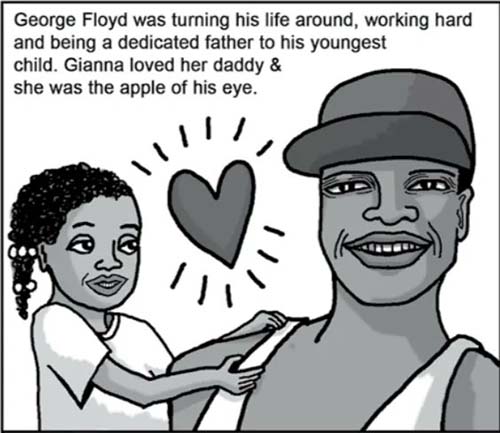 Understandably the pandemic gets much coverage in these pages with, once again, the prioritising of the economy over lives being underlined in Gianlica Constantini and Elettra Stamboulis's 'The Italian Journey' which details the early Covid breakout in Italy. Cristopher Cardinale's 'Mask UP NYC' is a reminder of the selfishness of those anti-maskers who considered their "freedoms" more important than the lives of their fellow citizens but also has some important points to make about police inconsistency on this issue. And Jim Liang in '55 Hours' uses cramped, multi-panel pages to give a feel of claustrophobia to his story of a marathon plane journey to get home to China during the initial Coronavirus outbreak in the US.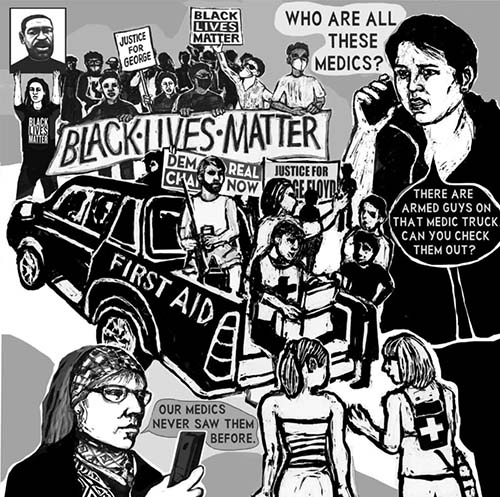 Social activism becomes a vital part of many of the narratives in these pages. 'Iconoclasm' is told from the viewpoint of an understandably anonymous source (art from Seth Tobocman, inks by Tamara Tornado and research from Maxine Allison Vande Vaarst) with Tobocman's angular, representational visuals giving a fitting feel of symbolism to this account of the pulling down of inappropriate statues. The power of protest and collective action is also central to Annabelle Heckler's 'Collectively Fabulous' and Susan Simensky Bietila's 'Who Are the Real Street Medics?' (above).
From Fly Orr's study of the life of George Floyd in 'Gentle Giant' to Sandy Jimenez's ruminations on the work-life balance in 'A Fitting End to All Vain Hopes of Normalcy' (above) through to Eric Jacobson's quietly powerful visual essay 'Mutual Aid: Or How People Can Work Together to Repair Community and Build Solidarity', Frontiers of Repair is comics activism at its finest and an excellent example of how the form conveys the lived experiences of others with empathy and veracity. The next volume is published this Spring.
Paula Hewitt Amram, Eric Drooker, Peter Kuper, Sue Coe, Vera Weinfield, Sabrina Jones, Isabella Bannerman, Kevin Pyle, Sasha, Sylvia, June Amram, Gianluca Costantini, Elettra Stamboulis, Carlo Quispe, Christopher Cardinale, Fly Orr, Seth Tobocman, Tamara Tornado, Maxine Allison Vande Vaarst, Susan Simensky Bietila, Tom Keough, Annabelle Heckler, Mark He, Ben Katchor, Kate Gerhart, Erik Jacobson, Volodymyr Bilyk, Natasha Konyukova, Mohammad Saba'aneh, Jim Liang, Rebecca Migdal, Terry Tapp, Jordan Worley, Sandy Jimenez • AK Press, $15.00
Review by Andy Oliver