In Wrecked Hearts, Luca Oliveri and Mathilde Kitteh present two complementary tales of love and loss set in the far future. Alternately heartwarming and heartbreaking, this thoughtful manga collection further establishes Sweden's Peow! Studio as a publisher to watch.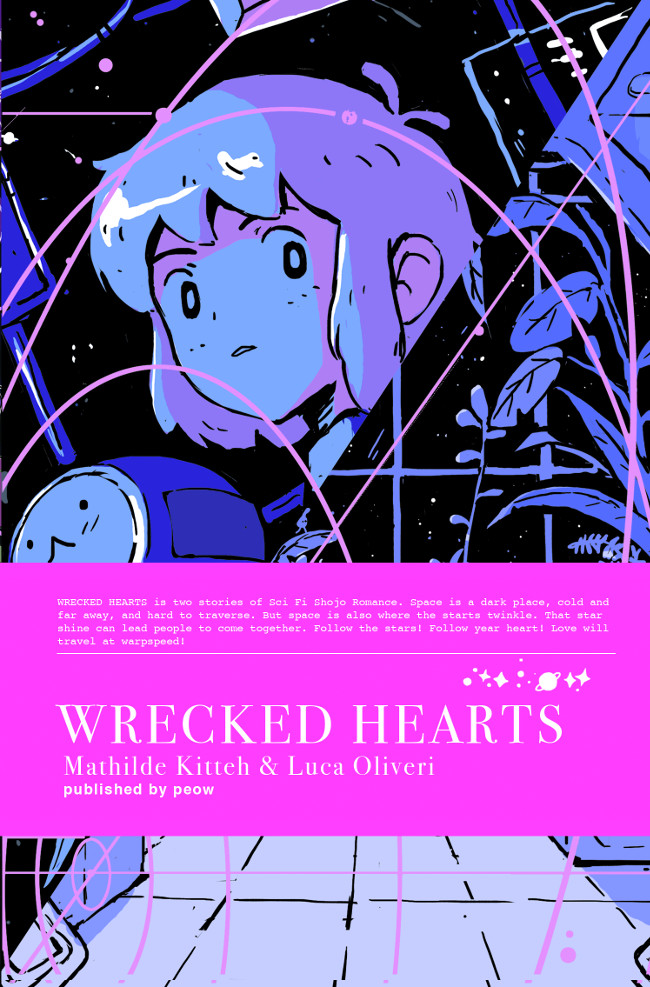 Science fiction is often concerned in some way with the body and what will be left of it in the years to come. How will the rise of artificial intelligence force us to reconsider what it means to be human? What modifications will be necessary to survive in a future where we can no longer trust our environment to provide the essentials for life?
Transplanting the terror and excitement of adolescence into this genre framework proves to be a remarkably natural fit. The characters in Wrecked Hearts aren't your usual protagonists: a shape-shifting alien schoolgirl, an android/cat who's also a celebrity travel-writer, and even an immortal goddess who's willingly surrendered her powers (and memories) to live as a teenage human girl. But the passions that drive each of them will be familiar to anyone who's ever felt their heart leap when that certain someone walks into the room.
In the first half of the book, 'The Real Thing', Luca Oliveri introduces us to a seemingly normal student named Fio – in reality, the metamorphic offspring of an extraterrestrial scientist assigned to monitor the human species. In addition to being forced to hide her innate transforming abilities, Fio also finds herself tormented by passionate dreams of Roman, a popular male classmate. And another odd thing: in her dreams, Fio is a boy.
This initial story is transgressive, but never prurient, in its examination of the lengths we'll go to in order to be with the ones we love. Working within the shojo tradition, Oliveri depicts his offbeat characters with honesty and respect as they navigate a beautifully rendered sci-fi world – as well as their own perceptions of identity.
While world-building takes a second seat to characterization here, Oliveri does take advantage of the high-concept environment for some thrilling set pieces. During a school field trip, Fio and her classmates break away for an illicit game of ice hockey on one of Jupiter's moons. The action kicks off with an impressive widescreen shot before zooming in on the featured players. It's a scene that shows Oliveri is comfortable working in a variety of modes (much like the rooftop hockey game in Kevin Smith's Clerks).
Mathilde Kitteh's 'Dark Energy' is the longer of the two pieces and a considerable contrast to the relatively grounded school drama of the first story. It's clear we're in far different territory only a few pages into the cosmic introduction, which tells of how Dame Edamame, "Goddess of the Universe," relinquished her powers in order to further her search for love.
Unable to find a worthy companion, however, she retreats into hermitage aboard a greenhouse starship where she can live in peace as a young girl named Astrée. When a roving travel writer interrupts her solitude, he also leaves the door open for a dark secret from Astrée's past to find its way back in.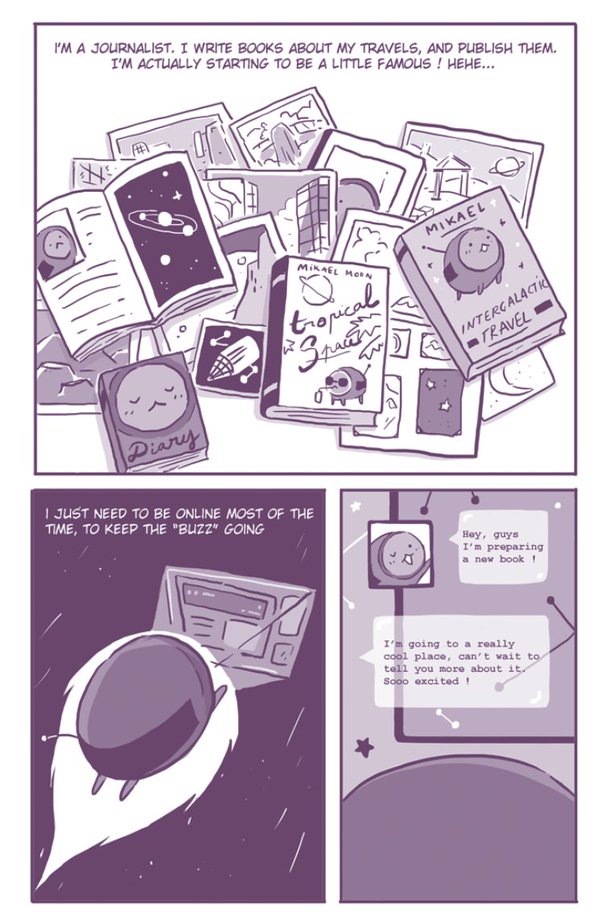 The result is a thoughtful study of loneliness, rebirth, and new connections. Kitteh's work lingers on the empty spaces: the void of space, a sparse sleeping pod. Rendered in a rich "heart purple" one-spot color, these voids are both melancholy and familiar, and it's easy to see why Astrée is so reluctant to step out of the world she knows. With the help of a new friend, though, Astrée discovers a strength long since forgotten.
Wrecked Hearts is a reminder that no pain lasts forever – and that there are always new worlds to be explored.
Luca Oliveri & Mathilde Kitteh (W/A) • Peow! Studio, $18 + shipping (http://peowstudio.com/shop/)