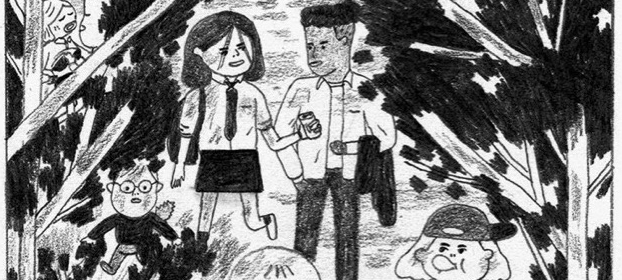 A couple of years ago I was collared at a comics festival – exactly which one now is lost in the mists of my middle-aged memory I'm afraid – by (recently Ignatz-nominated) Comic Book Slumber Party's Hannah K. Chapman. Hannah did not so much insist as persist in her belief that I should take a look at the work of a new creator she was noticeably excited about. That artist was Wai Wai Pang whose self-published autobio travelogue – the admittedly rather cumbersomely titled Itinerary April 2015 Japan #1 – I would go on to review here later that summer, describing its "unrefined honesty" as being amongst its most engaging qualities. She would also later go on to contribute to CBSP's Greasy's Guide to Nookie.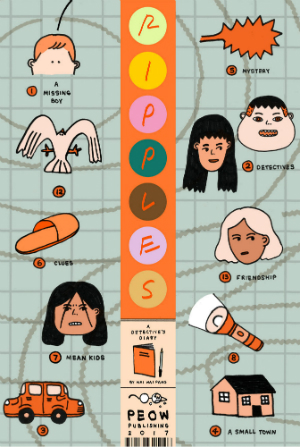 Peow Studio's Patrick Crotty obviously had a similar experience of Chapman's astute comics evangelising (as recounted in this interview with him at Broken Frontier last year), saying of Wai Wai Pang's work then that "the drawings are fun and loose but detailed when they need to be, and it reminded me a lot of old manga – kinda like a vibe of Yoshihiro Tatsumi."
It was Crotty who felt her deliberately naïve stylings would make a good fit for a detective story. How the artist interpreted that brief on the page, however, has resulted in an investigative mystery quite unlike any other you will have read in comics to date.
Ripples concerns itself with the central question of what has happened to missing schoolboy Luke Phelps? In the small town of Big Lake, assigned detectives Pan and Kylie from the Big City Police Department begin questioning Luke's parents as they look into the reasons as to why he would disappear from his home. Their search will bring them into contact with worried family, bizarre locals and youthful cliques before anything even approaching an answer slowly begins to reveal itself…
What marks Ripples out as being a distinctively different use of the form isn't the faux rawness of its visuals but rather Wai Wai Pang's very individual and inventive approach to the page. While throughout the book there are certainly bursts of panel-to-panel sequential storytelling nevertheless a large portion of this tale is told in a series of maps, cutaways, illustrated lists, blueprints, calendar entries and diagrams as if it were, indeed, a collection of artefacts and notes from a procedural exercise.
This storytelling device serves to make the reader feel they, too, are part of the investigation, piecing together the clues and sifting through the information. The same diary-style timings used in Itinerary April 2015 Japan are also adopted and create the illusion that we are largely reading from Detective Pan's own notebooks.
Much of the fun of the book is reconciling the contradictions and contrasts of narrative and presentational style as the realism of the plot collides with the simplicity of the illustrations and the potential seriousness of the subject matter is juxtaposed with a world where humans and talking anthropomorphic animals co-exist.
There's a lot to draw the audience in here. The central themes of finding one's place in the world, fitting in and self-identity are familiar ones that most readers will empathise with and, as is often the way with reductionist comics art, we respond to the characters in that regard far more profoundly for their visual clarity.
There's also a very pronounced notion of place in the pages of Ripples – the location defined not simply as a background the characters travel through but also as a meticulously recorded set of plans, diagrams and layouts. Small town environment is evoked on the page in a seldom seen way with a clever and original flourish.
Combining an intentional and structured artistic naivety with a sophisticated and ingenious understanding of how to adapt the form to the detective genre, Ripples is a charming and undeniably appealing debut longer-form work. If you'd like to meet Wai Wai Pang in person she will be at our next Gosh! Comics and Broken Frontier Drink and Draw on Tuesday August 29th. 
For more on the work of Wai Wai Pang visit her site here and follow her on Twitter here. Ripples is available via her online store here or from Peow! Studio here.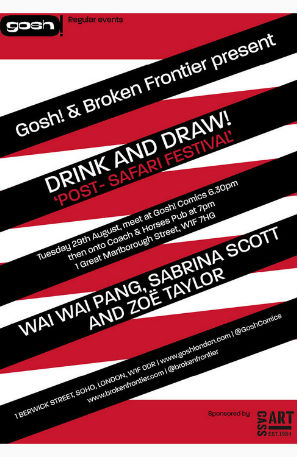 For regular updates on all things small press follow Andy Oliver on Twitter here.