"When these wytches come out of the woods, they're coming for you good. They can smell desire like a shark can smell blood." – Scott Snyder
On the eve of the release of the third issue of Scott Snyder and Jock's Wytches, Broken Frontier spoke with the all-star writer about how the book brings out the best among the creative team and how this book is the most personal story he's ever written. That, plus a hint of what happens next…
Forget everything you thought you knew about witches. Both in literature and on the screen, they're often portrayed as evil, crooked-nosed ladies flying on brooms and putting horrific spells on their victims.
Not so in Scott Snyder and Jock's monstrous new Image comic. You know, the one that sold 90,000 copies of its first issue and which was optioned by Brad Pitt's Plan B film production company shortly after its October launch. It's been the second-best selling Image title since then, preceded only by that other horror comic, The Walking Dead.
The proof that these witches are different is in the spelling: the gruesome creatures of Snyder and Jock's tale are called 'wytches', with a 'y'. Stripped from any and every attribute, they are age-old beings residing deep in the woods – inside the trees, even – who crawl up from the depths of the earth when someone's "pledged" to them. If that someone's you, tough luck – you're eaten alive.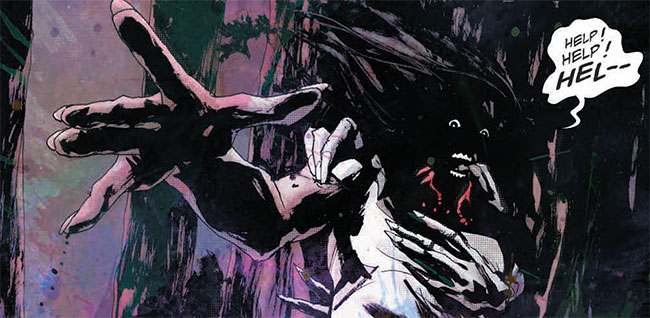 "Wytches is a book I couldn't do with Sean or Greg, it had to be Jock."
To say that this original take on witchcraft implies that there's no magic going on in this book would be a mistake. For starters, the mythology is only beginning to unfold two issues in. But most importantly, the true magic is the creative relationship between Snyder and Jock, who are doing their first work together since their award-winning run on Detective Comics three years ago.
Right when they started their first issue of 'The Black Mirror' storyline, the two felt a special click that paved the way for a creator-owned story of their own.
"I've always been a big fan of his art, but we had never met before in real life until a few summers ago at San Diego Comic-Con," Snyder says of Jock. "We hit it off right away and kept talking frequently afterwards. Although we have different psychologies, we share a lot of favorite movies and books. The same interests but different ways of looking at them proves to be a very fertile ground to work together."
Jock is an artist Snyder loves teaming with, because he's someone who constantly challenges him and his writing. He's become one of a small number of go-to artists for the writer, much like Sean Murphy, with whom Snyder's worked on American Vampire and, most notably, The Wake.
"Sean's become a really dear friend and I'm really drawn to the way he lives his life: he's established clear artistic priorities for himself and, first and foremost, he never wants to be boring to himself. He's such a daring person.
"Like Jock, he's always challenging me. On The Wake, we decided to playfully break all the rules and mash together sci-fi, creation mythology, all these things that shouldn't fit – we pulled it off as a team, in large part because we enjoyed stepping outside our comfort zone and seeing what kind of world we could build.
"Wytches is a book I couldn't do with Sean or Greg [Capullo, with whom Snyder works on Batman]. It had to be Jock. He's someone who can draw these really ominous scenes in a book that is constantly evoking a creeping dread. Wytches really speaks to his strengths."
Someone who's also turning in a strong performance is colorist Matt Hollingsworth, whose heavy use of lighting effects, lens flares and paint splatters frequently destabilizes the reader.
"When you look at the preview we did, you'll see that it's more conventionally colored," Snyder explains. "Jock wanted Matt to try something that was more disconcerting and unsettling, so he came up with this painterly effect that's hallucinatory at times. When we first saw it, we knew it was the perfect look for the book."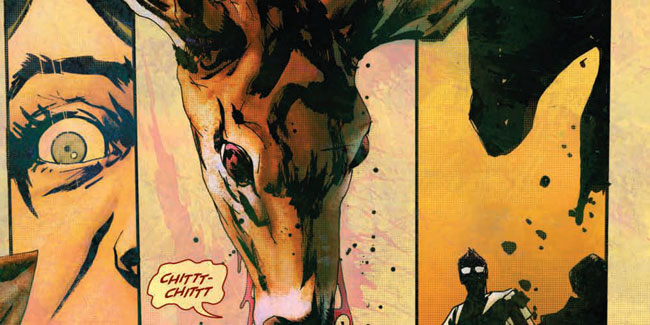 Vertigo is the comfort zone, Image is ultimate freedom
Snyder's insistence on stepping outside of his comfort zone was the prime reason why this book is being published by Image, not Vertigo.
"If I wanted, I could've done what's been comfortable and what's worked well for me, but that would've been too easy, and that's not who I am.
"I could write Batman more generically, where it's him versus Two-Face for two issues, Clayface after that, but I would get pretty bored pretty fast. I've always had much more fun writing the bigger-tapestry type of stories – what Greg and I have coming after 'Endgame' is more of that; it's big fun, and very twisted.
"The same rationale applies for our choice to not have Wytches published by Vertigo. Vertigo is where I have my support system, with Will Dennis, Mark Doyle and all, and that would be very much inside my comfort zone. Plus, Image allows you to have a greater lever of control over the material as a whole, from story length to scheduling, to the actual production side. We've got the freedom to put whatever we want in the backmatter, do the variants we want etc.
"It's a great opportunity for us as a team to explore things we haven't tried before, and that brings out the best in each of us as creators."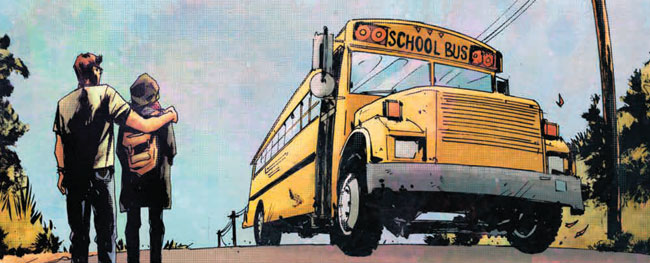 "Wytches is about fatherhood and what keeps me up at night."
While Wytches is a horror comic front and center, rife with suspense, mystery and gruesome imagery, it's a family book at heart.
Looking beyond the disgusting creatures crawling on the asphalt, the returned-from-the-dead murderous teenage bitches lurking in the trees or the baby deer vomiting organs on the living room carpet, this is a comic about a man (Charlie), his wife (Lucy) and their outcast teenage daughter (Sailor).
Or at least the first arc is, because there's no guarantee the entire Rooks family will come out alive when issue six wraps. In the first two issues, it's been hinted at that the family might be responsible for their own fate – especially Charlie and Lucy, whose pasts may not be as secret-free as one would want when dealing with wytchcraft.
"These first couple of issues portray a family that's hopeful about their situation, about getting a fresh start, but things get darker as the story progresses," Snyder warns. "There's this kind of hormonal happiness that you've got between parents and their children, but that may all get messed up as we learn why the wytches are coming for Sailor as hard as they do."
Wytches is more than just a family book. In the backmatter of the first issue, Snyder talks about how this is the most personal book he's ever written and how it's based on his own childhood in rural Pennsylvania.
"I'm drawing on my personal experiences more so than for any other story that I've written," he adds. "While there are a lot of emotional truths in, for example, American Vampire about time passing, dealing with losing people you love or responsibility, most of it is couched in bombastic storytelling and the large canvas of American history. Wytches is much more intimate."
"It's about what keeps me up at night and my own fears, most importantly regarding fatherhood.
"I've never been a happier parent than I am at this period of my life, because, as a writer, I'm home quite often and get to spend a lot of time with my kids. But as a father, you become aware of this whole new palette of emotions, ones you didn't know you had. The fear of something happening to your child makes you feel vulnerable, old and scared, in ways you didn't know you were capable of. That's what I feed off of when writing Wytches."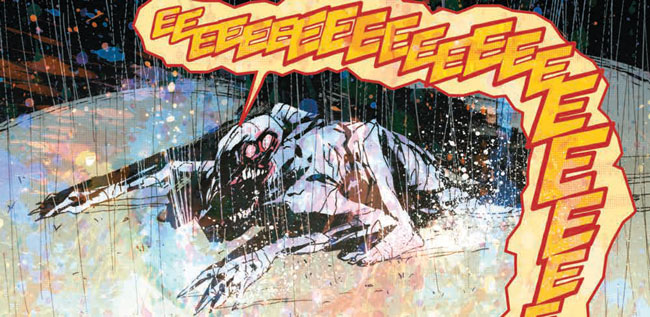 Terrible revelations on the horizon
Asked about what will happen next as the first arc reaches its halfway point, Snyder remains tight-lipped. "I'm not going to say who of the Rooks family survives, but you'll hear the Rooks name beyond the end of this first story. The arc after this one will focus on the people that hunt the wytches and their history."
And what about that mysterious half-legged woman who attacked Sailor's father at the end of the second issue? "She's the person who holds the secrets of the series," Snyder confesses. "There's a reason she's come for the Rooks family, and although their first encounter is rather violent, she's actually not an ominous character, but one of the toughest you'll see in the book. Let's say she's the one that got away a long long time ago and is here to make sure the wytches don't get free rein."
"And keep your eyes out for issues five and six, because there are some terrible revelations waiting right around the corner!"
Find out how the story continues tomorrow with the release of Wytches #3.