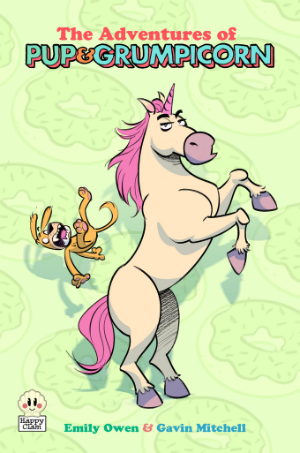 When we covered Emily Owen and Gavin Mitchell's The Adventures of Pup & Grumpicorn during its Kickstarter campaign as part of our Crowdfunding Corner feature at Broken Frontier we described it as "an absolutely delightful romp of a strip that would be very at home in the pages of The Phoenix." In fact I would also add that it's something that fans of the output of Gary Northfield's Bog Eyed Books range of kid-centric comics would also appreciate.
We're going to repeat some of the points we made in that coverage in this short review. But with the comic now out there in print form it deserves an extra spot of promotion because in terms of all-ages fun The Adventures of Pup & Grumpicorn is an absolute delight. In fact it's exactly the kind of package I could imagine parents sitting down with their children and experiencing together in a truly joyous interactive way. And that, surely, is the ultimate accolade for a project of this nature.
Much of the fun here comes from the interactions between the titular duo, the hyperactive Pup and his more taciturn friend Grumpicorn. Constantly jumping genre divides we see the pair journey through a number of narrative environments in five short stories as they comedically blunder their way through proceedings.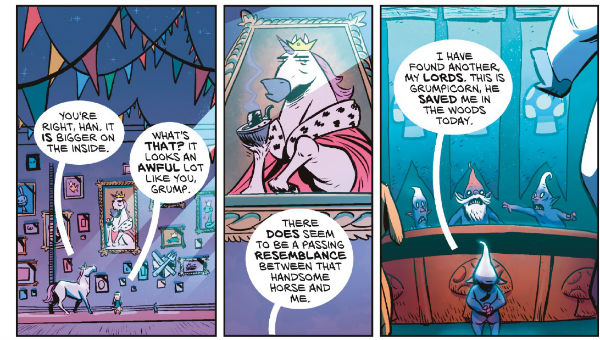 In a fantasy realm Grumpicorn is proclaimed as the king of a society of distorted Smurf-like creatures but not all is as it seems. Elsewhere they're mistaken for outlaws in a Wild West pastiche, enter the realms of science fiction in a lovely Fantastic Voyage parody as a miniaturised Pup attempts to cure Grumpicorn's wilted horn, and even take part in the world of wrestling as they face the Aaa-aaaanngry Brothers in the ring. Supplementing this are all manner of activity and feature pages that will appeal to the comic's target readership on altogether different levels of engagement.
This is genuinely all-ages work in the way that adults and kids will engage with it on different levels of recognition but throughout it's Owen's droll plotting and lively dialogue – alongside Mitchell's energetic cartooning, cheeky visual characterisation and sublime comedy pacing – that really stand out. What the pair have created here is a concept that theoretically transcends genre constrictions with a refreshing and confident wit.
The central characters are likeable protagonists, then, who spar off each other with an engaging chemistry, and visually The Adventures of Pup & Grumpicorn has an animated vigour that will no doubt immediately capture the imaginations of its target audience. And it's affordably priced too! The perfect introduction for that younger comics fan in your life looking for an entry point into the medium.
You can buy The Adventures of Pup and Grumpicorn online here for just £4.00.
For regular updates on all things small press follow Andy Oliver on Twitter here.
Review by Andy Oliver