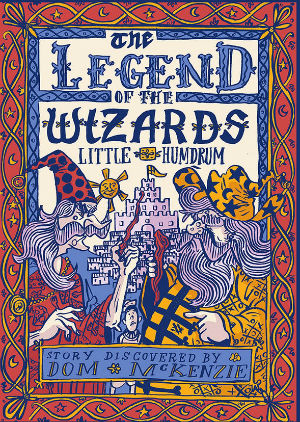 Sitting between illustrated children's storytelling and pure comics, The Legend of the Wizards of Little Humdrum purports to be a tale discovered by artist Dom McKenzie (whose Tales of the Old West we covered a few years back at Broken Frontier) in the ruins of St. Waningus Abbey. It tells the story of two feuding wizards (and brothers) Cosmo and Gizmo who live on facing hills overlooking the town of Little Humdrum, and whose long-held grudges erupt into regular spellcasting arguments that have unfortunate side effects on the denizens of the town.
Tired of the mystical fallout causing their koi carp to turn into blue whales and great works of art to sprout out of their livestock, the locals feel they have no choice but to banish the two warring mages. But as soon as they are exiled the area is terrorised by a fearsome dragon. Even if the townsfolk can contact the disgraced wizards will they be able to put aside their differences long enough to drive out the fire-breathing monstrosity?
With an irreverent style in narration, McKenzie's wacky wit and multiple digressions ensure that this is a story that will immediately capture the imagination of its target audience. Its distinctive colour scheme – rich reds and oranges, offset with blues – and busy sense of page design creates the illusion of a found artefact. It's something that ensures the comic is firmly rooted visually in a fantasy period of yore and makes the occasional blatant anachronisms scattered through its pages all the funnier.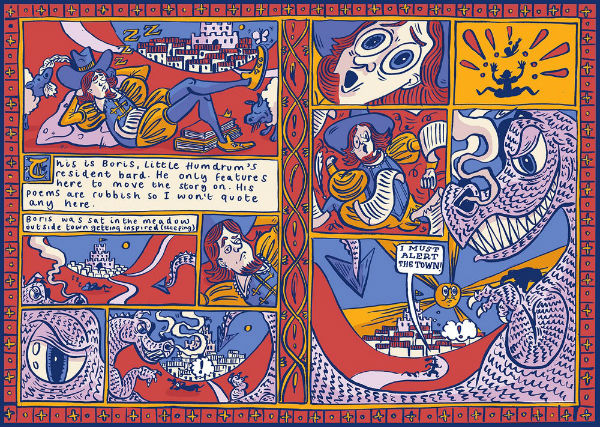 McKenzie is a lively and mischievous cartoonist and The Legend of the Wizards of Little Humdrum is full of the energy and invention that typifies his work. An extra proofreading eye would have given the text sections more of a polished feel and caught some of the repeated punctuation errors but that certainly doesn't detract from his enthusiastic visual storytelling. Jumping between sequential art and longer prose passages with accompanying imagery, The Legend of the Wizards of Little Humdrum is exactly the type of all-ages small press offering that older and younger readers can share together!
For more on the work of Dom McKenzie visit his site here and follow him on Twitter here. You can buy copies of The Legend of the Wizards of Little Humdrum from his online store here.
For regular updates on all things small press follow Andy Oliver on Twitter here.
Review by Andy Oliver