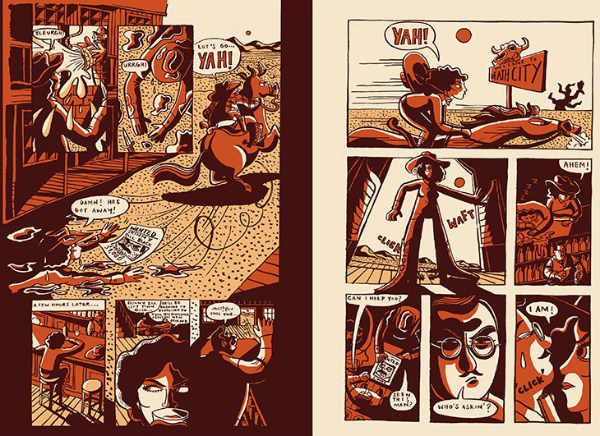 Taking a largely mythical Wild West as its inspiration, Dom McKenzie's Tales of the Old West is a short collection of rapid fire shorts that fondly pull apart some of the clichés of the genre with good-natured zest. Tense High Noon-style stand-offs, figures from history given a satirical spin, and rebellious outlaws all feature here in a compilation that is gently humorous in tone and outlook. The comic is also punctuated with mock period advertisements, lending a sense of faux authenticity to the affectionate lampoonery of the main features.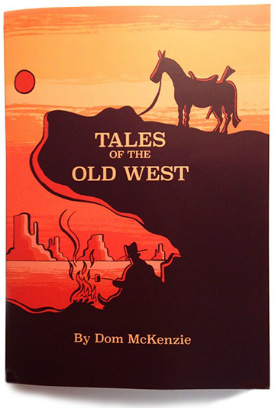 McKenzie's greatest strength in the pages Tales of the Old West is his panel-to-panel comic timing. The first four-pager 'For a Few Pints More' is a strong example of this. A moody build-up of close-up images as a sinister stranger arrives in town that jump backwards and forwards from the viewpoint of said gunslinger and a local store owner before reaching its unlikely denouement.
Similarly 'Dances with Danger' (below) – in which a Native American scout frantically attempts from afar to alert his village of the impending approach of a hostile tribe – is also excellently paced, albeit with a more slapstick veneer to its storytelling. Our unfortunate protagonist's efforts are variously scuppered by weather and wildlife in a six-page offering that constantly switches focus in terms of perspective to fully manipulate the comedic potential of its situation.
Rounding out what I imagine to be the first issue of a returning series is playful two-page story 'Custer's Last Stand-Up' – the title of which probably already gives away the gist of the strip – and the first part of an ongoing 'Jess James' tale (top banner image) that provides an opening chapter of an origin tale for the bounty hunting titular character as introduction to her adventures. This latter piece ends on a cliffhanger but adopts much of the frantic energy of 'Dances with Danger' with its flowing madcap chase sequences.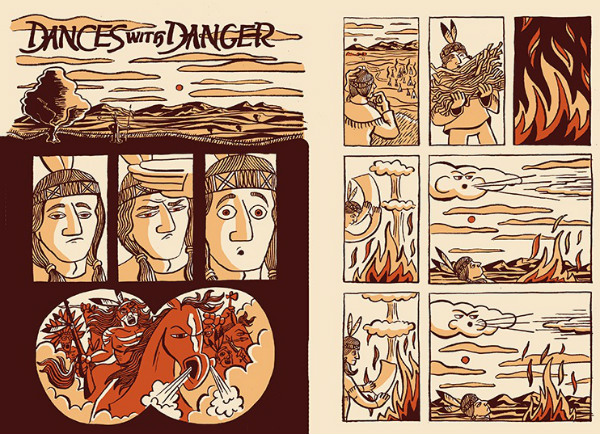 McKenzie's art is jaunty and bouncy throughout, emphasising the light-heartedness of the book and its amiable, uncomplicated appeal, and he adopts a mood-enhancing sepia style colouring that gives Tales of the Old West an appropriately dusty ambience. Despite being so competently paced, and structurally sound in terms of narrative presentation, Tales of the Old West is perhaps a little too comfortable though. The comedy does often either tread ground that will feel recognisable to many readers or leads up to punchlines that are variations on old themes. It's solidly smile-inducing rather than bitingly witty in that regard, and there's perhaps too little here that feels particularly original in terms of lampoonery.
Still, there's no doubting McKenzie's fluency as a visual storyteller and if some of the gags are semi-familiar they're still perfectly timed. I look forward to checking out a second volume of these particular weird western tales to see where McKenzie takes this skewed genre world next.
For more on the work of Dom McKenzie visit his site here and follow him on Twitter here. You can buy copies of Tales of the Old West from his online store here.
For regular updates on all things small press follow Andy Oliver on Twitter here.