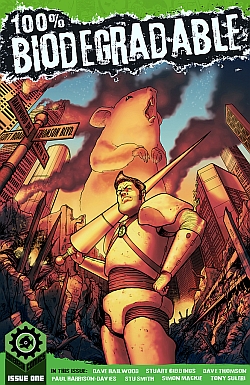 Last November saw the launch of 100% Biodegradable; a Brit sci-fi anthology edited by Dave Hailwood, long-term stalwart of FutureQuake Press (whose books I have covered in the past here at Broken Frontier). A combination of new material alongside short strips previously published elsewhere, what is immediately noticeable about the comic is its potpourri of visual styles. While the bulk of the strips featured do tend to fall back on that old twist-in-the-tale standard so favoured by these collections there are indications that Hailwood intends to develop a number of recurring characters and serial features that should, in time, help to differentiate 100% Biodegradable from other anthologies that have gone the entirely Future Shock homage route.
Perusing the contents tale by tale, I have to say that the opening entry 'A Better Place' (below right) by Hailwood and artist Stuart Giddings is, unfortunately, the issue's weakest strip. A sinister psychic cab driver who takes an advertising exec on a nightmare journey, leaving him terrorised before taking his victimisation one step further, has potential but it doesn't entirely gel. The individual elements just don't combine into a cohesive whole for me, never quite adding up to the sum of their parts.
However, from there on things become much more interesting. 'Medium Flake' is a neatly timed one-pager from Hailwood  that provides an ever welcome opportunity to enjoy the art of Paul Harrison-Davies, whose Astrodog I reviewed her most enthusiastically at Broken Frontier just last week. A simple but effective punchline-based gag strip that advises you never to ignore the sage advice of an  ice cream van driver, this has all the usual visual appeal of a Harrison-Davies offering.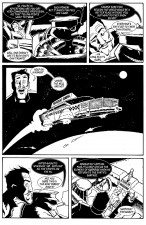 The first episode of a serial featuring the titular character 'Marren Kane' takes third spot in the line-up with its futuristic super-powered mutant given a mission to unite human and mutantkind. The twist here is that the wisecracking costumed protagonist is completely disinterested in this honour. Many of the elements are familiar (a composite of Judge Dredd's Mega-City environment, the banter of Spider-Man and the allegory of the X-Men books) but with just five pages in this first instalment it's far too early to judge where this strip is going. What I can evaluate from this short offering, however, is Tony Suleri's astonishing artwork. Echoes of Moebius abound here in his busy, claustrophobically detailed panels that evoke the grimmest of 2000 AD's many dystopian futures.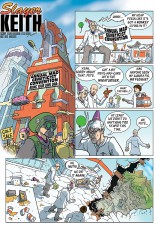 'Slayer Keith' (left) is another patchwork quilt of ideas (from Hailwood again, with co-writer Stu Smith) but it's a satisfyingly amusing read. Building up to a Future Shock-style (double) denouement – part of which you may, admittedly, feel you have experienced a number of times before – there's a frenetic and enjoyable silliness to the proceedings. A bunch of mad scientists wake up hung over after their annual convention to discover they have drunkenly let loose an augmented guinea pig of Godzilla-size on the nearby population. Enter inept barbarian Slayer Keith to save the day… Artist Dave Thomson is more than a match for the lunacy of the script with visuals that juxtapose realism and cartoony exaggeration to great comedic effect. Children of the '70s should look for a The Goodies reference here that will certainly raise a smile!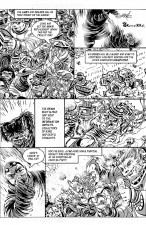 The issue is rounded out by, firstly, Simon Mackie's 'Electro Cute – Stolem Zemuline', a space opera story of cross and double cross – featuring the eponymous heroine Electro Cute – which evolves into Barbarella-style campness by its end.  (I may be overthinking this but there might just be a pop cultural reference here to those rubber finger monsters I remember from my childhood in this one!) And the poetic justice of Hailwood/Suleri's 5-pager 'Spare Parts' (right) wraps things up with a sewage system scavenger's career taking a downwards turn of a most dramatic nature. Suleri's art, once again, proving to be a huge draw.
While there are signs that 100% Biodegradable is a project that is finding its feet there's a potential here that I hope gains audience support. Editorially, Hailwood has curated a collection of disparate artistic styles that is eye-catching and distinctive, and he has matched artists to subject matter perceptively throughout. There's nothing genre-bending or mind-blowingly innovative in 100% Biodegradable but it does represent good old-fashioned sci-fi escapism, and the art of Tony Suleri is worth the entrance fee alone…
100% Biodegradable is available digitally here priced 69 pence or here priced $0.99