12-Gauge Comics has provided BF with their July 2014 solicitation info.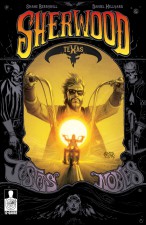 SHERWOOD, TX #1 (of 5)
Written By: Shane Berryhill
Artist: Daniel Hillyard
Colors: Charlie Kirchoff
Covers A and C: Andrew Robinson
Cover B: Eben Matthews
Price: $1.00
24 pages
Re-imagining the legend of Robin Hood as a modern day Spaghetti Western, SHERWOOD, TX is set inside the world of biker gangs, drug wars, and human trafficking.
After the same biker gang who murdered his father leaves ROB HOOD for dead, he returns seeking his own brand of justice and revenge. Hood is joined on his quest by Padre Elvin Tuck, Will Scarlet, and Little John, as they take on the crooked Sheriff of Nottingham, Texas and his partners in crime, The Nobles biker gang and their leader John Prince.
Don't miss out on the book Examiner.com calls "one of the most notable" titles of FCBD 2014— jump on board now at the special introductory price of only $1.00!