One of the most pleasing things about how our small press coverage has developed here at Broken Frontier over the years is the way that our reach has grown so organically. While we will never stop proactively looking for emerging talent and exciting new voices, we now also have an entire network of supporters, collaborators and partners recommending us to up-and-coming talent. Such was the route that Thai artist Namsai Khaobor came to us by, having heard about Broken Frontier through a portfolio review from one of the UK's finest alt comics practitioners. As ever, we are always grateful to anyone pushing interesting self-published work in our direction.
Khaobor's most recent comic 60 Percent Chance of Raining is a 32-page tale of "unrequited love and loneliness" illustrated in vivid yet haunting colour. It's a story that uses rainfall in both metaphorical and symbolic ways as we observe the interactions between its two central characters and the unreciprocated affection that both connects and separates them. From the outset that representational precipitation seems to soak the very page, drenching us in a melancholy that fills every space.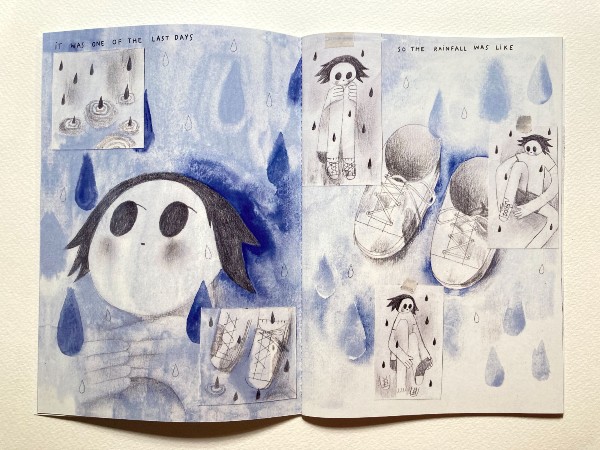 This is not a comic that attempts to be elaborate in narrative; it's more vignette than structured plot, more projection of emotion than story. But it is highly atmospheric with characters and environment merging and weaving in and out of each other. Khaobor provides a framework for the readers that gives them the resonant heartbeats of the story but asks them to fill in the wider picture for themselves. We don't need more details because the deliberately uncomplicated visuals allow us to invest fully with the characters, forging a bond of intimacy with them that would be lost with more elaborately designed pages.
60 Percent Chance of Raining is the most recent comic currently available in Namsai Khaobor's online store but it's indicative of the carefully considered use of colour apparent in her other work. Site bookmarked for further investigation in the months to come!
Namsai Khaobor (W/A) • Self-published
Buy 60 Percent Chance of Raining online here or in digital form on Gumroad here
Review by Andy Oliver