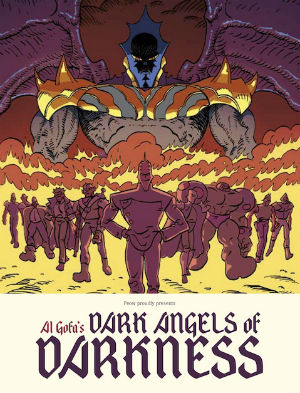 Like Tom Sicoli redrawing a chapter of JoJo's Bizarre Adventure from memory, Al Gofa's Dark Angels of Darkness is a self-referential, handmade, aggressively masculine and incredibly goofy action comic. Its barren wasteland of a setting is ruled over by the hyper-powerful Imperius Rhâââ, first glimpsed flying overhead in a silhouette redolent of Go Nagai's Devilman. His downfall is being calculated by the ruthless, 'roided-out warrior with the incongruous name of Megan, who plans to employ the divinely forbidden rite of "fusion" in his plans.
It's a stock plot in a setting pulled right off the shelf. That's fine; the draw of this book is what Gofa does in that space. As with Sicoli's Transformers vs GI Joe series for IDW, Gofa's book hurtles along with the un-self-conscious creativity of kids at play, with fusion being a perfect example: a concept borrowed from later chapters of Dragonball, it involves a couple of Megan's couture of muscle-bound co-conspirators — each of whom gets a splash page to introduce their special abilities and gimmicks, like they're GI Joe toys — melding into one gestalt beefcake. Slamming together two already-ridiculous characters and seeing what comes out is something I definitely did with a head full of Panini Marvel reprints and pencil case full of felt tips.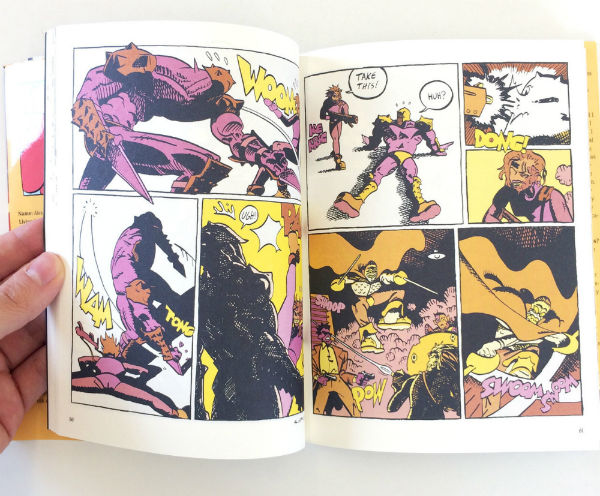 As with a lot of Peow's output, Gofa draws heavily on a vein of late seventies/early eighties manga for his art style, storytelling, and gags. The energy of his line, which at times appears to struggle to keep up translating the fevered stream of ideas and images from the artist's head, appears at times to struggle to keep up with the pace. The particular style of gigantic, muscly men lovingly spoofed in Dark Angels of Darkness's cast are not of the American superhero or movie hero stripe parodied by the likes of Ben Mara, mind. They're loving pastiches of the aforementioned JoJo's and Tetsuo Hara's work on Fist of the North Star, the sort of hyper-exaggerated gym bunnies who don't balk a pushing against strict definitions of gender or sexuality (again, I refer you to the book's nominal protagonist, one of these Kenshiro-built hunks who is nonetheless named Megan and wears lipstick).
Dark Angels of Darkness is certainly not shy about its reference points — I caught an on-panel cameo for Shotaro Ishinomori's Cyborg 009, but I'm sure there's plenty that sailed straight over my head — but Nagai is probably the most pertinent. From the epic scale of the destruction wrought across the book, with Gofa zooming out from the ground-level fight scenes to apocalyptic explosions and plumes of smoke, to the ambiguous sexuality and ironic sense of humour, the super robot pioneer's influence is all over the book.  Like the best cover versions, however, Dark Angels of Darkness doesn't just replicate the original. Gofa's irrepressible creativity, his explorations of two-colour light and cross-hatched shadow, his winking at the camera and perfectly-timed gag of a MacGuffin all seep into the gaps absent in his predecessors.
Al Gofa (W/A) • Peow Studio, £19.00
Review by Tom Baker