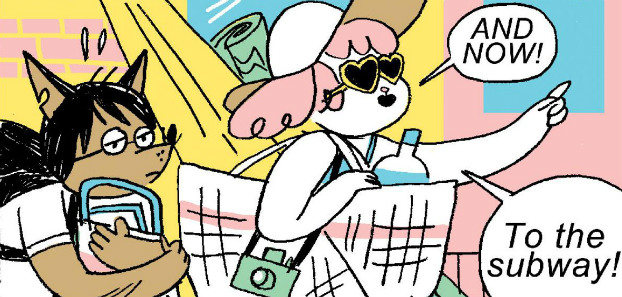 Ralphie and Jeanie Vol. 1 by Alabaster Pizzo is an interesting turn for an artist who has already honed her craft so well as a cartoonist. Unlike Pizzo's long running low-fantasy epic Mimi and the Wolves, her Ralphie and Jeanie strips are a comedic look at a couple of loveable losers and their minor misadventures. Pizzo handles the shift in tone well, yet still retains the thematic thread of characters whose lives are in transition that she has explored in her other work. It's all packaged in a charming candy colored 2010s version of Busytown or Parappa the Rapper.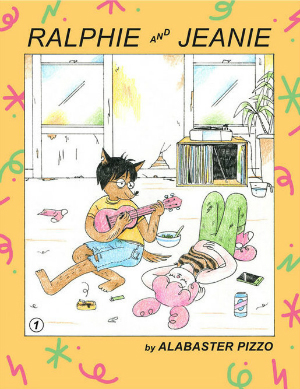 Ralphie and Jeanie Vol. 1 collects fourteen short stories in the lives of the titular post college, pre-adulthood, Brookyln creative couple. Both have ill-defined jobs, nebulous creative pursuits, little money, and too much time on their hands. They muddle through various get rich quick schemes such as urban gardening, trying to hustle their way into the art world with thrift store sculpture, and brewing their own beer. All end in at best minor success but more often than not failure.
The same is true when the couple tries to take on the trappings of adulthood. They have nothing to wear to a cousin's wedding, they scramble to get their tax paperwork in order, and home repair and volunteering at the day care center go about as well as expected. Much of the joy in reading Ralphie and Jeanie comes from watching these well-meaning but somewhat dim characters try to get their lives in order. You know they're poorly equipped to do the job, but gosh darn it they certainly try.
While the journey of characters trying to find their place in the world is a theme Pizzo has explored in a more dramatic way in her earlier works Mimi and the Wolves and Wool and Gin so much of the comedy in Ralphie and Jeanie comes from the protagonists being no longer children, but hardly grown-ups. In digging up a time capsule from their college days their greatest reward is quarters for laundry. Trying to get to the bottom of Ralphie's childhood memory of alien abduction results in him getting called a "nincompoop" by his Great-Aunt who complains he doesn't visit anymore. They look at pictures of themselves as children but are exhausted when dealing with actual children. Their past is still hanging around, but the future is unclear, which leads them to constantly try on identities and hobbies. They aspire to live like their successful friends or their absentee roommate who pays the majority of the rent, but are still at the place in their lives where they're taking in air conditioners off the street. In this way Ralphie and Jeanie are the archetypical 20-somethings. We laugh at them, because we can laugh at ourselves. We either are going through, have been through, or will go through their quarter life existential crisis; and they remind us that not having your life figured out is perhaps not such a crisis after all.
As much as the Ralphie and Jeanie strips are a tonal departure for Pizzo, they also serve as an artistic one. Gone are the heavy blacks and dense hatching of her earlier work in favor of looser, poppier cartooning. This collection's webcomic origins shine through in the use of a font for the lettering and the four-color Day-Glo pallet. A lot of the panels are liberally filled with shining pink and green, sea blue, and sandy yellow. This works, for as much as Ralphie and Jeanie are the stand-ins for a wide variety of young people, they don't seem to in live any one specific urban center. While there are subtle clues that they live in Brooklyn, it could just as easily be Chicago or Oakland.
We can also see the theme of being in between youth and adulthood carries over into the design of the smaller characters in the series. Pizzo creates some fantastic Richard Scarry-esque working class plumber and butler dogs, an elderly foreign landlady with the face of Jake from Adventure Time, a tax prep sandwich board dog straight out of a Rodney Greenblat drawing. The combination of children's book characters and bright crayon coloring further reinforcing that liminal never-never land that our protagonists are in. Ralphie and Jeanie are cartoon characters in a cartoon world, but that's often how being in your twenties feels.
Ralphie and Jeannie Vol. 1 is a strong step in a new direction for Pizzo. It showcases her range as an artist in creating more widely accessible work while still maintaining the emotional core of her earlier heavy-minded work. It's a rare joy in indie comics to come across protagonists who can inhabit the same amount of mental space as more mass-market characters. But Ralphie and Jeanie are a perfect shorthand for the kind of lives young creative people live in the city. You see your life and the lives of your friends in them. Just like your friends you love them even with, and sometimes because of, their failings.
Alabaster Pizzo (W/A) Self -published, $12.00
Available to buy online from Alabaster Pizzo
Review by Robin Enrico