Avery Hill Publishing have let us know about some of their plans for the rest of 2019 which includes three previously unannounced titles. Alabaster Pizzo's acclaimed Mimi and the Wolves is collected in a first volume of the previously self-published series. There's also return to B. Mure's world of Ismyre with a third instalment of adventures there. And finally long-time Broken Frontier favourite Lizzy Stewart makes her Avery Hill debut (and the only thing we're surprised about there is that it didn't happen sooner!).
The full press release is below with cover images. And don't forget you can buy Avery Hill Publishing books online here.
Mimi and the Wolves Volume 1
By Alabaster Pizzo
200 pages, full colour, 210 x 148 mm, h/b
£14.99 / $19.95
Release date: 5 September 2019
Mimi and the Wolves is a psychedelic exploration of spirituality and mythology, blending cute anthropomorphism with a dark undercurrent.
Mimi enjoys a quiet, productive life in her tree house in the Flat Fields with her companion Bobo, until a mysterious and disturbing recurring dream of demons and a long-haired deity becomes impossible to ignore. In the Evergreen Woods live dangerous creatures who can help her, but will she leave the comfort of her home to find answers?
An epic tale of affairs, alliances and friendships in a quest for power and self-discovery, Mimi and the
Wolves collects the first three volumes of Pizzo's acclaimed self-published series.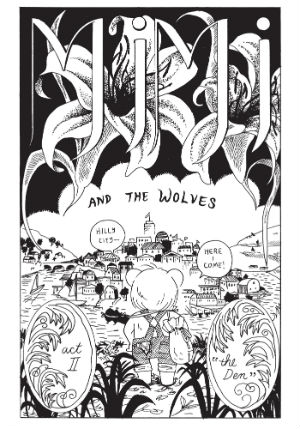 Alabaster Pizzo is from New York and went to the School of Visual Arts. An excerpt from her self-published Mimi and the Wolves comic appeared in Best American Comics 2015. In 2016 she serialized a weekly comic, 'Ralphie and Jeanie', on Vice.com. She lives in Los Angeles.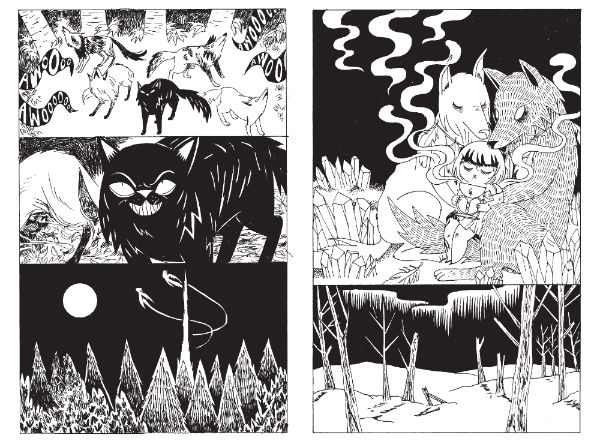 "Mimi and the Wolves is a sprawling work of art, and the first two Acts feel more like the beginning of an epic poem than the beginning of a comic book. With Alabaster's strong expressive cartooning, layered social issues, deft world building, and a plot that seems impossibly large and extremely small, this is a comic you need to be reading. Recommended."
Sequential State
The Tower in the Sea
By B. Mure
92 pages, full colour, 210 x 148 mm, p/b
£11.99 / $12.95
Release date: 3 October 2019
B. Mure returns to the world of Ismyre for another quiet and fantastical mystery tale set in an old world of ordinary magic.
Off the coast of Ismyre, a group of illicit magicians have been gathering for years, schooling others in the ways of long forgotten divinations. From high up in this forbidden home, a young scholar keeps dreaming visions of a terrible future and looks out across the ocean for answers…
B. Mure is a comic artist and illustrator from Nottingham with a love of drawing animal people, fantasy worlds and exploring the human condition particularly relating to social issues and sustainability.
"Terrible Means is a fairy tale of resistance. It's filled with happy bravura about fighting the establishment, and assurances that resistance is a necessary action, that the people on top of the food chain don't care enough about those on the bottom to fashion a kind, sustainable world. But if this seems idyllic, especially when matched with Mure's bright, splashy, giddy color work, it's marked by a hint of reality… Resistance is dangerous, and it never really ends."
John Seven, The Beat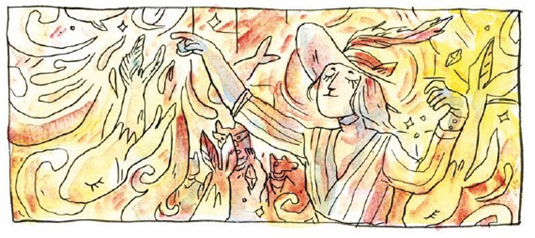 "Adding beautiful art to an intriguing narrative, Ismyre becomes an amazingly eccentric and beautiful book to read. It is simple and surreal. The story balances the visual and the literary elements perfectly… an amazing indie comic."
Hafsa Alkhudairi, Rogues Portal
Walking Distance
By Lizzy Stewart
56 pages, full colour, 210 x 148 mm, h/b
£10.99 / $15.95
Release date: 3 October 2019
"I walk, like the women on screen, through my own life."
Walking Distance is Lizzy Stewart's poignant and contemporary essay on the experience of being a woman out walking. Merging the personal and the political, observation and contemplation, Lizzy examines what her life is and wonders what it should be; what is expected of a thirty year old woman by society, by family and friends and by herself. She walks the streets of her London, creating it and herself. Gaining agency by being in control of her own direction, speed and momentum. Walking is both an internal and external experience. A time for self-reflection, for observing others and for imagining how we appear to them. What is expected of a person of our age, sex and race and how should that influence what we do and how we feel about ourselves?
A meditation on gender politics, social commentary and eighties movies, interlaced with shards of autobiography and illustrated with a beautiful series of sequential and non-sequential watercolour images.
"Walking is the clearest way for me to participate in life, I think, and thats the best I can do."
Lizzy Stewart is an illustrator and author currently based in London. She has written and illustrated two books for children and countless comics and zines. She teaches illustration at Goldsmiths University.
Praise for previous work:
"Sharp yet subtle, it's somehow simultaneously both unashamedly honest and yet delicate in its understatement. A gorgeous piece of character-led storytelling." Andy Oliver, Broken Frontier
"She uses watercolours to beautiful, poignant effect, but it's the pace and atmosphere that create a constant nostalgic haziness even when depicting events occurring in the present." Zainab Akhtar, AV Club
"A wonderfully fresh voice… beautiful illustrations." Paul Tobin