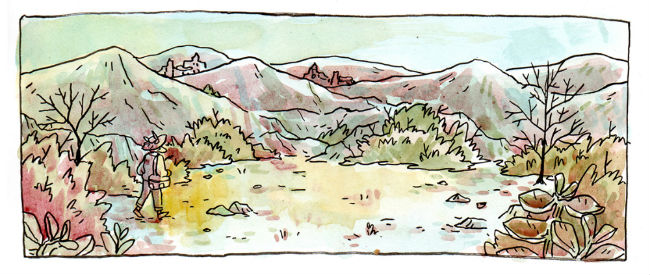 EXHIBITING AT BCZF!
When I reviewed B. Mure's Ismyre here at Broken Frontier last year I spoke about the sense of powerful world-building to the first instalment of their fantasy series and how it seemed like we'd only scratched the surface of the magical environment they had constructed. When I interviewed Mure a few weeks later and asked about whether we could hope for a potential return to Ismyre and its inhabitants they were infectiously enthusiastic about the possibility saying "Deeeeefinitely! I think it would be a shame not to (fun fact: Ismyre is based on a bunch of fantasy stories I used to imagine when I was about 15). I am already scheming."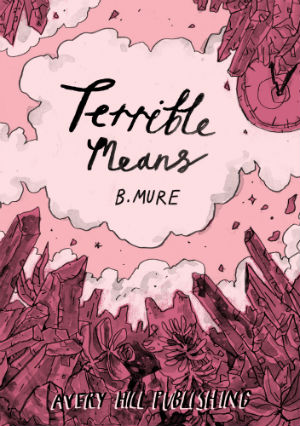 With Mure's follow-up (and prequel) Terrible Means we revisit their creation some years before the events of the first book. A group of the city's richer inhabitants are flaunting the latest must-have domestic item – crystals that allow for the effects of the everyday magic of the land to be greatly accentuated, creating powerful illusions and enhancing spells. But elsewhere in the wider boundaries of the realm this is causing a disastrous natural imbalance. Disgraced botanist Henriett, having failed in her attempt to warn the city's leaders of impending ecological doom, finds herself allied with eco-anarchist-in-waiting Emlyn as the truth behind events slowly begins to emerge…
Mure's new volume recounts the origins and motivations of the mysterious eco-anarchist wizards from Ismyre, focusing as much this time on the societal structures of Mure's world as their cast of characters. The otherworldliness of the city and its surrounding countryside feels more pronounced here; magic and science walk hand-in-hand and we begin to see the wider mystical reality of a civilisation where majestic sky ships traverse the stratosphere and the magical is almost a commodity.
In its own way Terrible Means is also a very contemporary tale, though, with a strong allegorical throughline as relevant to the news stories of today as it is to the fantasy milieu; the privileged few prospering to the detriment of the many as the themes of ecological imbalance echo broader societal disparity. In that regard, and for all its conflict and converging ideals, Terrible Means is a subtler character piece with protagonists who are sympathetic because their flaws embody their humanity but who, ultimately, are motivated by the greater good… whatever they have to do to achieve that.
Mure's scratchy art and idiosyncratic panel constructions are as much a delight here as they were in the original entry in the series. Their use of colour is a wonderful visual contradiction, simultaneously subdued and measured and yet so, so striking and dynamic. For those who have yet to read Ismyre, its inhabitants are depicted as anthropomorphic animals and Mure displays the same deft ability here to reflect their fragile human qualities through the lens of cross-species avatars as they did in the first book.
Whereas Ismyre left plotlines hanging to be picked up on later it largely felt like a self-contained one-shot and character study. In contrast, Terrible Means has the air of a creative statement of intent to it; that this is a world the artist has only just begun to start exploring, developing and chronicling. Those of us who were hoping  last year that Ismyre was just the first volume of an ongoing series of books have been rewarded with what looks like an epic saga in the making. The potential for something akin to the European comics album model of narrative delivery is a perfect fit for what Mure is achieving here.
For more on the work of B. Mure visit their site here and follow them on Twitter here. You can buy Ismyre and Terrible Means from the Avery Hill Publishing online store here. Both B. Mure and Avery Hill Publishing will be exhibiting at this year's Bristol Comic and Zine Fair on October 6th.
For regular updates on all things small press follow Andy Oliver on Twitter here.
Review by Andy Oliver