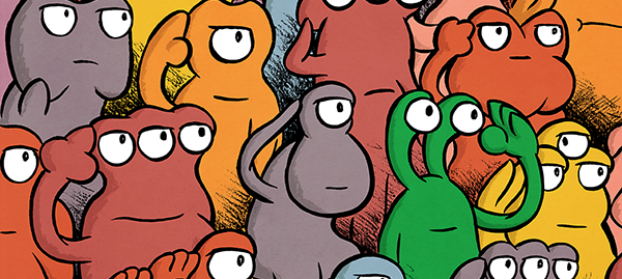 ELCAF FORTNIGHT!
Alex Hahn has been a regular presence on the UK small press circuit over the last few years with a diverse back catalogue of work and a versatile artistic eye. He's perhaps best known for the comical adventures of his alien Blop character but Hahn has also produced darkly comedic autobio work and contributed to a number of anthology projects.
Alex is truly embracing the East London Comics and Arts Festival experience this year by exhibiting on the Friday and then giving his services to the ELCAF volunteer team over the rest of the weekend. I caught up with this self-publishing stalwart to chat about Martian misadventures, tactile zines and minicomics, and the vulnerability of autobiographical comics…
ANDY OLIVER: You've been producing small press work for a few years now, Alex. What's your background in illustration and how did you first enter the world of self-publishing?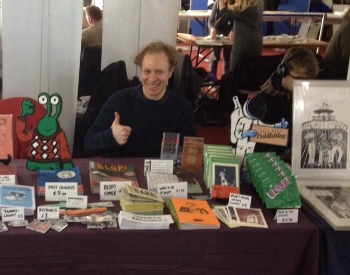 ALEX HAHN: Growing up, I really wanted to draw comics for Marvel, so I was always heading towards art school. During my Art Foundation year, I became interested in trying to make comics that weren't about super-heroes; one of my projects even sowed the seeds for my Post Conatus series.
I chose to study illustration -after some brief flirtation with fine art- but choosing a course took a while. Eventually Cambridge School of Art won out, as the staff interviewing me (Chris Draper and Jim Butler) seemed the friendliest and most interested in seeing students' work. However, it was at the (now defunct) UCCA Maidstone, when I saw some of Marc Ellerby's comics, on an open day, that the spark was lit; seeing that they were made using a home printer/photocopier and bound by hand, I realised: I could do that too!
Over my BA I made several book and zine projects, and discovered a love for different genres and mediums – from underground comix to children's books – as well as other avenues of illustration, such as editorial. I self-published my first few books while studying and continued after graduation, though it was still a few years before I managed to get them in front of the general public at Thought Bubble in 2013. When I finally got a table, I invited my good friend and classmate Dom McKenzie, to join me and we've been exhibiting every year since.
The last few years I have been juggling freelance illustration work and a Masters degree, while continuing to publish small press comics and zines and exhibiting at various conventions.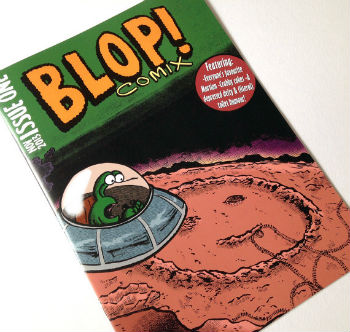 AO: Give us the back story on your alien Blop character and his humorous adventures. What kind of stories and themes do you use Blop to explore?
HAHN: Blop came from a creative writing assignment 'from an alien's perspective', which I later developed into a rough children's book for another uni project. I really enjoyed using the character and drawing him in various situations, so he crops up in many places and has now become a bit of a mascot for my illustration and self-publishing – I've even included him as an Easter egg in my illustration work.
The first Blop books I published were the zine: What a Lot of Blop and a small, comic, Blop vs. the Cyclops. In the former, Blop is used to express my dislike of reading Paulo Coelho's The Alchemist by drawing Blop over every page of my copy. The other makes light of the London 2012 mascot, Wenlock, with Blop letting his feelings be known…with excessive force. These books are quite different from the current, all-ages direction my Blop stories are going in. However, what probably comes across as vitriolic is just a comically exaggerated response of "I don't get it", which helped me define what I find interesting about Blop's character.
Blop represents the outsiders, free thinkers, those who don't quite fit in or often feel misunderstood. Martians come in many bright colours, but Blop is the only green one, which makes him unique, but also stand out. He'll get 'volunteered' to explore Earth and his natural curiosity, confusion and clumsiness gets him into all kinds of trouble; he prefers to examine things closely, using his senses, whereas the other Martians are more cold and scientific. Essentially, Blop is quite human for an alien!
I like that I can use Blop to explore aspects of our society, from how we communicate to the trials of cooking a microwave meal but also more fantastical adventures involving beasts, monsters and robots …with the odd joke about probing.
AO: Some of your self-published work has had a very tactile side to it – zines like Pika-tastic or Space Race! for example. Can you tell us about those projects and the opportunities that self-publishing provides for experimenting with presentation and physical format?
I fell in love with book-binding at CSA, so many of my projects ended up bound. I enjoy the craft of folding, cutting, sewing and sticking my way to a batch of books or zines – especially since every project inevitably goes through a stage of computer-based work (even if it's just arranging completed drawings) – holding a physical object is a good antidote to staring at a screen!
Handmade zines are only really limited by how much time the maker is willing or able to spend on each object and doesn't have to rely on expensive printing processes or access to facilities, like screen printing, to create an attractive product: they're quite democratic. For projects like the Pika-tastic Zine I use a fairly common format of folding a sheet into eighths and slitting the middle so that it can be folded into a booklet on one side and unfolded to have a bigger image on the other. This format lends itself to simple sequential stories or a series of images, and can be made more interesting with paper choices and colours, as well as adding a contrasting bellyband to complete the 'package'. I varied this format on my zine Space Please, with a vertical bellyband that acts as the first panel of the story. Both are fairly simple and quick to assemble, but I believe the overall feel elevates how the images are experienced.
Space Race came about as I wanted to make a sequel to Space Please, but I didn't want it to be more of the same and I wanted to invent my own format. I folded a lot of paper, trying to make shapes that could be unfolded and followed using what I call "book logic" (i.e. how we instinctively open and follow the layout of a book and pages etc) and not leave a reader wondering how to fold it back afterwards. I knew the story was going to be a competition about which of my characters could reach space first, but I developed the actual plot by drawing onto the booklets I had created to give a particular purpose for each of the three parts being different. I think what I ended up with was a great example of story and format working together – something that really has to be enjoyed as an object.
AO: You were shortlisted for the World Illustration Awards in 2016 for Space Race!. How much of a boost was that recognition for your work?
HAHN: There was definitely a personal boost, but sadly the accolade itself became a bit of a damp squib. I was extremely pleased to get the news, especially since any form of comics, are largely under-represented in these types of awards. The experience was let down by organisation: only the category winners and some shortlisted entrants were included in the WIA touring exhibition, the accompanying catalogue and invited to the private view. My book only appeared on the website and in a collage of shortlist thumbnails. To top it off, there was no communication about not making the cut, so it was a little embarrassing having to ask if I was invited to the show!
I still consider it a great personal achievement -and being able to tack that onto my sales pitch at conventions doesn't hurt- but I don't believe it really brought any new eyes to my work. From what I understand now, all shortlisted work gets included, so maybe I'll enter something next year.
AO: Let's turn to your autobiographical Post Conatus comics which have been very different in tone to Blop in the past. Your work there can be very stark and brooding in comparison. Given how brutally honest and dark some of that material has been have you ever felt any sense of vulnerability about sharing it online (and in print)?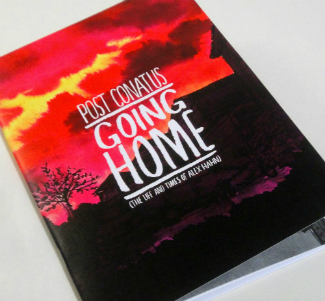 All the time! But I love autobiographical work that is raw and honest, sometimes self-deprecatingly so, and that's made me believe in it enough to keep putting it out there. Creators such as Jeffrey Brown, Joe Matt, Chester Brown et al, inspired me a lot during my studies, when I began making Post Conatus strips. I think this kind of work is best and more 'truthful' when there's a reactionary or spontaneous feel to it, so I try to get strips sketched out as close to the events as possible.
I'm conscious of falling into the stereotype of whinging and moaning, so I try to balance out some of the gloomier strips with sillier or more curious observations. There's always been an undercurrent of 'graphic medicine' -although that term is fairly new to me – in making these stories; turning the hard times into something constructive and, hopefully, funny too.
Your question is quite timely, as I've been taking a break from autobiography, to think about how I want to move forward. At the start of the year I took all the strips down, but this is more to do with feeling slightly embarrassed looking at older work in their low web-resolution, so it's an opportunity to present my stories better, when they return!
AO: Your visual style can shift quite significantly depending on projects from the colourful and the cartoony to the dark and oppressive. Can you tell us a little about your creative process, how you work and the mediums you prefer to work in?
HAHN: It's a perennial debate within illustration about whether it's best to have one 'style' so people know what they're getting, or to be more versatile and let the content lead the visual. I think the latter is a harder road without much 'name status' behind me, but it's definitely more interesting and refreshing for me as an artist.
My process is traditional for comics, following the pencils, black ink lines then colouring stages. I colour digitally, but often incorporating scanned textures for a more tactile finish. I've tried drawing digitally a handful of times and I'm not convinced yet; I much prefer the feel of working on paper. I'll often use life drawing as a time to experiment with different materials, especially with things I can't control, like ink bleeding into wet paper.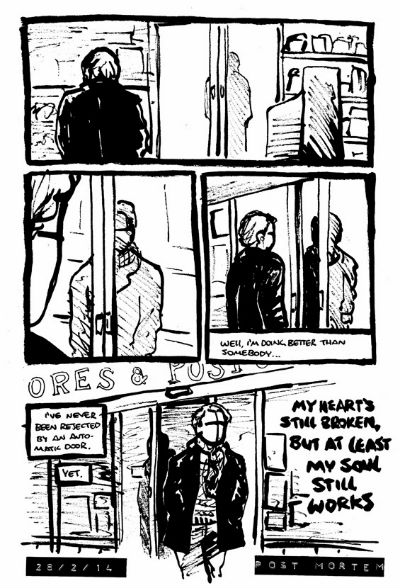 My Post Conatus stories (above) are probably my purest visual style as it is simply how I draw when using a blunt stick. The limitations of this allows me to worry less about making everything look 'perfect' and focus on the communication and storytelling. My cartoonier characters like Blop and 'Astro'-Nort, as well as my more 'realistic' commercial illustrations are made with brush and ink. With these, I aim for clean, bold outlines and details that can work well in black and white, limited or full colour, depending on what's needed.
I find the muffin characters from The Cruffin and Muffnut some of the most fun to draw; using the side of the brush and some pressure to give thicker, rougher lines; but I can't for the life of me draw a decent human that way.
AO: How important is it as a self-publisher to be involved in the wider indie comics community? To participate in anthologies, for example, or organised small press events?
HAHN: I like anthologies for the chance of exposure, as well as helping me to discover other artists whose individual books I may have missed at conventions or in small press sections. Creating stories specifically for anthologies, like Rozi Hathaway's Sneaky Business (below), gives a sense of direction and a firm deadline, akin to my commissioned illustration.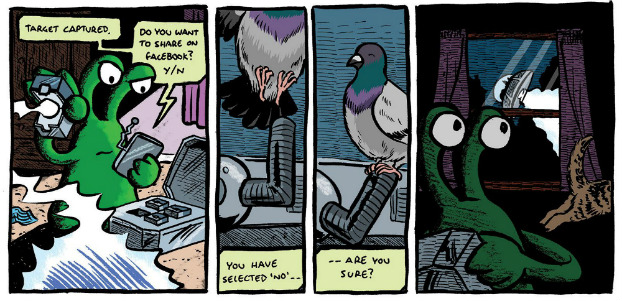 Personally, I consider the biggest benefit to be morale: being connected with a network of peers as illustration and comics can be very solitary pursuits. Tabling at conventions can be amazing, but other times a tiring, thankless slog, so finding friendly faces and getting to know new people is very welcome and can be as important as your sales figures. Recently, during a frustratingly lacklustre MCM London convention (where D&D fan-art seemed to be stealing the show) it was several conversations and in-jokes with Elizabeth Querstret that saved my weekend.
Events, of all size, are especially important for raising the public's awareness of what small press and self-publishing is, to show that there is a rich world of alternatives to what's in vogue and may even inspire new creators. I would encourage all self-publishers to not only attend more events, but get involved with supporting them too! I've been at the previous two editions of ELCAF as a volunteer, and the experience has been great and I'll be back volunteering this year, after exhibiting on the Friday.
AO: You have some new Blop publications ready for ELCAF. What can readers expect to see in the pages of the Little Blop Book of Cool!?
HAHN: This is the second instalment in my BlopShop Mini series; these are A6 size books that are linked by a common design and featuring standalone stories. The Little Blop Book of Cool! (above and below) is a tongue-in-cheek look at Earth culture and trends, through Blop's eyes, as he presents his findings to the other Martians. It's a comic/picture-book hybrid, in terms of the storytelling, and is designed to be a quick, fun read. The overall message is to like whatever you like, but not because someone else tells you to; of course, I'm sure I'll get berated by the odd Funko enthusiast or pug-owner who misses that point!
It's 20-pages long and can serve as a light-hearted introduction to Blop – for those new to the character – and an indication of the inclusive all-ages direction my Blop stories are following. I'm launching this at ELCAF on the Friday, after which, it will be available from my Etsy store.
AO: And what's next for Alex Hahn post-ELCAF? What else can we look out for from you in 2018?
HAHN: This week I've been working on layouts and thumbnails for the third BlopShop Mini, too! This one will feature a brand new character, in a wordless story. I don't want to give away much at the moment, but it will be a horror story with a conservation theme.
That may have to wait a bit, though, as I'm currently working away on a bigger Blop book. It will be more like the album format used in Tintin and the Hilda series – and hopefully the first of many! This one will collect several short Blop stories (of 1-4 pages) and feature two longer adventures (one 9-pages and the other is looking to be about 20) all in full-colour. I'm looking into running a Kickstarter to fund it and a possible Thought Bubble 2018 launch. Fingers crossed!
For more on the work of Alex Hahn visit his website here and his online store here. You can also follow him on Twitter here. 
For regular updates on all things small press follow Andy Oliver on Twitter here.
Catch up on all our ELCAF Fortnight articles to date here. ELCAF runs from June 22nd-24th. Full details on the ELCAF site here and you can also follow the festival on Twitter here.