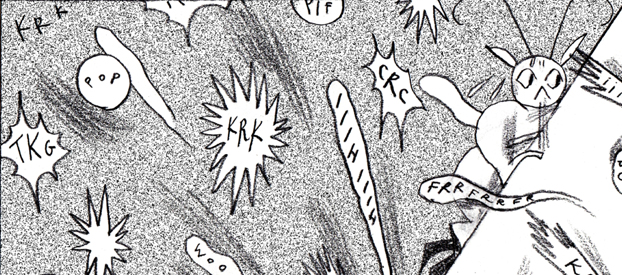 ELCAF FORTNIGHT!
If you've admired the lovely poster and visual identity of this year's ELCAF (and it's certainly been hard to avoid it around here over the past couple of weeks), then you should thank this year's artist-in-residence, Charlotte Dumortier – if she stands still long enough.
As well as selling her own zines, books and prints*, the Antwerp-based illustrator will be taking part in two workshop events at the festival.
First off, on Saturday, she'll be double teaming with her Yum Yum Zines buddy Shamisa Debroey for Miss/Print. Together, the two women will "guide you through the colourful process of print, their approach to collaborative drawing and the unexpected beautiful surprises of misprint."
Then, on Sunday afternoon, she'll be talking about Powerful First Lines: "the spontaneity and playfulness of a first sketch, and how to preserve this in a final drawing by trusting yourself and your intuition."
Off the stage and on the page, Charlotte has two goodies in particular to look out for.
Murphy's Miserable Space Adventures is an older book, published in Belgium a few years ago by Oogachtend, that might have eluded a lot of readers in the UK. The strips originally formed Charlotte's master's thesis, so, as you might expect, they set off in a great many directions to demonstrate her full range of cartooning chops.
I have it on good authority that in space, no-one can hear you scream, and maybe that's just as well for my poor old namesake, who comes to a series of sticky ends on the final frontier.
This might have the look of a fairly innocuous kids' book at first glance, but open it up and out comes oozing a series of inventively dark and comically gruesome episodes that might prove a bit much for even the most precociously bloodthirsty tot. All of this cosmic misadventure is presented in a energetic wordless style that pours across panel borders and tickles the eyeballs with a neon palette.
Of a more recent vintage, she'll also be bringing a print edition of Satyr, a 24-hour comic she created last year. Using a stylish but much more stripped-down and geometric style (which will appeal to fans of Roman Muradov), it tells the tale of a mountain-climber who has an expected encounter and undergoes a most alarming transformation. With its tight focus and sharp execution, it's a very pleasing little package.
* The festival poster will also be available to buy as a limited-edition screenprint.
Charlotte Dumortier is artist-in-residence at ELCAF. For more on her work visit her site here and follow her on Instagram here.
Catch up on all our ELCAF Fortnight articles to date here. ELCAF runs from June 22nd-24th. Full details on the ELCAF site here and you can also follow the festival on Twitter here.