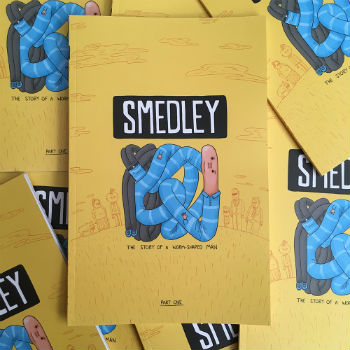 ELCAF FORTNIGHT!
In the pages of a Todd Oliver comic the grotesque and the nihilistic are so commonplace that they become almost banal. That's the appeal of the worlds he creates, brimming with casual body horror and inventive cartoon-style violence. I've covered Oliver's work here at Broken Frontier a couple of times before in his signature Boxes anthology series which I described as "uncompromising fever dream of a comic" here last year.
In Smedley: The Story of a Worm-Shaped Man his wildly warped imagination is employed in a longer-form narrative rather than the rapid procession of shorts that made up Boxes. It's still episodic in structure but there is an overarching storyline that flexes different storytelling muscles to the sight gags and punchlines of his previous work.
Sidney Smedley is the kind of character Oliver loves to populate his comics with; another in a long line of mutated everyperson losers, forever a plaything of the fickle whims of fate. We observe the advantages and (mainly) disadvantages of his life as a worm-shaped man from disastrous encounters with canine antagonists and work clients who see his elongated shape as something to employ in the most inappropriate ways, to constant outdoor attacks by hungry birds.
The humour is somehow both unsophisticated and yet really rather clever in terms of pacing and set-up, often employing a horrifyingly brutal scatological slapstick that is at once undeniably hilarious and yet hideously gross in its often faecal delivery. It's when Smedley finds himself employed by shadowy figures as an assassin that the comic comes into its own as he utilises his wormlike abilities to kill off his victims in ever grimmer ways and always with a terrible/genius punchline as the clincher.
Longer-term Oliver fans will nite at least one neat Easter Egg continuity moment in the comic. It's interesting too to see Oliver experimenting with a narrative that is more gag-based than the often meta explorations of the form that his past work has embodied. The humour here is perhaps rawer than previous offerings (particularly the abrupt but fitting finale) but it's always inventive and never anything less than darkly witty.
Todd Oliver will be exhibiting at ELCAF. Follow Todd on Twitter here and visit his online store here.
For regular updates on all things small press follow Andy Oliver on Twitter here.
Catch up on all our ELCAF Fortnight articles to date here. ELCAF runs from June 22nd-24th. Full details on the ELCAF site here and you can also follow the festival on Twitter here.