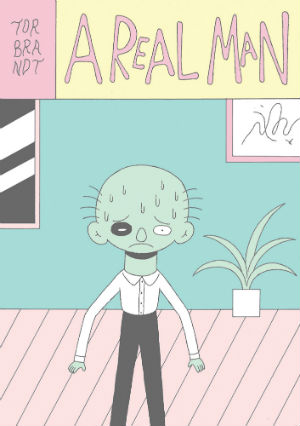 ELCAF FORTNIGHT!
A follow-up to his previous comic Nice and Clean (2015) but for the casual reader a standalone tale in its own right, Tor Brandt's A Real Man is a cutting tale of self-loathing and inadequacy. Brandt is one of this year's East London Comics and Arts Festival (ELCAF) guest artists whose illustration work embodies clear lines and shapes, and a pronounced yet subdued use of colour.
Brandt's comics practice, however, showcases another facet of his repertoire. A Real Man is a tightly-panelled, black and white downbeat slice-of-lifer with a distinctly underground vibe to it. It follows an unnamed young man who has never quite recovered from a relationship split and who lives with a mother desperate to eject him from the family home. His efforts to find employment as a result see him encountering a boorish sexist manager, undermining his fragile sense of masculinity as his life begins to spiral out of control.
A catalogue of despondency and desperation follows as Brandt's bleak humour spotlights his bulbous-headed protagonist's descent into self-pity and gloom. Echoes of a life that seems just out of his grasp resound – a chance meeting with his former partner and her new boyfriend, for example, or the passionate nocturnal engagements of his neighbours travelling through the walls of his new apartment.
It's a procession of humiliation and social ineptitude that is all the more pronounced in terms of characterisation for the fact that the main character is a largely unsympathetic individual. He seems incapable of reacting to his circumstances with anything but voyeurism and self-indulgence; his passivity sweeping him along on the tides of his own repression. When the story comes to a finish it's an abrupt one and that seems strangely fitting. An indication that there will be no neat denouement to this sad individual's plight; that life isn't so much passing him by as pointedly ignoring him.
With a deliberately disproportionate yet ever expressive cartooning style, Brandt brings home the many ironies of the book's title with an almost sombre wit. You can catch the author discussing 'Spiritual Minimalism' at his ELCAF talk on Saturday June 23rd.
For more on the work of Tor Brandt visit his site here and his online store here where A Real Man is available in print priced €7.00. You can also read A Real Man online here. 
For regular updates on all things small press follow Andy Oliver on Twitter here.
Catch up on all our ELCAF Fortnight articles to date here. ELCAF runs from June 22nd-24th. Full details on the ELCAF site here and you can also follow the festival on Twitter here.