Once again we will be in the company of Pearl Jones, Skinner Sweet, The Vassals of the Morning Star and some new characters when the long-awaited Second Cycle of American Vampire hits our comic book stores this Wednesday. Broken Frontier looks back over a few of the many highlights from the award-winning series' first volume, and explains why we love them so.
Skinner Sweet Makes His First Appearance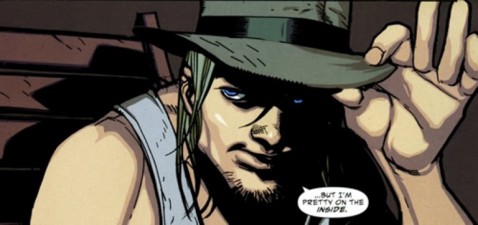 All it takes is one look to know he's trouble. There's something not right about him, dressed in that sweat-stained vest and old cowboy boots that barely cover his pale, hairy legs. His whole demeanour tells you to steer clear.
And yet there is a certain quality to Skinner Sweet which draws you in; which makes you smile in spite of yourself. So much so that on reading these first panels, we mimic the two budding actresses – Pearl and Hattie – in their vain attempt to ignore the handsome stranger sitting in a deckchair outside their Los Angeles boarding house.
The reason why Skinner Sweet is an American Vampire is not his propensity to tan in the Californian sunshine. His essential difference is that his nastiness seems necessary, attractive even, compared with his melodramatic, evil-for-the-sake-of-it European counterparts.
American Vampire introduces us to an archetypal American tough guy, whose heinous acts are the stuff of which Wild West movies are made, where real men either kill or get killed. Success is sexy, and Skinner makes murder seem Sweet.
Pearl Jones Gets Her Revenge
Pearl Jones is left for dead in the desert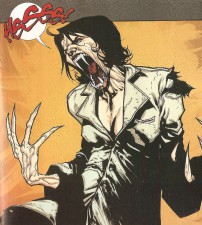 by her vampire studio executive bosses, another young female victim of the Hollywood system that will ruin many others besides her, leaving them with shattered dreams, naked and exposed.
Courtesy of a blood-stained kiss to the eyeball from one Skinner Sweet, however, Pearl is given an opportunity to wreak revenge upon her blood-sucking employers.
And boy, does she take delight in doing so. She leaves the blood-drained corpse of her human "groomer" in a closet and takes down the rest of the Hollywood coven one by bloody one.
Her beauty and bravery in committing these horrific acts has the reader punching the air in triumph. If there was ever any truth in America being the Land of Equal Opportunity, surely Pearl Jones embodies it?
A Flying Automobile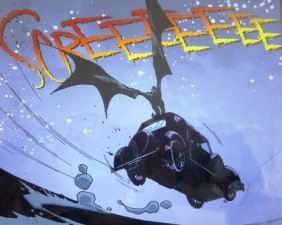 Police Chief McCogan of Las Vegas is in a bit of a fix; members of the consortium building the Boulder Dam are being murdered in strange and horrific ways. But when two "federal agents" – Felicia Book and Jack Straw – appear and start spouting some nonsense about vampires, McCogan blows his stack. Hasn't he got enough to deal with already, with the death of his father on his mind and a baby on the way?
But then he sees something to change his mind. While driving back to Las Vegas, he looks up into the starlit sky and sees an automobile overhead, held aloft by a pair of leathery, bat-like wings. A vampire has found his next victim, and all McCogan can do is to slam on the brakes as the creature drops its quarry to the ground in front of him, to explode in a ball of flame.
McCogan has only one question: "You know how to kill this thing, right?"
The response from Book – in truth, a member of a secret organisation tasked with finding and killing vampires – is beat-perfect: "Chief McCogan, welcome to our jurisdiction."
However, the truth is that we are firmly in the jurisdiction of Scott Snyder and Rafael Albuquerque, where awe-inspiring visuals and snappy dialogue combine to make those "Did that really just happen?" moments which this series is all about.
The Dream Sequence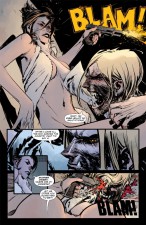 This Sean Murphy-drawn tale opens with a series of panels that combine the fundamentals of vampire fiction – sex and violence – to deliver a jaw-dropping sequence of events.
Vampire-hunter Felicia Book is disturbed while bathing and emerges, barely covered with a towel, to investigate. She is confronted by Skinner Sweet kneeling before her, his head inches from her crotch, his hand reaching up to grab her by the neck.
From a viewpoint between her breasts, we witness her shoot Skinner straight through the eyeball and then, when it looks as though she will lose the fight, Book raises the gun to her own head and pulls the trigger…
American Vampire never shies away from sex and the portrayal of the female form in all its magnificence. But, for all the titillation, the series distinguishes itself from much of the competition in one crucial respect. Its female actors – Felicia, Pearl et al – draw enormous strength from their nakedness, their sex. These are no maidens in peril. Blood and lust are all part of the vampire story, but they are parts from which these women fashion weapons.
Travis Likes to Bite Them Back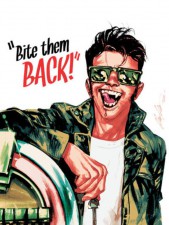 The pop-culture world crawls with vampires and their periphery: think True Blood, Blade, Buffy, Salem's Lot . Even Abraham Lincoln has got in on the vampire-hunting act, as though abolishing slavery and winning the American Civil War wasn't achievement enough for any man.
It is into this saturated market that American Vampire was launched. It must have been a question on the creators' minds when they set out: how to differentiate their work? Well, in Travis Kidd they presented one of their (many) answers to that question.
Kidd looks like the ultimate 1950s bad boy; he has more than a bit of the young Elvis about him. But his badness doesn't extend to the vampire kind of bad. Travis is more interested in killing vampires than becoming one of them – a revenge-response from when his parents were murdered by a coven during his childhood.
Most other fictions promote vampirism as the thing of youth, a way to hold off the ageing process indefinitely. But Travis is the young man who puts this idea to shame.
In American Vampire, the bloodsuckers are ancient, covered in the dust of Old Europe, rotten and stinking. Travis is the jean-wearing, greaser-haired American antidote to all their feudal fustiness, and we love him for it.
But the best thing – the absolute clincher – is this young man's weapon of choice: a pair of wooden fangs. Travis uses these because, as he explains to his girlfriend Piper, he likes "to bite them back."
They Blow Up Tower Bridge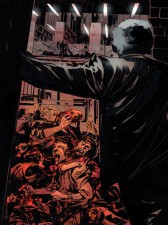 You may not have noticed this, but American Vampire is trying to teach you something about European and American history. Yes – really, and it is most clever about it. In-between all the blood, death, horror and sex is a story that tries to tell you why America is so different from its European neighbours, and how that resulted in the USA overtaking the rest of the world from the mid-19th century to become the 20th century's great superpower.
Some lovely examples of this lesson abound in Volume 5, most impressive of which is the brass-balled audacity of Tommy Glass, from Dayton, Ohio; an American visiting London who also happens to be Dracula's human helper (or Renfield). Glass aims a U-boat straight at Tower Bridge, right under the nose of Hobbes – the leader of the Vassals – and thus manages to free his vampire overlord.
Cue the downfall of the Vassals, amid much soul-searching by Hobbes, who is forced to admit that the vampire-hunters have been backing the wrong side.
It is a wonderful analogy for what has happened to the former great power where the Vassals' headquarters resides – Britain: a country that has been forced to disband its empire and now finds itself exceeded economically and politically by the US.
If only Scott Snyder had been our history teacher, maybe more of us would have taken an interest.
Look for a review of American Vampire: Second Cycle #1 here on Broken Frontier tomorrow.