Sometimes – maybe even most times – you pick up a comic because you know exactly how it's going to look, exactly how it's going to work and exactly how it's going to make you feel. And there's nothing wrong with the comfort of familiarity: it's why we try to make exactly the same cup of tea ten times a day.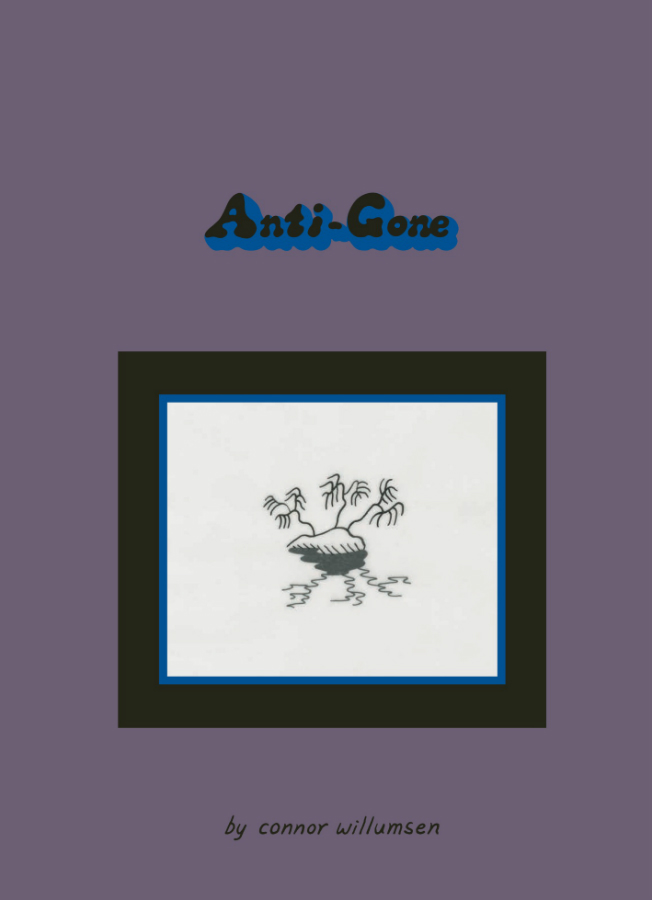 But the beauty of comics, by virtue of their immersive nature, is that you're sometimes forced to see things in a different way. And in Anti-Gone, that's what Conor Willumsen does in spades.
This intriguing and demanding book follows the travels of the boorish gym-bunny Spyda and the facetious, disengaged Lynxa – a pair of the crass, affluent North Americans you're likely to stumble across in any tourist spot on earth.
As they drift around in Spyda's upholstered boat, the exact nature of their relationship is hard to put your finger on; they have sex, but it seems more to do with relieving the boredom than any kind of tenderness. When Spyda talks about a course of therapy he's undergoing to be able to engage more directly with the world, Lynxa barely glances up from her book and hits back with, "I just don't know what you're taking about and it's a weird time to hear about it". With a penchant for pushing each other's buttons, they're often more like cellmates than lovers. Perhaps it's telling that the game we see them enjoy most is hide and seek.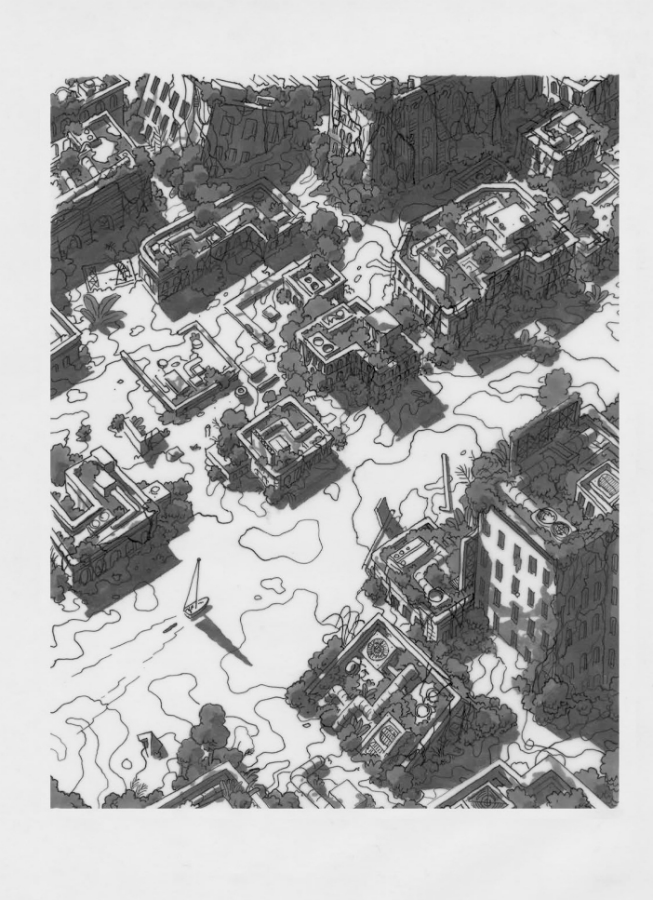 After a vague and episodic opening section, the book's world begins to take shape when they arrive at a city – a Ballardian environment of environmental disaster and flooded streets, where the gap between the haves and the have-nots has widened and deepened. That chasm is embodied in a climactic clash between a militarised police force and a ragged army of the angry and dispossesed.
Little of that initially bothers Spyda and Lynxa, though. Apart from a brief encounter (which Spyda initially throws money at, before turning to violence), they remain insulated from the discord within the comforting confines of a huge could-be-anywhere shopping mall and cineplex. It's only at the story's conclusion that these worlds collide.
Indeed, it's clear that even in this post-catastrophe world, an individual's worth and status are still largely defined by their value as a consumer. It's probably no coincidence that the couple's most substantial encounters in the book are commercial in nature, with a mysterious seabound 'Vendor' and a locquacious Tarantino-esque drug dealer. Even then they run up against the consumerist brick wall of unattainable desire: the object from the Vendor's Mary Poppins-like bag that Spyda craves most is the one he can't have.
The encounter with the dealer also provokes a bit of thought on the filters through which we choose to see the world, as each of their products promises a different emotional or cognitive reaction to the film Spyda and Lynxa are heading to see. The idea of facing even the fantasy world of cinema with #nofilter seems unthinkable. (Although the sequence does leave you pondering which of those imaginary narcotics you would take if you had the chance.)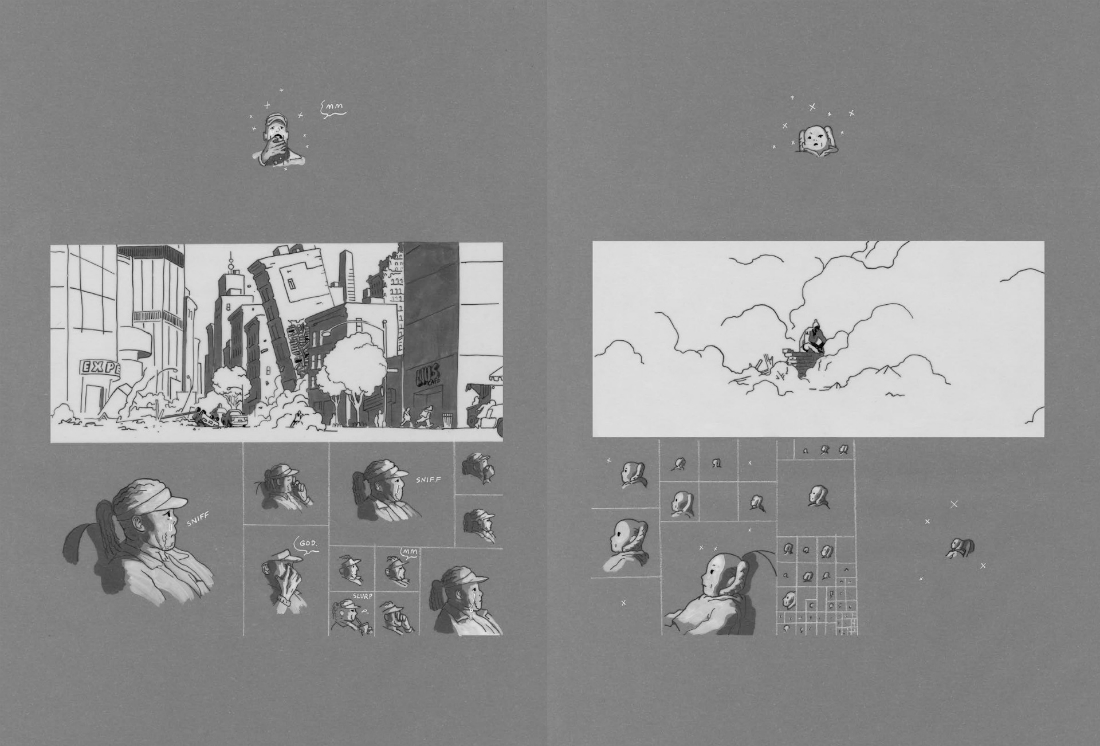 But an exploration of the book's 'plot' and possible themes is only half the story. It's also necessary to look at the singular way in which Willumsen presents the narrative – something that tickles the noddle into thinking a little more generally about how comics weave their magic.
A photographic sense of realism isn't what Willumsen is striving for here. Instead, the reader has to meet the artist half way. Even moreso than in other comics, what appears on the page forms a blueprint for a more profound process of comprehension that is cooked up in the reader's mind.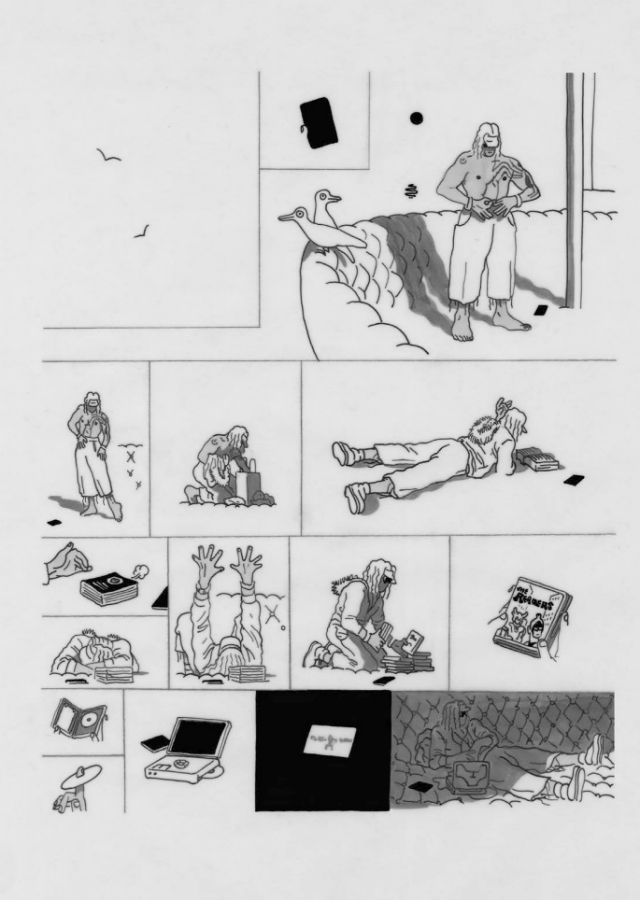 Willumsen's pages don't follow a set pattern. Sometimes they're a free-flowing stream of tight-focus details; sometimes the real estate of the page is divided up by lines that read more like partitions in a room (or false walls in a gallery) than conventional panel gutters.
He tightens or loosens the focus as required, from the most minimally suggestive marks to tightly rendered urban vistas. But Anti-Gone certainly isn't all a challenge: Willumsen has a gift for lovely fluid body language, and the intricate rendering of the city scratches all your BD sci-fi itches.
This isn't a book that will satisfy those looking for a conventional three-act narrative with all of its loose ends neatly tied up in a bow. It demands on almost every page that you work hard to unlock the significance of Connor Willumsen's choices. But that work brings its rewards.
Connor Willumsen (W/A) • Koyama Press,  $18.00
Review by Tom Murphy