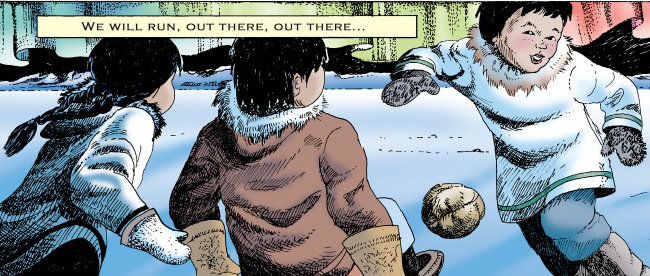 Even though we call it the Great White North, the fact is that most Canadians live as far south as possible. Canada's a vast country, the second largest in the world after Russia. Most of it is uninhabited.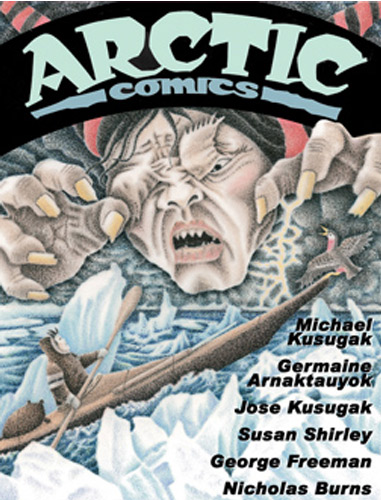 The high North is an alien realm of rare majesty and surprising beauty. It's the land of the midnight sun and the polar bear and home to the Inuit and several other northern peoples. And most Canadians have only ever seen it in pictures or on TV.
Conditions can be harsh; it takes a rare breed to live there. Nicholas Burns, illustrator, writer, and editor of Arctic Comics, made the trip in the 1980s and fell in love with the region's people and their unique way of life – particularly their deep connection to the land.
I first came across Burns's work within the pages of Arctic Comics Volume 1, almost exactly 30 years ago. Produced for the Northwest Territories pavilion at Vancouver's Expo 86, my best friend brought the collection of Arctic-inspired stories back for me as a souvenir.
Nicholas and I live in the same city. We've met in person, albeit briefly. I'm a huge fan of his artwork. I worked pretty closely with his nephew for years. I had no idea he was the guy who did Arctic Comics until this second volume from Canadian publisher Renegade Arts Entertainment. It's a strange world we live in.
You can tell it's a project that has remained close to his heart over the years, despite many stumbling blocks and a long stint on the back burner. He speaks of the Arctic, its people and its artists with a very real passion that is as humbling as it is uplifting and educational.
I had an opportunity to pick Nicholas's brain via email and gain even more insight into this majestic, misunderstood land and why he chose comics as the vehicle to celebrate its beauty.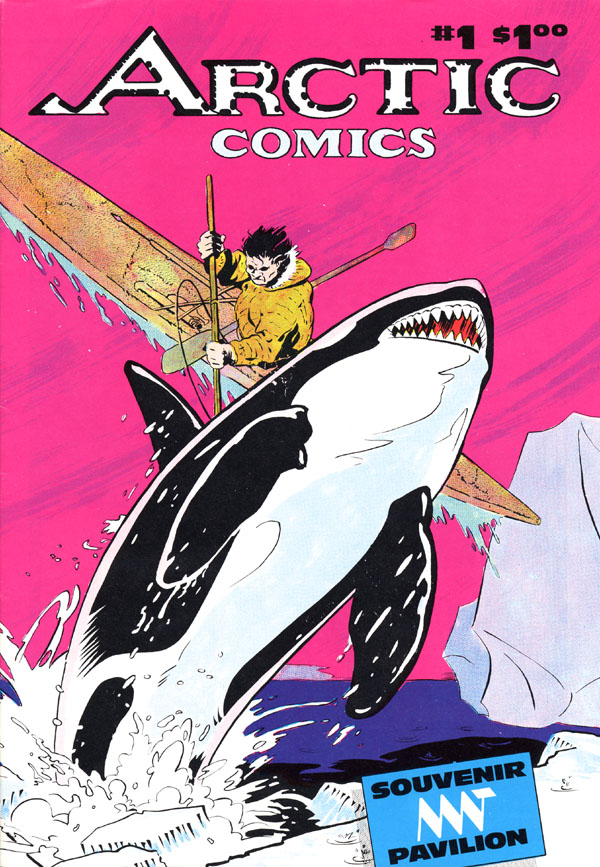 In your introduction, you mention having spent some time in the Arctic during the 1980s. What drew you to Canada's North? Have you been back, and, if so, what's changed the most?
My wife, the late Dr. Lisa Lugtig, had been interested in living in the north since she was in grade school. She wanted to live in the Arctic and practice medicine. I wanted to be with her, and I liked the idea of living in the north too. So we went on a wonderful adventure together.
I went back once, briefly, in the 90s, and it had changed. Some of the roads were paved! More houses had been built. The ball diamond had been moved. But to get more than a superficial understanding of what had changed, I'd have had to stay there longer.
What made you choose comics as the medium for the original volume of Arctic Comics? What makes comics the right choice for telling stories about the Arctic?
I have the right combination of skills to make comics, and people really enjoy reading them, so I make comics! The first Arctic Comics was sold at the 1986 world exposition in Vancouver – Expo 86 – and did really well, so I wanted to do more.
Comics are a relatively inexpensive medium for visual storytelling, and a lot can be packed into a comics story.
Who are some of the artists and writers involved in this volume?
Michael Arvaarluk Kusugak is an award-winning Inuk author and storyteller. He wrote a very evocative story poem that Susan Thurston Shirley illustrated beautifully. Sue's a watercolourist who has lived in the Arctic for decades, and that really comes through in the completed story 'On Waiting'.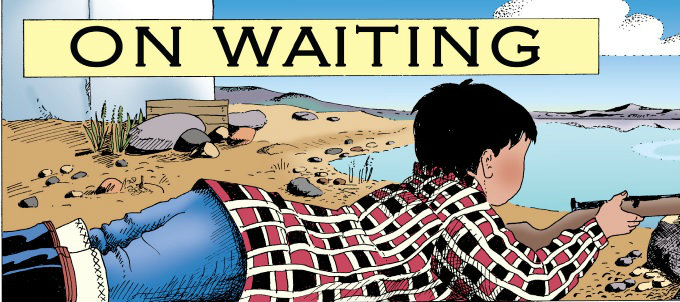 Michael's younger brother, the late Jose Kusugak, wrote about Kiviuq – the Ulysses of the north – and Germaine Arnaktauyok did a wonderful job of illustrating that mythic time.
Jose had an amazing life. Among other things, he helped to standardize Inuit orthography, worked as a broadcaster and manager at the Canadian Broadcasting Corporation, and was one of the negotiators of [the creation of] Nunavut [Canada's newest territory, which joined the Confederation on April 1st, 1999].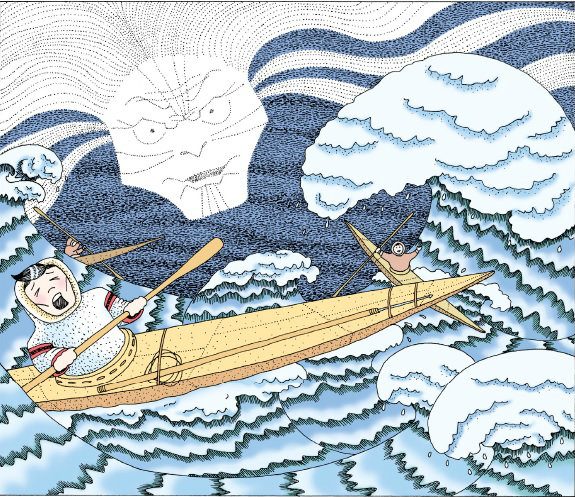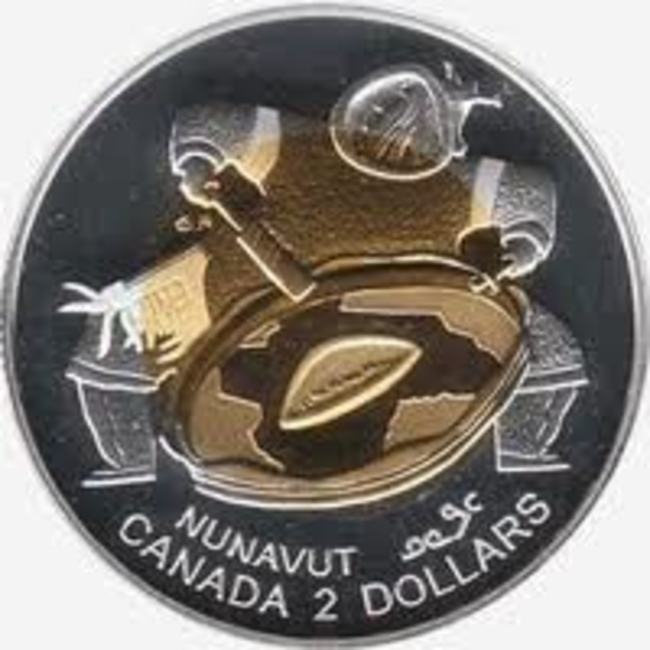 Germaine has been a working artist for decades, creating prints and working in animation. She designed the drum dancer that appeared on the Canadian toonie to celebrate the creation of Nunavut. (See right)
The artist best known to readers of Broken Frontier is probably George Freeman. He's worked for all the major comics publishers, drew the classic Captain Canuck series of the 70s, and still draws the occasional Captain Canuck story.
His wife, Laurie E. Smith did really expressive and powerful colour on the story I wrote, 'Blizzard House'. Together they really captured a very specific look and feel of the Arctic.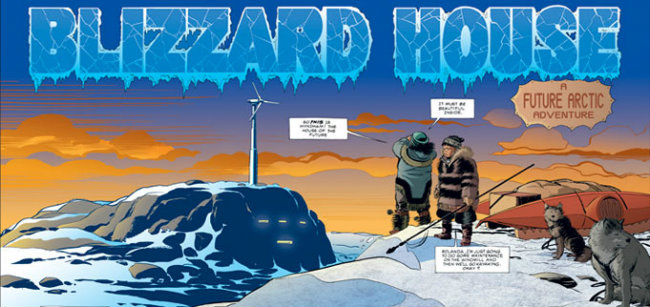 Lovern Kindzierski (Shame) has written and coloured comics for decades. Not only did he do meticulous colour separations on most of the stories, he introduced me to Alexander Finbow, the publisher at Renegade. So there wouldn't be an Arctic Comics if not for Lovern!
I'm probably the least known of all the people who contributed. As an assistant to George Freeman, I started out professionally doing colour for Marvel and other publishers, and did a bit of comics writing for Kitchen Sink, DC/Vertigo, and Metal Hurlant.
While in the Arctic, I wrote and drew Super Shamou and a lot of other educational comics. The stories I wrote and drew for Arctic Comics touch on the lighter side of living up north.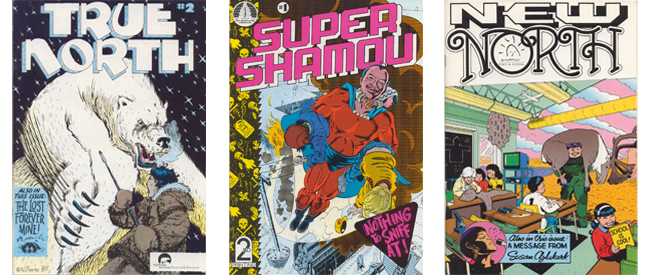 The stories included in the second volume were completed years ago but still stand up incredibly well today. Was creating stories that are timeless something you intentionally set out to do as creator and editor?
No, I was just trying to meet a deadline!
I think that timelessness comes from the stories themselves. Tales of the Arctic past, present, and future were deliberately chosen because I wanted to give readers a sense of the region's vast history, culture, and potential. I also wanted to poke fun at the attitudes some southerners have towards the north.
There are a lot of laugh-out-loud moments throughout the book. How important is a good sense of humour when living in the Arctic?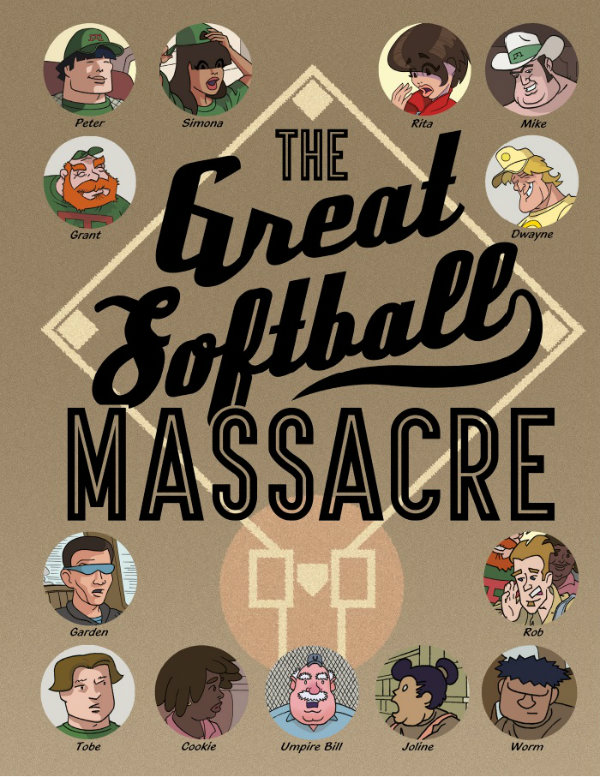 It's essential! Humour is a great way to defuse social and cultural differences. Some of the incongruous, crazy, stupid stuff that happens up north, you wouldn't believe! Humour is also a great way to relieve frustration; you have to laugh or you'd cry.
While living up there I wrote some three-minute satirical bits for CBC Radio North. They were "political cartoons" in audio format, so including humour in Arctic Comics was a natural.
Each story reveals or explores a different aspect or issue of living in the Arctic. You and your fellow creators take on issues of both cultural and environmental importance. It could be argued that both of these things are in danger of being subsumed by outside influences. How important is the preservation of the land to the people and their cultural traditions?
Respecting and preserving our environment is crucial to everyone on earth, not just Inuit. Most of Western culture has forgotten – or ignores – this reality. The Inuit have not forgotten. The people, their culture, and the land are inextricably bound together. So the question is: will we listen and learn from the Inuit, or will we continue to destroy the planet's capacity to sustain human life?
Most of the stories in Arctic Comics are fun, but one of the intentions of this collection is to entertain while informing readers.
What was your biggest takeaway from your time in the Arctic? What do you hope readers take away from Arctic Comics?
Living in the Arctic changed the way I look at the world. The people of the north gave me an inkling into another way of seeing, appreciating, and understanding reality. As an artist, I could receive no greater gift.
Arctic Comics is my way of trying to share that gift with the world.
Arctic Comics, published by Renegade Arts Entertainment, is available in fine comic stores everywhere from May 11. In the meantime, check out the video trailer on Vimeo!