PRIDE MONTH 2023! In Yugo Limbo's Be Kind, My Neighbor we have a trans-centric comics narrative with a very different approach than much of the trans and non-binary comics we have covered in the past at Broken Frontier. This is not traditional autobio or fictionalised slice-of-life but rather a weirdly entrancing dark fantasy story. It will come as little surprise then when I mention that Be Kind, My Neighbor comes to us from the direction of radical publisher Silver Sprocket whose output, let's face it, is always at the forefront of cutting edge and boundary-destroying comics.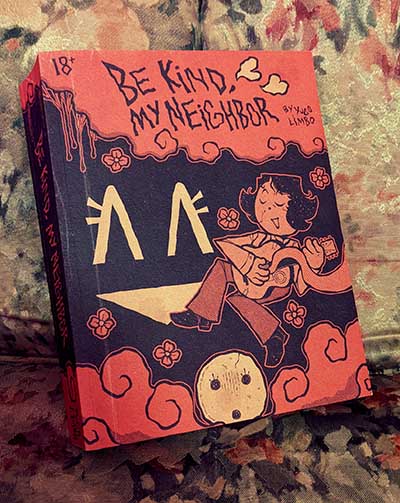 Be Kind, My Neighbor is set in 1973 in the small American town of Baths. Here Mr. Neighbor, an endearingly friendly rag doll, forms a friendship with Wegg, a travelling busker, after the latter is the victim of a street assault. As their companionship blossoms into love it becomes apparent that both characters have secrets. What are the existential fears that govern Wegg's life? And why does Mr. Neighbor regularly disappear every month?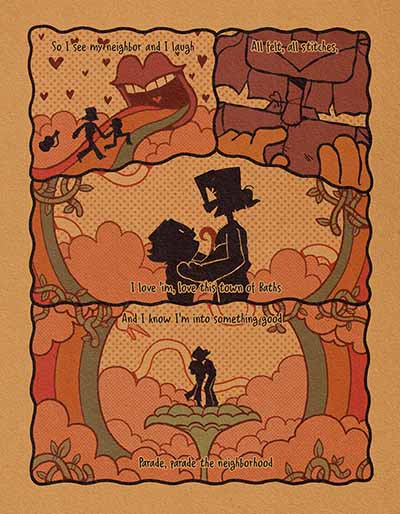 Added to the mix is the mystery of the Baths Heartbreaker, a ritualistic serial killer operating in the area, and the involvement of mysterious cults. Gore, violence, sexual exploration, mysticism, metaphor and surrealism abound in a romance mystery story quite unlike anything you may be expecting.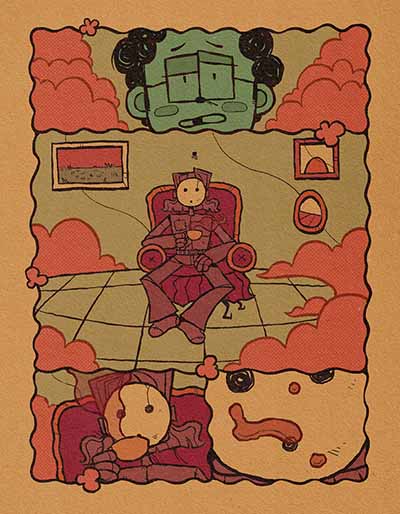 At its heart, Limbo's graphic novel is the love story between the two trans characters Wegg and Mr. Neighbor. But thematically there's so much more weaved into that central focus. Be Kind, My Neighbor is also about finding acceptance and one's place within the LGBTQ+ community, healing, relationships with the body, intimacy, and recovering from trauma. All wrapped up in the trappings of this weirdly rendered vision of Americana.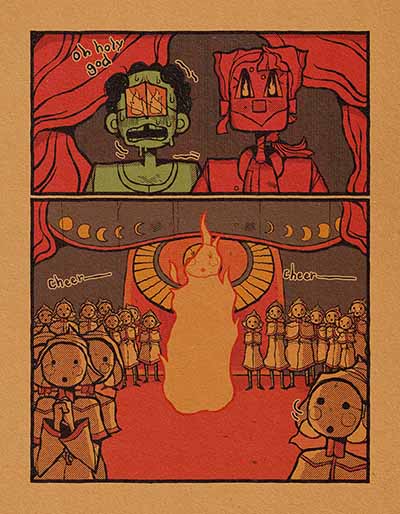 With its cartoony eccentricities and high-energy visuals Limbo's art veers between the bizarrely cute and the disquietingly idiosyncratic. Their use of colour evokes that 1970s setting to a tee; a kind of subdued psychedelia that perhaps incongruously only serves to make each chapter feel all the more eerie as a result.
Be Kind, My Neighbor makes little concession to absolute clarity and at times it's up to reader to find their own meanings between its covers; indeed, its near-500 page count means there are occasional passages where it can lose rigid narrative focus. However, it remains an ambitious and distinctive exploration of the themes it examines. Be warned, though, this is definitely intended for an adult audience!
Yugo Limbo (W/A) • Silver Sprocket, $39.99
Review by Andy Oliver