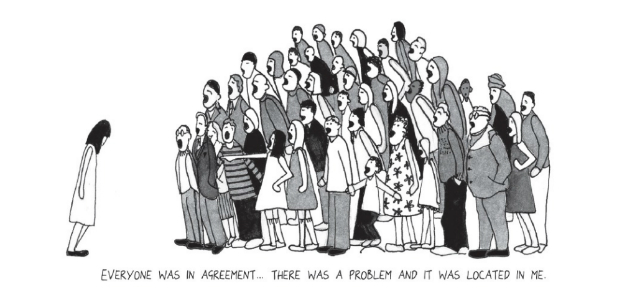 Delicate in construction yet uncompromising in message, Becoming Unbecoming is an astonishing testament to the potency of visual metaphor.
Una's autobiographical Becoming Unbecoming is set against a very recognisable 1970s backdrop. It's a time of widespread industrial action, a climate of domestic fear centring on the IRA, and persistent power cuts. It's also a time when Peter Sutcliffe – the multiple murderer who would become known as the Yorkshire Ripper – was embarking on a horrific killing spree that would last for years. As these events play out in the wider world, on her own individual stage the young Una is about to experience a series of violent acts that will reshape her very sense of identity.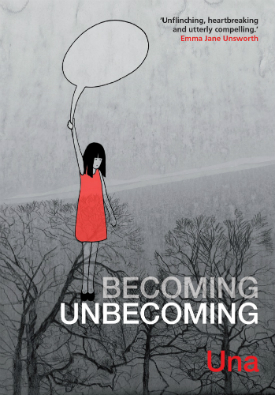 There's a two-page sequence near the beginning of Becoming Unbecoming that encapsulates from the start the deftly layered presentational approach of this long anticipated graphic novel. As her reflective thought bubbles track across a host of disturbing '70s pop cultural iconography – exploitative Top of the Pops album covers, Jimmy Savile and Gary Glitter – we are introduced to a 7ish-year-old Una professing a love for the music of that most comfortable of family entertainers, Val Doonican. It's a moment of foreshadowing – a juxtaposition of polarised yet inextricably interlinked imagery – that is indicative of a book that, within its 200 or so pages, will skilfully interweave social commentary and personal testimony to powerful and unforgettable effect.
Part graphic memoir, part essay on gender violence and the culture of blame, Becoming Unbecoming examines the issues surrounding ingrained societal misogyny by paralleling the events of the early years of its protagonist with the prevailing attitudes being played out in the media and the environment around her. This is an era when newspapers constantly imply that victims are somehow culpable for crimes committed against them, when unmarried mothers are stigmatised, and when football fans think chants glorifying the acts of a serial killer are "banter".  The book may be set in 1977 but to all intents and purposes it could be 2015.
The early part of Becoming Unbecoming recounts the author's teens, the double standards surrounding gender she encountered and, pivotally, the male sexual violence she experienced that would blur the lines of her notion of self. As she struggles to comes to terms with that abuse she also has to deal with her growing isolation from her peers who have labelled her a "slut". Society's propensity for shaming women, and for suppressing uncomfortable truths that should be acknowledged and challenged, are examined in the most compelling piece of autobio comics you'll read this year.

Una's younger incarnation provides us with an empathetic point of reference as her story, and the mindset of those who shun her, are mirrored in the thematically connected diversions into the Yorkshire Ripper investigation. As it progresses, Becoming Unbecoming asks us to consider the entrenched conditioning and climate of judgement that props up casual gender stereotypes, the inescapable reality of the prevalence of male aggression, our preoccupation in popular culture with sexual violence, and the psychological ramifications of misogynistic behaviour on its recipients. It's a message that is communicated with a controlled and directed candour. One that confronts the issues at its heart by questioning, analysing and challenging presumptions and fixed attitudes, making an authoritative plea for increased social responsibility in the process.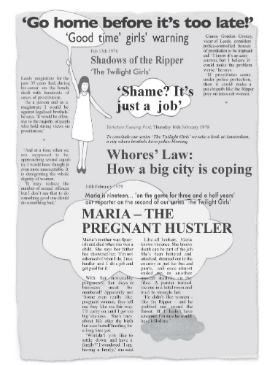 One of the great strengths of Una's approach to the page is her ability to endlessly toy and tinker with the standards of the comics form to elicit a specific reaction from the reader.  In terms of a pure technical utilisation of the medium, and all its unique communicative trickery, this is sequential art that is inventive and dexterous in construction and intent.
But there's also an irony to it because, despite the fluency of Una's use of the language of comics throughout, Becoming Unbecoming discards the perceived rules of comics storytelling. There's an ever shifting artistic landscape to the book that, page to page, boldly jumps from pure sequential panel-to-panel storytelling to illustrated essay, haunting visual analogy, evocative montage and beyond. A superficial incongruity in appearance perhaps that, nonetheless, ensures that each and every page is structured to convey its point with the most appropriate and memorable means of delivery.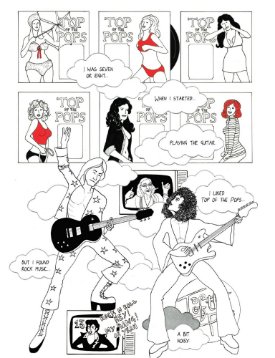 There's a representational quality to the art and figure work here that strips characters and situations back to their emotional core, allowing readers to connect to and react with them on an intimate level.  It makes the occasional use of photographic imagery all the more jarring when it comes, profoundly underscoring the harsh reality of what is being depicted on the page. But the true visual triumph of Becoming Unbecoming is in the metaphorical artistic devices that Una utilises.
From the first page – with her depiction of her younger self dragging a weighty speech balloon to symbolise inner burden – it's obvious that this an artist who can exploit the possibilities of the form to build an instantaneous relationship with her readership. Recurring visual motifs abound – cut-out figures, a Kafka-esque metamophosis she undergoes early in the book, and a very literal depiction of the idea of "moral fibre" for example – deftly depicting her responses to, and her evolving understanding of, the pressures of the world around her. Una's manipulation of text placement  is particularly effective in emphasising theme and mood.
One of those old standbys of the reviewer's lexicon is the statement that work will stay with you long after you put it down. But in the case of Becoming Unbecoming's final section that can be said without even the tiniest hint of hyperbolic posturing; a pensive coda that has an emotional impact no reader will quickly forget. It may have been a quiet year for Myriad Editions in terms of graphic novel output but having published something as important, vital and inspiring as Una's debut graphic novel they can consider it, at the very least, as being as successful a year as any to date. Delicate in construction yet uncompromising in message, Becoming Unbecoming is an astonishing testament to the potency of visual metaphor.
Una (W/A) • Myriad Editions, £14.99