As regular readers of Crossing Borders know, I have been reading European comics since long before I rudely mastered the English language and could read their US and UK counterparts. That's why I'm in a good position to write a column about this stuff. So allow me to be a little indulgent in spotlighting Dutch artist Raymond Lemstra's entry in Nobrow's ongoing portfolio series, Big Mother.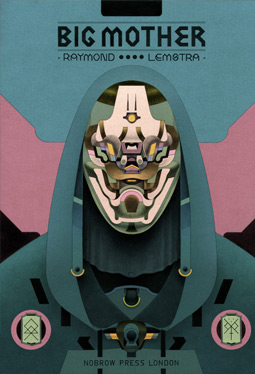 Big Mother #2 featured the works of sublime Belgian artist Sam Vanallemeersch, and for #3 Nobrow once more aimed their talent arrow at the Dutch language area, hitting Raymond Lemstra from the Netherlands.
Big Mother #4 is Lemstra's first international publication; his illustrations have previously been on display in exhibitions and magazines, where he works for a list of rather impressive clients, including Nokia and Mercedes.
He straddles the fine line between folklore, fantasy and childlike wonderment, more often than not arriving at something sinister around the edges. His labour-intensive illustration work features a lot of medium shots of odd creatures comprised of organic and non-organic matter, although it is often hard to tell the difference.
He injects a playful layer into his intricately laid-out figures, but the composition often lends itself to a sinister interpretation. The artist himself describes this process as "A clash of intent, simultaneously assuming simplicity and complexity, randomness and reason, flaws and perfection. The purpose of which is to inspire a sense of joy and discovery."
Check out his artwork on his website (raymondlemstra.nl) and in Big Mother #4: you won't be disappointed. It's like Michael DeForge on acid – and that really is saying something!
Big Mother #4 – Raymond Lemstra is published by Nobrow. It is an oversized softcover counting 24 pages and retails for $30.