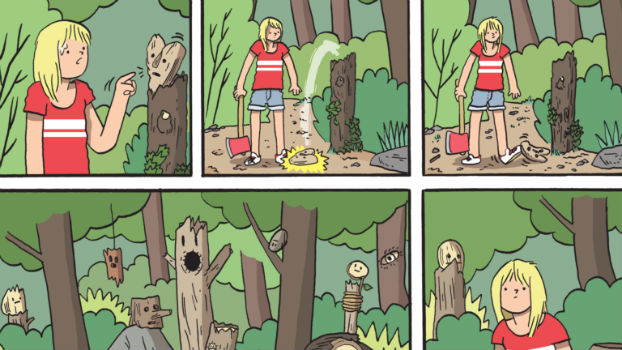 From Weegee: Serial Photographer to Hobo Mom there's no doubting the versatility of Belgian creator Max de Radiguès. Stig & Tilde: Vanisher's Island, his latest offering from Nobrow Press, is presented in the style of a European children's album but this tale of two stranded siblings has a decidedly dark edge to its colourful and vibrant pages.
Twins Stig and Tilde are about to take part in a local tradition which is also something of a rite of passage in their hometown. Having reached the age of fourteen they must spend a month living without adult company on a local island. While once a gruelling ordeal, in contemporary times this custom has become something of a summer party for the participating kids.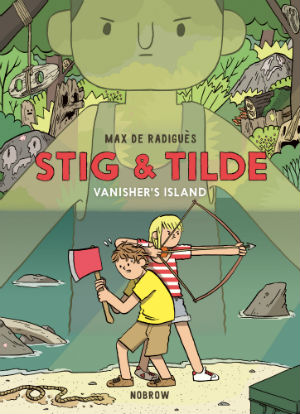 But for the twins events take a turn for the worse when a mishap on their dinghy trip leads to them drifting off course to the wrong island. Trapped alone, with diminishing food supplies and just their wits to rely on, the brother and sister must find find a way to survive their ordeal and make their way back to the mainland. But what they don't realise at first is that there's another presence on the island. One that has been there for decades, one that is lonely and disturbed, and one that may have a decidedly otherworldly quality…
For a book that has such a clean and accessible cartooning style, and is built on what initially seems to be an uncomplicated premise, Stig & Tilde: Vanisher's Island soon reveals itself to be a story of brooding undercurrents. To speak of its key twists would be to give away storytelling surprises that are the readers to discover and experience for the first time themselves. But de Radiguès builds up a mystery here that takes us in unexpected directions as the characters adjust to their new surroundings and face up to the reality of the island's other inhabitant.
Along the way, this coming-of-age story also explores the complexities of the sibling relationship in an eloquent emotional shorthand, while themes of loneliness, self-reliance, obsession and the most unlikely of friendships also come to the fore. It's the genuine feeling of jeopardy that slowly encroaches on the narrative, however, that is the most affecting element of the book; a creeping sense of unease that something is fundamentally wrong and that time is running out for the characters to escape their island prison.
The phrase "deceptively simple" is one of those banal reviewer fallbacks that I attempt to avoid here at BF but it does have some currency here. The visual storytelling of de Radiguès is crisp and clear with a vibrant use of colouring and an ever engaging cartooning pacing. But it's also sophisticated in its delivery; action sequences flow sometimes with a sense of peril and sometimes with one of slapstick, visual characterisation ensures our empathy with the twins throughout, and a delicate employment of colour reminds us of the many facets of the island from its inviting beauty to its sometimes sinister air of menace.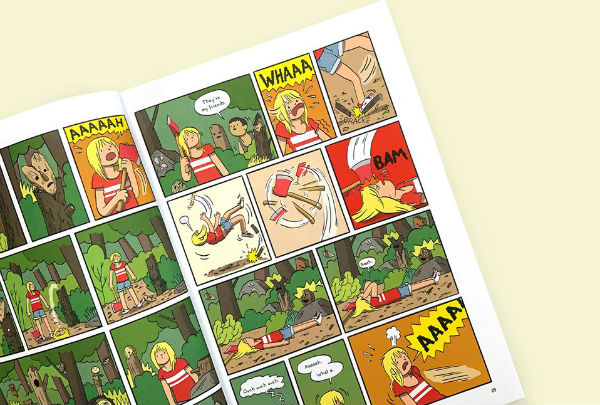 While this is a standalone story it ends with the promise of further adventures for the duo and, specifically, a continuation of their adventures lost afloat. Welcome news indeed as Stig & Tilde underlines what we've been saying for the last eight months here at BF… 2019 really is shaping up to be one of Nobrow's strongest years to date.
Max de Radiguès (W/A) • Nobrow Press, £9.99
Review by Andy Oliver