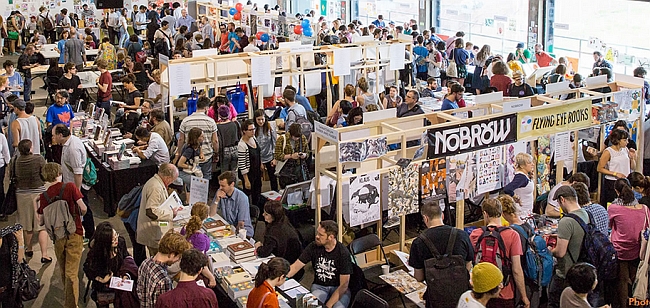 The new website for ELCAF – Nobrow Press's East London Comics and Arts Festival – has opened ready for the 2015 incarnation of the event "dedicated to showcasing the most exciting talent in illustration, design and small press publications." Ticket sales go live today and the full programme of events will be announced in April. Expansion seems to be the underlying theme of this year's ELCAF on the weekend of 20/21 June, with a build-up in the weeks beforehand that includes an associated exhibition of Ricardo Cavolo's work at the NOW Gallery in May and a series of masterclasses by professional artists and illustrators hosted by the House of Illustration in May/June.
If there was a down side to last year's event it was undoubtedly the extended period queueing to get in so the move to a two-day event hosted in two locations – The Laundry and Space in Hackney – is a very welcome and positive development. More details in the official press release below or, alternatively, you can visit the new ELCAF site here.
***
ELCAF 2015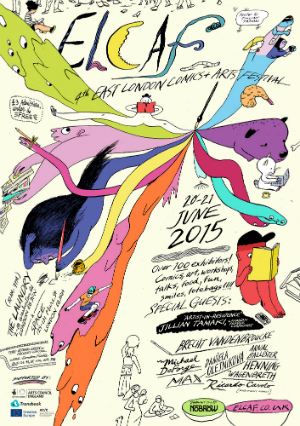 Founded in 2012, ELCAF's aim is to introduce and celebrate the dynamic community of artists and publishers that are pushing the boundaries in comics, illustration and sequential art. This year we are extremely excited to be able to offer an extended programme of events over the course of not only one, but two jam packed days. In addition to the trademark workshops and talks which attract ELCAF go-ers each year, we will be running a new series of Masterclasses in collaboration with the House of Illustration.
As with every edition, ELCAF has the pleasure of inviting an internationally celebrated artist to create a unique identity for the year and we are extremely honoured to announce Jillian Tamaki as this year's artist-in-residence. Tamaki is a multi award-winning illustrator; her book This One Summer (written by Mariko Tamaki), was the winner of this year's Printz Honor and is also the the first graphic novel to receive the Caldecott Honor (2015). We are thrilled to welcome such a talented and remarkable artist in joining us to celebrate ELCAF 2015.
Alongside Jillian Tamaki will be an exciting roster of international artists giving talks and holding workshops and of course, around 100 exhibitors including individual artists, publishers and collectives, all carefully selected by the festival curators and organisers to each bring their own unique creative element to the day.
About Jillian Tamaki
Jillian Tamaki is a Canadian cartoonist and illustrator. She is the co-creator of the graphic novel Skim (with Mariko Tamaki), which was listed as one of the New York Times' Best Illustrated Books of 2008 and was nominated for four Eisner Awards. Her second collaborative work with Mariko Tamaki, the New York Times bestselling graphic novel This One Summer, received a Caldecott Honor and won the 2014 Governor General's Literary Award. Tamaki's most recent book is 2015's SuperMutant Magic Academy, about a prep school for mutants and witches; she has received two Ignatz Awards for the webcomic version of SuperMutant Magic Academy.
EMBLEMA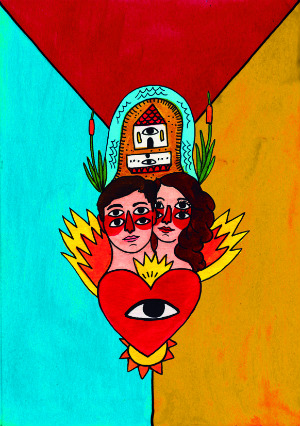 Ricardo Cavolo
10 May 2015
The East London Comics and Arts Festival (ELCAF) presents Ricardo Cavolo's Emblema at NOW Gallery's new Urban Village Fete.
Using the history of Greenwich Peninsula as his starting point, Cavolo has produced a series of brightly painted flags which permeate the gallery space, each hinting at the changing narrative of this distinct London borough.
Ricardo Cavolo is a Spanish painter and illustrator currently based in Brighton. His vibrant and bold creations are inspired by folk art, tattoos and people he sees on the street, resulting in a colourfully unique style.
Make your own flag in a workshop run by the artist himself and listen to a DJ set based around Cavolo's recent Nobrow publication, 101 Artists To Listen To Before You Die, both of which will run alongside the installation throughout the day of the fete.