Press Release
THE ROCKTHROWER is about David Willis, a down and out baseball scout. Once a Major League pitcher, loved by everyone; now ignored and on his last leg of a career. But when he sees footage of a Palestinian/Israeli conflict, it transfixes him on a new potential pitching discovery — a Palestinian teen throwing rocks with the speed and accuracy that defies even the best pitchers on most Major League Baseball teams. On a wild hunch, a wing and a prayer, he decides to travel into unforeseen territory to make this kid a star and redeem himself in the eyes of his peers. But will his own heritage of being Jewish and his personal dark past as a disgraced baseball player put this endeavour towards a path of failure before it´s even had a chance to succeed?
New Paradigm Studios launched a crowdfunding via Kickstarter  to make sure not only that the book will reach its fans, but more so to have the cover to this stunning story painted by none other then BILL SIENKIEWICZ. Bill Sienkiewicz already produced THREE cover roughs and all fans that pledge will have a chance to vote on their favorite!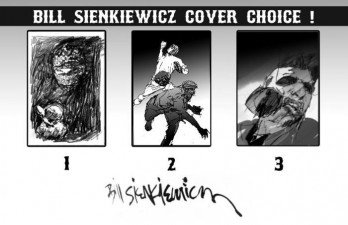 New Paradigm Studios decided to continue launching their books on Kickstarter to promote the outreach of their diverse titles before they hit store shelves. With ROCKTHROWER they want to raise funds for an OGN (original graphic novel). Not just any graphic novel but a really BEAUTIFUL/HIGH QUALITY book that will look gorgeous on your shelf.
Right now the book is already 65% done, and New Paradigm Studios hope the funds and outreach of this Kickstarter campaign will knock this book out of the park for a home run completion.