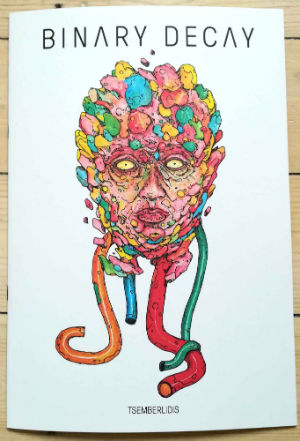 Earlier this year at Broken Frontier we spoke in great depth about Decadence Comics here when our Tom Baker explored the work of Decadence artists Lando and Stathis Tsemberlidis. Tom spoke of how "Decadence and their focus on the abstraction of bodies is a genre of comic books unto themselves" which seems a fitting starting point given the cover to Tsemberlidis's latest Decadence offering Binary Decay, a book that uses the physicality of the human form to reflect dark psychological themes.
Binary Decay has a more contemporary feel than much of Decadence's output. Here the inherent social commentary of their books is not masked in the allegorical science fiction that is often a signature motif of their publishing catalogue. It delves into the tortured mindscape of a jet fighter pilot in a striking array of imagery that juxtaposes the brutal realities of conflict with a gradual mental meltdown; the latter mirroring the raw horror of its catalyst with a vivid and visceral authenticity.
Following the initial striking scenes of collateral damage that the pilot's actions have inflicted within the combat zone, actuality slowly merges into the hallucinatory as an atmosphere of guilt and self-recrimination overwhelms both him and the reader. Humanity and technology begin to organically meld in a nightmarsh landscape that seems all the more alien for its unsettling veracity. It's an effect that is heightened by Tsemberlidis's careful colour palette which plays a vital role in the haunting and violent immediacy of the piece. Words are an unnecessary quantity here in work that hits the reader with such instantaneous emotional impact.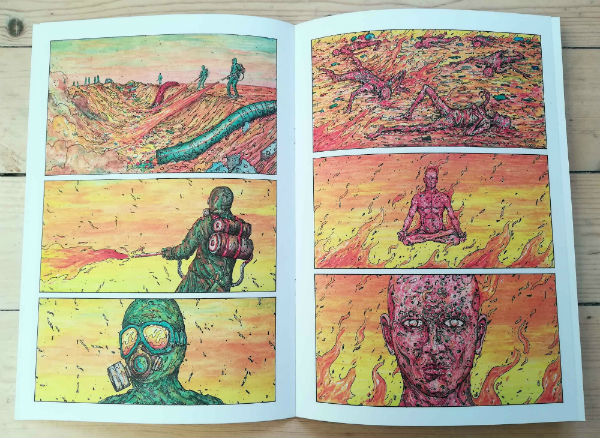 Binary Decay's cover encapsulates its interior themes in one powerful example of visual metaphor; a book that speaks to us of a mind that is shattered and yet remains cognisant of its own frailties, responsibility and culpability. Like much of Decadence's comics output there's an expectation for the reader to find their own truths within its 16 pages – particularly in a neat cyclical twist at the end that can be taken to imply either a wider moral force or an ironic poetic justice – but that's indicative of how both Tsemberlidis and Lando's work resonates with us as readers. If you're new to their comics then this is an accessible and vital starting point, with the A3 card stock perfectly showcasing the stark and uncompromising majesty of Tsemberlidis's storytelling.
You can follow Decadence on Twitter here and visit their site here. Binary Decay is available on their online store here. 
For regular updates on all things small press follow Andy Oliver on Twitter here.
Review by Andy Oliver