THOUGHT BUBBLE FORTNIGHT! When we last saw Claire, the protagonist of Rebecca K. Jones's Boomerang, she was facing an uncertain future in the days of the global financial crisis of 2009. Having left university and moved back to her childhood home in Stonemarket, Claire was beset by the harsh realities of finding a job in a recession-hit employment market and adapting to life in a home town that was now both familiar and yet strangely distant too. Added to this she was suffering from insomnia and anxiety, only exacerbating her problems in adjusting to the pressures of being abruptly catapulted into supposed adulthood.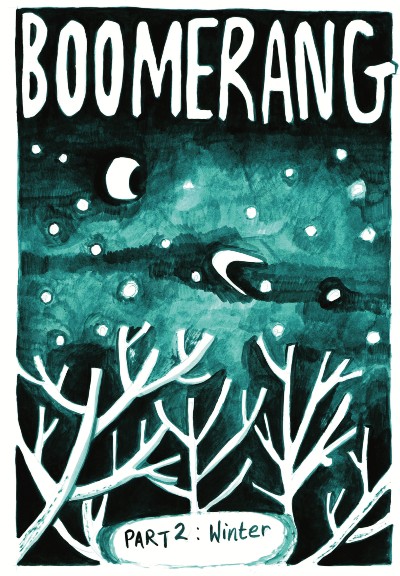 In Boomerang Part 2 (subtitled 'Winter') the story picks up with Claire's continuing efforts to find purpose and employment as she struggles to find her place in the world. In this second part of four, more of her back story is filled in as we are taken back to her schooldays and the bullying she endured, and we see the early blossoming of her friendship with best pal Rosie. We also uncover more details of her break-up with her university boyfriend as the past continues to impinge on her mental wellbeing.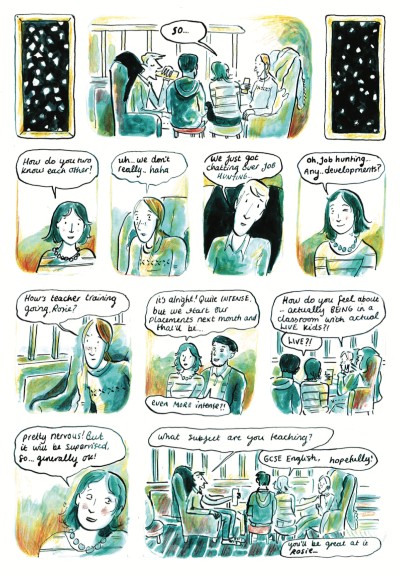 In the present, 2009 begins to draw to a close as 2010 looms. Claire forms a bond with fellow employment-hunter Daniel as the pair form their own "jobseekers club", and Rosie reappears in her life with a successful career and a new boyfriend, only underlining how the different paths the pair have taken. There's also an awkwardly uncomfortable family Christmas lunch with the requisite racist elderly relative, more anxiety dreams, and a moment of revelation for one cast member that will no doubt be further explored in the third part of the story…
Boomerang is one of those slice-of-life comics that has a quiet potency to it; one that doesn't need loud fanfare or vociferous argument to make its points. It's character-led social commentary that is nuanced and subtle, communicating the issues it explores by bringing us into its protagonist's worldview rather than sermonising. Much of its connective power comes from Jones's characterisation and believable dialogue, something I singled out in my review of the first issue and all the more obvious here in Part 2.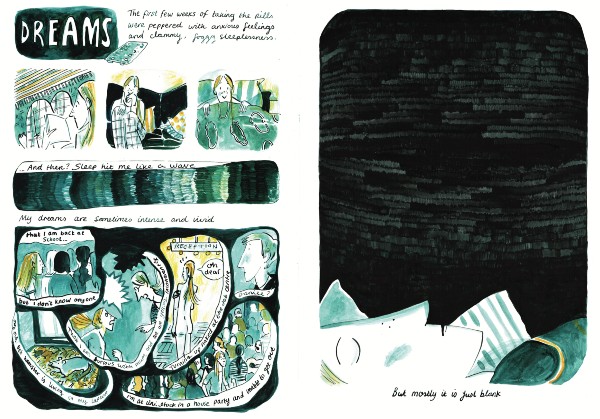 This is also some of Jones's most impressive artwork yet. There's something almost a little Quentin Blake at times with her multi-panelled, crammed pages capturing the rhythm of conversation or movement, while occasional shifts into full-page illustration asks us to linger on key moments or emotional pauses in the narrative. Jones's use of colour is also so delicate in application, a muted but appropriate palette that seems to somehow also symbolise the vulnerability of Claire's story all the more. I shall say it once again but Boomerang deserves publisher investigation and consideration. You can find Rebecca K. Jones with both parts so far at in at Thought Bubble.
Rebecca K. Jones (W/A) • Self-published
Visit Rebecca K. Jones's online store here
Review by Andy Oliver