THOUGHT BUBBLE FORTNIGHT! Over the last couple of years Sean Azzopardi has stepped back a little from regular autobiographical work to take his practice in other directions. Although arguably best known for his slice-of-life comics, Azzopardi has always been a versatile voice on the small press scene and recent work has included an experimental tactile offering for the Colossive Cartographies range, an abstract comics collaboration with Olivia Sullivan in Substrata, horror comics for the A Pocket Chiller line, and ecological activism in The Sea Shepherd. All ready for this year's Thought Bubble, though, we have new Azzopardi autobiographical work in the shape of One for the Road, an account of his recent life-changing move 200-plus miles up the country from London to Hull.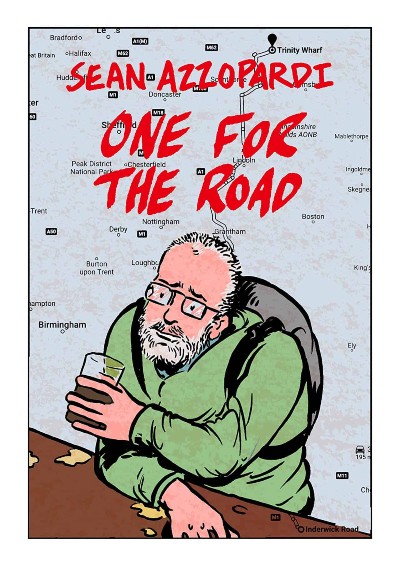 One for the Road has a cyclical feel despite it also encapsulating what Azzopardi describes as the "end of an era". It's a story of both moving on and yet holding on, as surroundings change but core friendships remain intact; the echoes of the past resounding in the present with an oddly reflective comfort at story's end. We observe the reasons behind Azzopardi and his flatmate's decision to make such a dramatic upheaval ("I've become institutionalised. Trapped in my own construct. Or some bollocks like that"), his sanguine analysis of departing his home city of so many years ("Thirty-five years. History that feels heavy. It's time for a change"), and ultimately his laidback acceptance that it's time to let go ("I was going to visit all my old haunts on a tear-jerking farewell. But I couldn't be arsed. I said all my goodbyes years ago.").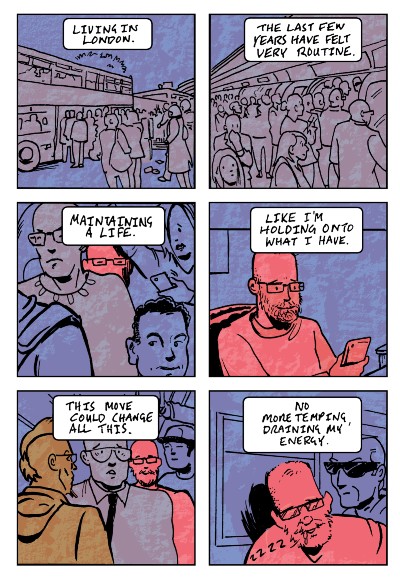 This is a shorter and more focused minicomic from Azzopardi in comparison to some of his longer autobiographical comics of recent years. But that suits the breezy and oddly jaunty pacing of an account of life changes that isn't self-indulgently maudlin or looking to dwell on feelings of loss. Rather it's a forward-looking piece, and while celebratory may be the wrong word it is at least a comic that embraces the positivity of breaking away from the constraints of a life that has become stifling and oppressive. Azzopardi's loose cartooning is more confident than ever here and throughout he uses emotionally intelligent colour choices to heighten the resonance of each segment.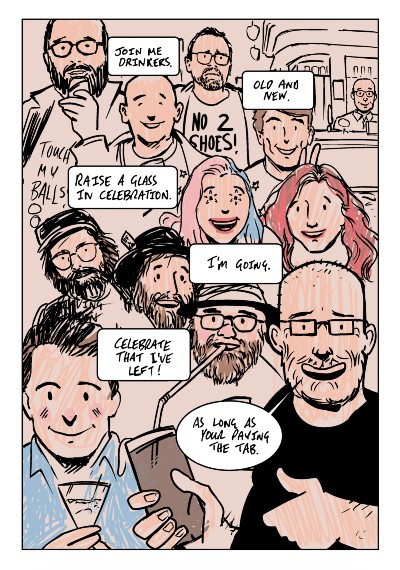 This self-contained tale of "Crexit" (Azzopardi's Crouch End exit) is absolutely the perfect introduction to the comics of one of the UK small press scene's longest-serving champions. A highly recommended purchase from Table 56A in Bubbleboy Hall at this year's Thought Bubble.
Sean Azzopardi (W/A) • Phatcomics, £4.00
Visit Sean Azzopardi's online store here
Review by Andy Oliver