There were probably a few raised eyebrows when UK small press mainstay Sean Azzopardi first proposed his idea for curating the Crouch End Comic Art Festival. With a stated intention to take comics to the Crouch End community while promoting local creators and the best of the current UK indie scene, Sean's aims were ambitious in scope after all. And yet CECAF also embodied a welcome and perhaps overdue back-to-basics approach.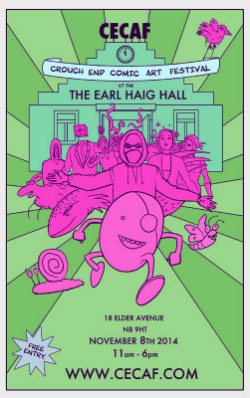 Those who attended last Saturday's festival will attest to its relaxed, informal and – most importantly – friendly atmosphere. With an eclectic mix of self-publishers and bigger industry names on show, newcomers to comics who had chanced in to the Earl Haig Hall in North London would have had an opportunity to experience all aspects of our currently revivified scene. You can get an idea of the creators on show in our CECAF preview at Broken Frontier here but they included the likes of Roger Langridge, Gareth Brookes, Amber Hsu/Tiny Pencil, Gary Northfield, Paul B. Rainey, Francesca Cassavetti, Sally-Anne Hickman, Danny Noble, Martin Eden and many more…
With the hall bedecked like a comicky Santa's grotto for the day (and with a bar on hand and a pub next door to encourage that all-important networking side of things!) CECAF proved a huge success, with exhibitors reporting a steady flow of visitors. Most importantly – and I can vouch for this having spent a little time sitting behind a couple of artist tables catching up with people – it was noticeable that the punters checking out the work on offer did not just constitute the same old faces I encounter time and time again at shows.
As much fun as CECAF was as a jolly pre-Thought Bubble meet-up, then, its aspirations were far more nuanced than that. It was a festival that sought to take indie comics out of their usual confines, and to promote the form to an audience beyond those regular devotees. The photographs below, generously provided once again by friend of Broken Frontier Dean Simons (with the exception of the final one courtesy of The Zoom! comic) , go to prove that Sean Azzopardi's goals for the day were well and truly achieved.
See you all at CECAF 2015…
Eager punters checking out the work on show…
'Gary's Garden' creator Gary Northfield chats to Panel Borders journalist Alex Fitch (left) and Myriad First Graphic Novelist Finalist Francesca Cassavetti with potential customers
Cliodhna Lyons (left) and Martin Eden (right) talking to attendees
Herding those punters in… (left) and Broken Frontier's Managing Editor Andy Oliver with Zoom Rockman and Skanky Pigeon
For regular updates on all things small press follow Andy Oliver on Twitter here.