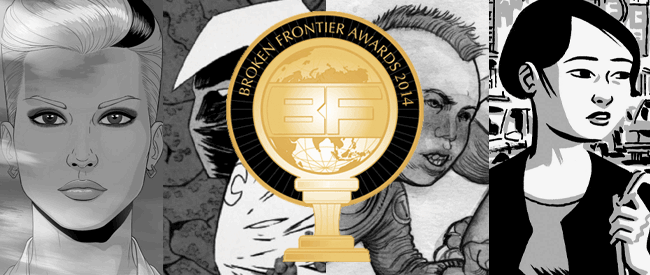 Broken Frontier proudly presents the nominees for its 11th annual Broken Frontier Awards. Our staff has selected five nominees for each of the 13 categories that comprise the BF Awards, our way to honor the best creators and publications of the past year.
As in previous years, you will have a big say in who gets to take home an award!
Have comics as an art form ever enjoyed the levels of diversity, accessibility and democracy that we have witnessed month after month in 2014?
Over the past year, there's been so much talent that has given their best to the delight of readers around the world… and ours. Broken Frontier prides itself in shining a light on the best independent, self-published and creator-owned comics, and as we went through the nomination process for this year's BF Awards, it became clear very quickly how much of a banner year 2014 has been for the type of comics that make up the majority of our coverage.
The names on this year's awards ballot emphasize not just our commitment to the worlds of self and micropublishing, but also reflect how the cultural landscape of comics is shifting once again.
It's been an especially strong year for women in comics. From G. Willow Wilson and EdieOP to Jordie Bellaire and Tula Lotay and everyone in between, both the established and the new voices delivered big time. As a result, there's an unprecedented amount of female creators on our ballot, and we're positive we'll have a repeat performance next year with the likes of Erica Henderson, Marguerite Bennett and Rachael Smith firmly establishing themselves in 2015.
One of our favorite categories to nominate for is Breakout Talent, as it often includes names of people who are destined to deliver medium-defining work for years to come. No pressure Michael Cho, Jamie Coe and Leila del Duca, but that's what we expect from you.
Just like last year, one of the toughest decisions to make is settling on a mere five graphic novels. We could just as easily have filled the category with nothing but First Second releases – you've got five right there with The Wrenchies, This One Summer, Andre The Giant, The Rise of Aurora West and The Shadow Hero – as the publisher enjoyed what was arguably the finest year in its history.
Who knows, perhaps First Second is best positioned to break Image Comics' hegemony as Best Publisher (Eric Stephenson and crew have taken home the award three times in the past four years) despite another strong showing with old and new titles alike. Those First Second books won't go down without a fight against The Wicked + The Divine, Southern Bastards, Deadly Class and Lazarus.
2014 has also been a year in which smaller houses and individual creators continue to grab every occasion for getting work out there themselves.
Because of the ongoing increase in the number of small press fairs, festivals and book launch events, the opportunities to put your work in front of an appreciative audience have never been more pronounced. There's a truly optimistic feeling at the moment that the lines are blurring, the boundaries are losing definition, and the once unassailable fortress of the medium's alleged "mainstream" can definitely be stormed head-on.
Those days of small press work being consigned to a dark and forgotten corner of your LCS are long since behind us. Every self-respecting comics store now recognises the importance of promoting and showcasing the artistic vitality of the small press scene.
To see so many minicomics, micropublishers, and past and present self-publishers among our nominees is an embodiment of not just the philosophy of Broken Frontier as a site, but is also a testament to an age when practitioners of DIY comics culture can not just creatively match but even surpass anything that the world of corporate comics has to offer.
We hope you'll agree that the work represented in this year's BF Awards – from grassroots publishing to internationally renowned creators – is a fitting reflection of the rude health of comics as an art form in 2014.
Now go ahead and submit your ballot!
Frederik Hautain & Andy Oliver
Broken Frontier Awards 2014: The Nominations
1. Best Writer – Mainstream
· Jason Aaron (Men Of Wrath, Original Sin, Thor)
· Warren Ellis (Moon Knight)
· Grant Morrison (The Multiversity)
· Scott Snyder (Batman, Superman, The Wake)
· G. Willow Wilson (Ms. Marvel)
2. Best Writer – Independent/Creator-owned
· Darryl Cunningham (Supercrash: How To Hijack The Global Economy, Uncle Bob Adventures Vol. 2)
· Ray Fawkes (Intersect, The People Inside)
· Kieron Gillen (The Wicked + The Divine, Uber)
· Liz Prince (Tomboy)
· James Tynion IV (The Woods, Memetic)
3. Best Artist – Mainstream
· Michael Allred (Silver Surfer)
· Russell Dauterman (Cyclops, Thor)
· Robbi Rodriguez (FBP, Edge of Spider-Verse)
· Declan Shalvey (Moon Knight)
· Andrea Sorrentino (Green Arrow)
4. Best Artist – Independent/Creator-owned
· Box Brown (Andre The Giant)
· Wes Craig (Deadly Class)
· INJ Culbard (Brass Sun, Celeste, The Dream-Quest of Unknown Kadath)
· Farel Dalrymple (The Wrenchies)
· Rob Davis (The Motherless Oven)
5. Best Colorist
· Jordie Bellaire (Magneto, Moon Knight, The Massive, Tooth & Claw)
· Elizabeth Breitweiser (Fatale, The Fade Out, Outcast, Velvet)
· Matt Hollingsworth (Hawkeye, The Wake, Wytches)
· Lee Loughridge (All-New X-Factor, Captain Marvel, Bodies, Deadly Class)
· Matthew Wilson (Secret Avengers, The Wicked + The Divine)
6. Breakout Talent
· Michael Cho (Shoplifter)
· Jamie Coe (Art Schooled)
· Leila del Duca (Shutter)
· EdieOP (Dangerfun, Maleficium)
· Tula Lotay (Bodies, Supreme: Blue Rose)
7. Best New Series
· Deadly Class (Rick Remender & Wes Craig, Image)
· Ms. Marvel (G. Willow Wilson, Adrian Alphona & Jake Wyatt, Marvel)
· Princess Ugg (Ted Naifeh, Oni)
· Southern Bastards (Jason Aaron & Jason Latour, Image)
· The Wicked + The Divine (Kieron Gillen & Jamie McKelvie, Image)
8. Best Ongoing Series
· Lazarus (Greg Rucka & Michael Lark, Image)
· Moon Knight (Warren Ellis & Declan Shalvey/Brian Wood & Greg Smallwood, Marvel)
· Saga (Brian K. Vaughan & Fiona Staples, Image)
· Stray Bullets (David Lapham, Image)
· The Bunker (Joshua Hale Fialkov & Joe Infurnari, Oni)
9. Best Limited Series
· Bodies (Si Spencer, Tula Lotay, Phil Winslade, Meghan Hetrick & Dean Ormston, DC/Vertigo)
· Brass Sun (Ian Edginton & INJ Culbard, 2000 AD)
· Ordinary (Rob Williams & D'Israeli, Titan Comics)
· POP! (Curt Pires & Jason Copland, Dark Horse)
· The White Suits (Frank J. Barbiere & Toby Cypress, Dark Horse)
10. Best One-Shot
· Genesis (Nathan Edmondson & Alison Sampson, Image)
· Moose Kid Comics (Jamie Smart et al, self-published)
· Over Under Sideways Down (Karrie Fransman, Red Cross)
· The Lizard Laughed (Noah Van Sciver, Oily)
· Wicked Chicken Queen (Sam Alden, Retrofit)
11. Best Original Graphic Novel
· Beautiful Darkness (Fabien Vehlmann & Kerascoët, Drawn & Quarterly)
· Gast (Carol Swain, Fantagraphics)
· HOAX: Psychosis Blues (Ravi Thornton, Mark Stafford, Bryan Talbot et al, Ziggy's Wish)
· Sugar Skull (Charles Burns, Pantheon)
· This One Summer (Jillian Tamaki & Mariko Tamaki, First Second)
12. Best Book on Comics
· American Comics, Literary Theory, and Religion: The Superhero Afterlife (A. David Lewis, Palgrave Macmillan)
· Comics Unmasked (Paul Gravett & John Harris Dunning, British Library)
· Graphic Details: Jewish Women's Confessional Comics in Essays and Interviews (edited by Sarah Lightman, McFarland)
· Hellboy: The First 20 Years (Mike Mignola, Dark Horse)
· Masterful Marks: Cartoonists Who Changed the World (Monte Beauchamp et al, Simon & Schuster)
13. Best Publisher
· Avery Hill Publishing
· BOOM! Studios/Archaia
· First Second
· Image Comics
· SelfMadeHero