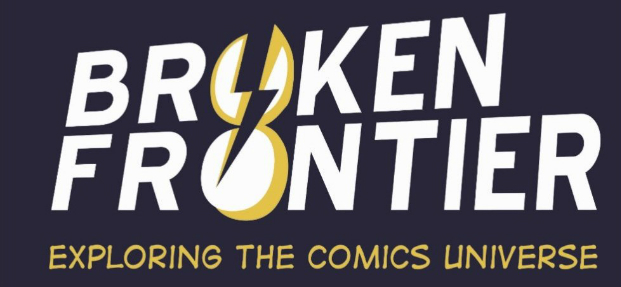 Broken Frontier proudly presents the shortlists for our 17th annual Broken Frontier Awards. Our team has selected five nominees for each of the 15 main categories that comprise the BF Awards, honouring some of the creators and publications of the past year whose work has particularly spoken to us in 2020.
As always, you will have a big say in who gets to take home an award!
Our team at Broken Frontier have completed their role in the nominations process and now it's up to you to do your bit in deciding our winners in the public ballot. As ever, the final decision will come from an equal 50-50 consideration of the votes of the comics community and the Broken Frontier staff. Voting will run until January 1st, with the results to be announced on January 4th, 2021
As ever, the nominations provide an eclectic list of comics ranging from self-published tiny print run comics and zines through to Big Five serial genre comics. There will be familiar names here, there will be creators you have never heard of, and undoubtedly there will be omissions that may raise an eyebrow. But ultimately this is work that resonated with our team and reflects the ethos, approach and values of Broken Frontier.
This year we have played around with the categories a little. Serial comics represent only a very small part of what we cover and were perhaps overly catered for in previous years. Given that the definition of a limited series is a fairly nebulous one in these days of constant renumbering and swift stealth cancellations we've dropped that category. Those comics will still be eligible in other sections. We've replaced it with a Best One-Shot Anthology category (periodical anthologies will still be covered elsewhere).
Some names are not included simply because they've been nominated in previous years. Lucy Sullivan won the Breakout Talent category for the "ashcan" version of Barking last year for example while Danny Noble was nominated in that section way back in 2015 (we're always ahead of the game at BF!), and similarly Eleanor Crewes was nominated for previous versions of the excellent The Times I Knew I Was Gay. And one mention for our own team member Jenny Robins whose fab debut graphic novel Biscuits (assorted) could not be included for obvious reasons. It's still one of the best books of the year though and you should buy it immediately if you haven't already!
(On a related note BF team members who are comics practitioners in their own right were not eligible to nominate their publishers.)
In this strangest of all years our 2020 Awards do undoubtedly have something of a UK-centric feel in some sections. But given the number of emerging British voices with outstanding debut graphic novels this year we're certainly not apologizing for that! Indeed the Breakout Talent category could easily have been expanded to three times as many nominees. Remember as well that providing us with digital comps increases your chances of being nominated. Most publishers/self-publishers do but if you currently don't then our contact details are here.
Once again, your input will play a vital role in the final results. This has been one of the toughest years that any of us have lived through but one positive we have been able to hang on to has been the plethora of truly excellent and boundary-pushing practice we've been able to read and write about over the last few months. Join us in celebrating that by clicking on the blue 'Vote now!' button and casting your votes from the choices below!
Broken Frontier Awards 2020: The Nominations
Best Writer

David F. Walker & Chuck Brown (Bitter Root)
Jim Terry (Come Home, Indio)
Mark Russell (Billionaire Island, Second Coming)
Ram V (Blue in Green)
Zoe Thorogood (The Impending Blindness of Billie Scott)
Best Artist

Anand RK (Blue in Green)
Charlot Kristensen (What We Don't Talk About)
DaNi (Coffin Bound)
Lucy Sullivan (Barking, IND-XED)
Owen D. Pomery (British Ice, Victory Point)
Best Colorist
Brad Simpson (Coffin Bound)
Dave Stewart (Gideon Falls, Hellboy and the B.P.R.D.: The Return of Effie Kolb)
Jason Wordie (Protector/First Knife, The Autumnal)
Shazleen Khan (Buuza!!)
Sofie Dodgson (Bitter Root, Insider Art)
Best Letterer

Aditya Bidikar (Coffin Bound, Blue in Green, Giga)
Clayton Cowles (Bitter Root)
Galen Showman (Norse Mythology)
Hassan Ostmane-Elhaou (Protector/First Knife)
Jim Campbell (Folklords, The Autumnal)
Breakout Talent

Abs Bailey (Zebedee and the Valentines, Avery Hill Publishing)
Anna Readman ('Abelard Snazz: The Only Way is Up', 2000 AD)
Charlot Kristensen (What We Don't Talk About, Avery Hill Publishing)
Henry McCausland (Eight-Lane Runaways, Fantagraphics Books)
Zoe Thorogood (The Impending Blindness of Billie Scott, Avery Hill Publishing)
Best Periodical Series

Bitter Root (Chuck Brown, David F. Walker, Sanford Greene, Sofie Dodgson, Clayton Cowles, Image Comics)
Coffin Bound (Dan Watters, DaNi, Brad Simpson, Aditya Bidikar, Emma Price, Image Comics)
Fizzle (Whit Taylor, Radiator Comics)
Ley Lines (Victor Martins, Simon Moreton, Czap Books/Grindstone Comics)
š! (Anthology – various creators, edited by David Schilter and Sanita Muižniece, kuš! comics)
Best New Periodical Series

Biggol (Ioan Morris, Carp Publishing Endeavours)
Billionaire Island (Mark Russell, Steve Pugh, Chris Chuckry, Rob Steen, Ahoy Comics)
The Department of Truth (James Tynion IV, Martin Simmonds, Aditya Bidikar, Dylan Todd, Image Comics )
Norse Mythology (Neil Gaiman, P. Craig Russell, Mike Mignola Jerry Ordway, Lovern Kindzierski. Dave Stewart, Galen Showman, Piotr Kowalski)
Protector/First Knife (Simon Roy, Daniel Bensen, Artyom Trakhanov, Jason Wordie, Hassan Otsmane-Elhaou, Image Comics )
Best One-Shot

Escapades (Olivia Sullivan, Self-published)
For Sarah (Peony Gent, Self-published)
Hedra (Jesse Lonergan, Image Comics)
So I Guess My Body Pretty Much Hates Me Now (John Miers, Self-published)
Sports is Hell (Ben Passmore, Koyama Press)
Best One-Shot Anthology

Be Gay, Do Comics (Anthology – Various creators, The Nib/IDW Publishing)
Insider Art (Anthology – Various creators, Shelly Bond et al)
The Nixie of the Mill Pond and Other European Stories (Anthology – Various creators, Iron Circus Comics)
The Return of Sexton Blake (Anthology – Various creators, Rebellion/Treasury of British Comics)
Success/Failure (Anthology – Various creators, WIP Comics)
Best Webcomic

Best Graphic Novel

Breakwater (Katriona Chapman, Avery Hill Publishing)
Don't Go Without Me (Rosemary Valero-O'Connell, Shortbox)
Flake (Matthew Dooley, Jonathan Cape)
Glass Town (Isabel Greenberg, Jonathan Cape)
The Impending Blindness of Billie Scott (Zoe Thorogood, Avery Hill Publishing)
Best Graphic Non-Fiction

Fights: One Boy's Triumph Over Violence (Joel Christian Gill, Oni Press)
Shame Pudding (Danny Noble, Street Noise Books)
There's Only One Place this Road Ever Ends Up (David Biskup, ELCAF x WeTransfer Award winner)
When Stars Are Scattered (Omar Mohamed, Victoria Jamieson & Iman Geddy, Faber and Faber)
The Wolf of Baghdad: Memoir of a Lost Homeland (Carol Isaacs/The Surreal McCoy, Myriad Editions)
Best Collection of Classic Material

The Complete Hate (Peter Bagge. Fantagraphics Books)
EC Archives: Psychoanalysis (Robert Bernstein (W), Jack Kamen (A), Marie Severin, Dark Horse Comics)
Fax from Sarajevo (Joe Kubert, Dark Horse Comics)
The Rise and Fall of the Trigan Empire Vol. 1 (Mike Butterworth, Don Lawrence, Rebellion/Treasury of British Comics)
Third World War Vol. 1 (Pat Mills, Angela Kincaid, Carlos Ezquerra & D'Israeli • Rebellion/Treasury of British Comics)
Best Book on Comics

Critical Directions in Comics Studies (Thomas Giddens, University Press of Mississippi)
Graphic Indigeneity: Comics in the Americas and Australasia (edited by Frederick Luis Aldama, University Press of Mississippi)
Masters of British Comic Art (David Roach, Rebellion/Treasury of British Comics)
UK Feminist Cartoons and Comics: A Critical Survey (Nicola Streeten, Palgrave Macmillan)
Webcomics (Sean Kleefeld, Bloomsbury)
Best Publisher

Avery Hill Publishing
Drawn & Quarterly
Myriad Editions
SelfMadeHero
Street Noise Books
Broken Frontier Hall of Fame
2017 – Annie Koyama (Koyama Press)
2018 – Corinne Pearlman (Myriad Editions)
2019 – David Schilter and Sanita Muižniece (kuš! comics)
2020 – ???