It's almost Wednesday, and you know what that means: a fresh load of comics and graphic novels! With so many publications hitting your local comics store or digital storefront, BF is here to lead you through the woods. These are the books that need to be on your pull list this week.
Comic of the Week
Shutter #1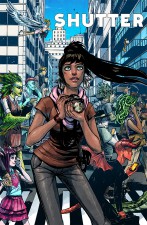 Though Kate Kristopher has been described as an "Indiana Jones for the 21st Century," the world she inhabits in Shutter is quite different than any we would recognize. The story is set in an alternate reality where gods and fantastical creatures roam the earth with humans, even riding the same subway line with them to work.
Kate was raised to follow her family's legacy and become the world's greatest explorer. But ten years ago she chose to leave her life of adventure and instead turned her lens upon the more mundane world of real estate photography. Now, at the age of twenty-seven, Kate discovers that her past is not so easy to leave behind when a swarm of ghost ninjas unexpectedly attacks her. Their leader reveals that he possesses information about her family that her father had kept from her; secrets that threaten to destroy everything she's spent her life protecting.
Shutter marks the return to creator-owned comics for scribe, Joe Keatinge, while newcomer Leila del Duca hits the ground running with artwork that displays a sense of characterization and storytelling you'd expect from a seasoned veteran. Owen Gieni, who worked with Joe on Glory, provides colors that compliment Leila's work beautifully.
Shutter #1 ships with four covers by del Duca, Emma Rios, Brandon Graham and Dustin Weaver.
Joe Keatinge (W), Leila del Duca (A) • Image Comics, $3.50
– Tyler Chin-Tanner

Batman Eternal #1
In the soap-opera of tights and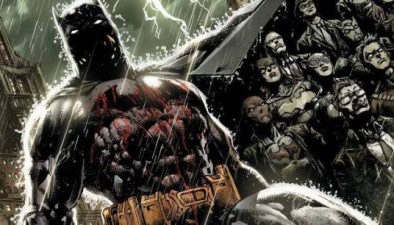 even tighter pants, it is the Bat that brings in the ratings. Batman is the top-selling comic and this fact, taken with 2014 being Batman's 75th anniversary year, means that DC has Bats flying out of its a-hole. Just look at 'em: Batgirl, Batman &…, Detective Comics, not to mention Catwoman and Harley Quinn. There are 11 series from Family Gotham and that doesn't even include limited runs.
Now another Bat is due to unfurl its dark wings. Batman: Eternal is a weekly series, penned by such luminaries as Scott Snyder, James Tynion IV and John Layman (Chew), though Layman has already left the team in Joker-fishy circumstances (look – it wouldn't be DC if there was more drama in the comic than outside it). Drawing duties fall upon the able shoulders of Jason Fabok and Dustin Nguyen.
But, you cry – what am I gonna get for my $2.99 PER WEEK that I cannot get from other Bat-titles?!?! Well, Batman #28 offered us a tantalising glimpse of Bluebird, a Catwoman who doesn't suck and, most significantly, Stephanie Brown. Make no mistake – this comic might be about sales numbers, but it is also a rapprochement; a tentative step towards thawing the Cold War between the New 52 and the Pre 52 – that army of fans who left DC in disgust at the dropping of Steph, Tim and others. But only this Wednesday will tell if it's gonna be any damn good at doing it.
Scott Snyder, James Tynion IV, John Layman, Ray Fawkes, Tim Seeley (W), Jason Fabok, Dustin Nguyen (A) • DC Comics, $2.99
– Joe Krawec
Lumberjanes #1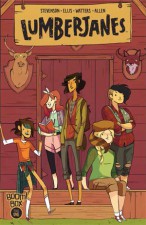 Welcome to Lumberjanes scout camp, where five butt-kicking, mystery-solving, punk-lovin' teenage girls are about to have a summer that's in no way uneventful. Jo, April, Mal, Molly and Ripley are the best friends taking on all manner of monsters – yetis, three-eyed wolves, giant falcons… and a mysterious, crazy quest that leaves the fate of the entire world in their hands.
Cartoonist Noelle Stevenson and newbie on the scene Grace Ellis share the writing with Brooke Allen on art in this quirky gutsy story of friendship, adventure and girl-power.  Promising feisty, fun-loving characters and bright and lively artwork, this is a comic that will appeal to young and old both.
Noelle Stevenson, Grace Ellis (W), Brooke A. Allen (A) • BOOM! Studios, $3.99
– Conori Bell-Bhuiyan
Beautiful Scars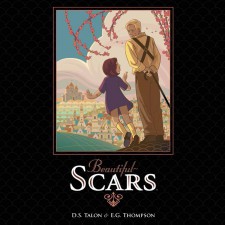 When writer Madeline Shaw receives a copy of her debut book, the first person she wants to show it to is her grandfather, Ridley. In a flashback, we find out why. When the young Maddie falls and cuts her knee, Ridley comforts her by showing her some of his own scars and telling her the stories that go with them – tales of love and war that spark the young girl's imagination.
A blend of touching, layered writing and lovely crisp artwork, Beautiful Scars is backed up with the text of Maddie's book, Scars the Troll Meets the Vengeful Dragon, illustrated beautifully in a variety of styles by a talented team of artists. Wrapped up in Archaia's trademark quality in design and production values, this is an eloquent hymn to the power of storytelling.
DS Talon & EG Thompson (W/A) • BOOM! Studios/Archaia Entertainment, $19.99
– Tom Murphy
Flash Gordon #1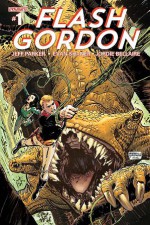 Flash Gordon is a reckless thrill-seeking adventurer with a chip on his shoulder. And he's just the guy to save the planet Mongo and the universe itself from the ruthless Ming the Merciless. If Flash's ego is writing checks his performance can't cash, the universe will fall and Flash may never make his way home. Joined by the ever intrepid Dale Arden and Doctor Zarkov, Flash is in for the adventure of his lifetime.
Dynamite specializes in breathing new life into pulp heroes, and none is more iconic than Flash Gordon. Jeff Parker (Aquaman, Batman '66) is writing, and he's the perfect choice for this retrofit. So strap on your blaster pistol and climb in to the pilot's seat of your nearest spaceship, it's going to be a fun ride.
Jeff Parker (W), Evan Shaner (A) • Dynamite Entertainment, $3.99
– Karen O'Brien
Iron Fist: The Living Weapon #1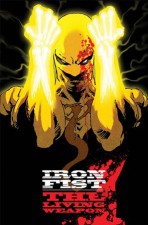 The relative safety of his penthouse will provide no comfort to millionaire Danny Rand, a.k.a. Iron Fist "The Living Weapon," as he faces the consequences of selecting death over life. A message from Iron Fist's homeland, K'un-Lun returns the reluctant Danny to his own bloody origin story of betrayal and revenge. But those seeking vengeance must accept that it can cut both ways, and Danny may not survive the bloody trials ahead.
Kaare Andrews (The Amazing Spider-Man, The Incredible Hulk) writes and draws this enlightening new chapter in Iron Fist's life.
Kaare Andrews (W/A) • Marvel Comics, $3.99
– Karen O'Brien
Daredevil #1.50
Most of the attention this year will be paid to Batman's 75th Anniversary, but with this one-shot, Marvel is reminding comic fans that it's a special year for Red Batman as well.
This ".50" issue will celebrate 50 years of Daredevil by taking a look at Matt Murdock's life at the age of 50. The flash-forward issue will provide clues of upcoming DD stories. The main story comes from regular Daredevil writer Mark Waid and frequent guest artist Javier Rodriguez.
This extra-sized issue also includes backup stories from Daredevil creators of the past. It sounds like a fun way to celebrate one of the most consistently great superheroes in comics.
Mark Waid (W), Javier Rodriguez (A) • Marvel Comics, $4.99
– Levi Hunt