It's almost Wednesday, and you know what that means: a fresh load of comics and graphic novels! With so many publications hitting your local comics store or digital storefront, BF is here to lead you through the woods.  If you want to know which books should be on your pull list, look no further…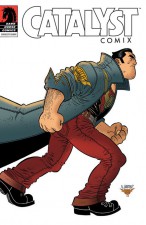 COMIC OF THE WEEK: Catalyst Comix #1
Reigniting the Nineties seems to be all the rage in comics, lately. Taking charge of Dark Horse's Comics' Greatest World expansion, Joe Casey and a squad of talented newcomers explore their alternative superhero universe in three separate stories each month in this brash, new anthology series.
The first issue chronicles the far-out, existentialist adventures of Amazing Grace, the American Icon Frank Wells, and the angst-ridden Agents of Change. If you like your Nineties reboots infused with a healthy dose of Seventies groove, strap yourself in for one of the strangest rides of the summer!
Joe Casey (W), Danny McDaid, Paul Maybury, Ulises Farinas (A) • Dark Horse Comics, $2.99
– Jason Wilkins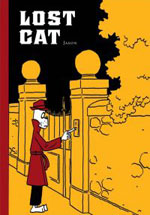 Lost Cat HC
At 160 pages, Lost Cat is Jason's first true graphic novel following a slew of shorter stories. While the page count may be higher than what we've gotten from the Danish artist, expect more of what makes his comics great: sober but effective art, tension and drama through minimal dialogue and silence.
In Lost Cat, a detective falls in love with a woman after retrieving her furry pet.  He hopes for her to be his soulmate, but when he tries to get to know her better, she appears to have gone missing. And thus a new mystery begins…
Jason (W/A) • Fantagraphics, $24.99
– Frederik Hautain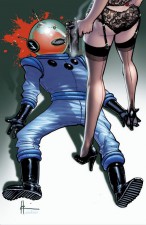 Satellite Sam #1
Perhaps one of the prettiest books to hit the stands this year, Matt Fraction and Howard Chaykin's masterful crime noir thriller examines the shadowy underbelly of the Golden Age of Television as they delve behind the scenes of a popular live TV sci-fi series called Satellite Sam.
A beautifully rendered collection of complex character studies, Fraction and Chaykin explore the mystery at the heart of the book via their diverse ensemble cast. Seductive, sinful and somehow slinky, Satellite Sam is modern crime noir at its best.
Matt Fraction (W), Howard Chaykin (A) • Image Comic s, $3.50
– Jason Wilkins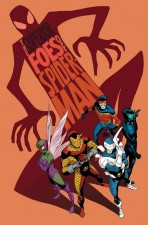 Superior Foes of Spider-Man #1
A new Spider-Man is always worth taking note of, especially a new series that focuses on one of the best rogues galleries in all of comics.  Image Comics alum and rising Marvel creator, Nick Spencer, unleashes Superior Foes of Spider-Man this week along with artist Steve Lieber to teach New York's favorite web-crawler that with "terrible power comes terrible responsibilities."  Led by the likes of Boomerang, just how will Spider-Man protect New York with all his enemies taking aim?
Nick Spencer (W), Steve Lieber (A) • Marvel Comics, $2.99
– Jason Clyma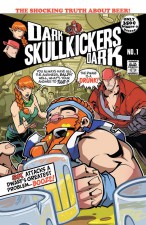 Dark Skullkickers Dark #1
If there's one thing besides comedic timing that Skullkickers creator Jim Zub has mastered since the debut of his laugh-riot send-up of all things nerd, it's the art of self-promotion. The last in a series of first issues satirizing the comics industry's penchant for reinvention, this latest issue reunites Rex and his hard-drinking, vertically-challenged companion in a tavern that just so happens to be all taverns.
Replete with a discussion of how archetypes inform our collective storytelling desires, Dark Skullkickers Dark #1 continues to push the boundaries of satire and swashbuckling adventure with intelligence and wit.
Jim Zubkavich (W), Edwin Huang (A) • Image Comic s, $3.50
– Jason Wilkins
It's no secret as to why Eric Shanower and Skottie Young received an Eisner for their adaptation of Wonderful Wizard of Oz; the fantastic story and even more amazing art simply channels the magic of Oz into comics form.
Dorothy returns to the land of Oz, but is this time is accompanied by her uncle Henry and aunt Em, who will surely have an eye-popping experience as they meet citizens of Dorothy's wild world, and come face to face with the devious Nome King.
Eric Shanower (W), Skottie Young (A) • Marvel Comics, $3.99
– Jason Clyma