It's almost Wednesday, and you know what that means: a fresh load of comics and graphic novels! With so many publications hitting your local comics store or digital storefront, BF is here to lead you through the woods. If you want to know which books should be on your pull list, look no further…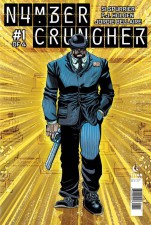 Comic of the Week: Numbercruncher #1
Perhaps one of the most-hyped books of the summer, Si Spurrier and P.J. Holden's existential rom-com may just be the most unique title to debut this year.
When a lovesick mathematician manages to find the loophole in existence and cheat death for the duration of his lover's life, the Bastard Zane gives chase as the desperate fugitive of the Afterlife Accountancy travels through time and space to evade Existential Justice.
Featuring stunning, expressive visuals and a mind-bending plot, this is a series that is sure to resonate with fans looking for something fun, intellectual, and a whole lot different.
Si Spurrier (W), P.J. Holden (A) • Titan Comics, $3.99
– Jason Wilkins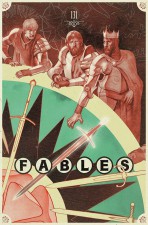 Fables #131
It's safe to say no one predicted the cataclysmic events that ended the recent Snow White arc of Bill Willingham's Fables.  Issue #130 saw the membership of Fabletown flipped on its head, and as the citizens of New York's most magical community rally to pick up the pieces of their greatest hero, it will be even more exciting to see Briar Rose take up the mantle of Fabletown's leader.
As Briar takes charge, a new dark age looms over the fabled characters, an oncoming storm that can only be stopped by a new round table of knights.
Bill Willingham (W), Mark Buckingham (A) • Vertigo Comics, $2.99
– Jason Clyma
Day Men #1
Have you ever wondered how the children of the night survived sunrise for thousands of years? BOOM! Entertainment and Brian Stelfreeze seek to answer this mystery in this fresh new twist on the vampire myth, in the fan-favorite artist's much-anticipated return to monthly comics.
Set in a world secretly ruled by an ancient network of fifty warring vampire covens, Stelfreeze chronicles the exploits of an elite group of Day Men, who perform their undead sires' bidding once the sun comes up. Sexy and exciting, this is a book sure to set fanboy tongues wagging during the long dog days of summer.
Matt Gagnon and Michael Alan Nelson (W), Brian Stelfreeze (A) • BOOM! Entertainment, $3.99
– Jason Wilkins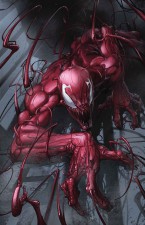 Superior Carnage #1
How does one recreate one of Spider-Man's greatest villains, Carnage, for the new Marvel NOW initiative?  Make him Superior, of course!  Catching up with the rest of the Superior Spider-Man family, including The Superior Foes of Spider-Man, is Superior Carnage, a new rendition of the sinister villain that looks to be deadlier than ever.
Reawakened in a New York Asylum, the Carnage symbiote is more violent, powerful, and dangerous than ever, but how it will stand against the new roster of Spider-Man is anybody's guess.
Kevin Shinick (W), Stephen Segovia (A) • Marvel Comics, $3.99
– Jason Clyma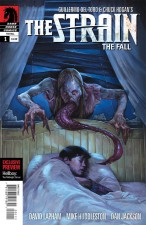 The Strain: The Fall #1
If towering super-robots fighting gargantuan monsters didn't float your boat this summer, then perhaps Guillermo Del Toro's other uber-popular genre property is more up your alley.
Continuing the apocalyptic tale of humanity's fall to an unstoppable vampire epidemic, David Lapham and Mike Huddleston ratchet up the suspense as they take an intimate look at the series' main protagonist, Dr. Ephraim Goodweather. With the city of New York overwhelmed by savage bloodsuckers, Dr. Goodweather's only concern is protecting his son Zack from becoming the prey of his own undead mother.
Chalk full of creepy chills and undead thrills, if you hated Twilight, then you'll absolutely love this horrifying modern medical twist on the popular horror archetype.
David Lapham (W), Mike Huddleston (A) • Dark Horse Comics, $3.99
– Jason Wilkins