It's almost Wednesday, and you know what that means: a fresh load of comics and graphic novels! With so many publications hitting your local comics store or digital storefront, BF is here to lead you through the woods. These are the books that need to be on your pull list this week.
Comic of the Week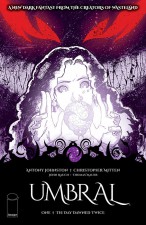 Umbral #1
The creative team that launched Oni Press's Wasteland now brings you tales of intrigue and invasion in Umbral, as the young thief Rascal becomes aware of an incursion of shadow beings into the Kingdom of Fendin.
With the king and queen of Fendin murdered, the shadow creatures known as the Umbral have started their assault in full force. The situation is dire, and it's up to Rascal to figure out just how to stop the Umbral from taking over the world of humans — a world where magic is outlawed and reason rules the day.
Antony Johnston (W), Christopher Mitten (A) • Image Comics, $2.99
– Evan Henry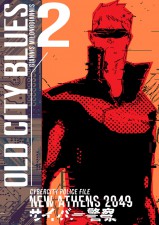 Old City Blues Vol. 2
Giannis Milonogiannis has enjoyed a profile boost as part of the collective clustered around Brandon Graham to produce the critical hit Prophet for Image. And now Archaia Entertainment are putting out a second collection of the Greece-based creator's cyberpunk cop series Old City Blues, originally published online.
There's nothing very original in the series, set in the metropolis of New Athens in the year 2049, but Milionogiannis fuses his Eastern and Western influences (Ghost in the Shell meets Blade Runner) into a dynamic, atmospheric, high-energy comic. His gritty and kinetic art style, amazing use of mechanical tones and obvious affection for his inspirations make this a highly enjoyable read and a nostalgic treat for all the c-punks out there.
Giannis Milonogiannis (W/A) • Archaia Entertainment, $12.95
– Tom Murphy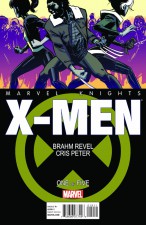 Marvel Knights: X-Men #1
In the second of three Marvel Knights revival titles, Brahm Revel takes Wolverine, Kitty Pryde and Rogue out to a small town where new mutants are being murdered. The threesome are taken outside of their element in a story where their past comes back to haunt them.
For Revel, who wrote and drew the excellent Guerillas graphic novels available from Oni Press, this miniseries is his first crack at superhero comics and a dream come true since he grew up a big fan of all things X. Mainstream readers reluctant to give a new name to your domain a go, consider this: if you love the art of someone like Chris Samnee, you'll fall for Revel's style right away. Your Marvel Universe is a brighter place because of it.
Brahm Revel (W/A) • Marvel Comics, $3.99
– Frederik Hautain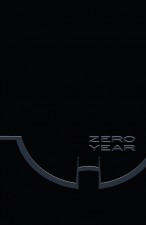 Batman #25
DC has truly been committing to the notion that the New 52 Universe is united by creating crossover events that affect multiple plotlines. The latest and greatest is Batman: Zero Year, and this book is at its core.
Since Batman was one of the few New 52 continuities that got to keep its canon, we as readers don't necessarily know what to remember and what to ignore about the Dark Knight lore we've all become so familiar with. This event started off with Bruce Wayne's first run-in with the Joker and now moves on to his battle with the Riddler, whom has taken Gotham hostage. These events spread throughout the DCU this month, so it's one you don't want to miss!
Scott Snyder (W), Greg Capullo & Danny Miki (A) • DC Comics, $4.99
– Jonah Lang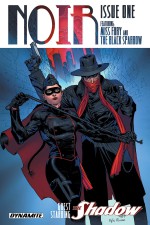 Noir #1
The first of a five-issue prelude to Miss Fury, Noir #1 contains no honor among thieves and more than a bit of mischief. The Black Sparrow was hired to steal the famous Moon Stone from a museum. That sounded simple enough, but when she decides to double-cross her employers and keep the rock, life gets complicated.
They steal it back, and what's a girl to do but retaliate? She's not going to pull this off without some help, however, and The Shadow steps in to lend a hand — or more likely, a fist. No noir story would be complete without a good fight, so expect no less here.
Victor Gischler (W), Andrea Mutti (A) • Dynamite Entertainment, $3.99
– Karen O'Brien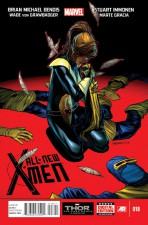 All-New X-Men #18
It's an all-new (pun intended) chapter in the lives of the students and teachers of the X-Schools. After the shocking events of Battle of the Atom, the original X-Men find themselves stuck in the present with no way home.
After breaking with the Jean Grey School, Cyclops, Marvel Girl, Beast, Iceman, and Angel go off with Professor Kitty Pryde to present day Cyclops' New Xavier School, where they'll presumably take a more aggressive role in the human-mutant conflict, and maybe even get new costumes?
Bendis and Immonen have been absolutely blowing me away with every issue. Sharp dialogue, interesting plots, and art that will keep your eyes lingering for days. I absolutely can't wait.
Brian Michael Bendis (W), Stuart Immonen (A) • Marvel Comics, $3.99
– Jonah Lang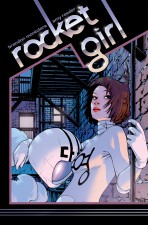 Rocket Girl #2
A 15-year-old who makes pancakes for everyone in the house? That's all the proof you need that time cop Dayoung Johansson isn't from 1986. As she shocks physicists Anne and Ryder with breakfast and a tablet that is last year's model, Dayoung attempts to impress upon them the urgency of dismantling the Q-engine.
And despite their repeated concerns that she keep the Rocket Girl exploits to a minimum, you just know Dayoung is going to head out into the city and do some police work in the here and now while she tries to alter her future.
Montclare and Reeder have a plucky hit on their hands, and issue #2 promises to be an entertaining read.
Brandon Montclare (W), Amy Reeder (A) • Image Comics, $3.50
– Karen O'Brien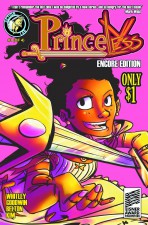 Princeless Encore Edition #1
The highly entertaining and Eisner Award-nominated series returns at a discounted price, just in time for you to catch up.
For only $1 you can get a new copy of the first issue of this series. Perfect for all ages, and better yet, all genders. The story focuses on Princess Adrienne who finally decides that she doesn't need a prince to save her, and rescues herself. The series is beloved for its humor and empowering story.
Jeremy Whitley (W), M. Goodwin (A) • Action Lab, $1
– Levi Hunt