Fun story, inconsistent art: please, DC – don't screw up this series!
With characters as well established in the pantheon as DC's flagship super-heroes Batman and Superman, you'd think that presenting them together in a monthly book would be a great idea.
Not always.
The chemistry that makes this pair work well together is that they have completely different approaches to a given problem, and as they devise a solution, each learns from the other's methods and fills in the gaps of deduction and action.
Remove that give and take, however, and you have one of their solo comics with a guest appearance by the other – which is exactly what we have here. Jeff Lemire didn't write a bad story; he just didn't write a Batman/Superman story.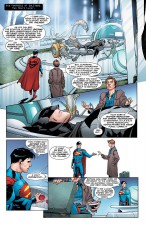 Issue #10 is a one-shot that occurs outside the current story arc. Batman has been infected by a microscopic space ship, and its presence has left him in a coma with failing vital signs. Superman finds the mobile headquarters of S.H.A.D.E. and convinces Dr. Ray Palmer to come to the Fortress of Solitude to examine Batman and his disturbing findings.
Using Palmer's micro-technology, the pair shrink down and enter Batman's brain. It's a nice introduction for Palmer, who uses various points of technology to assist in their journey, overcoming a language barrier with the space travelers and ultimately shrinking the ship into a container he calls an "ant farm" so that it can be safely removed.
Providing the action of the issue, two criminals from the ship get loose and battle Superman. When one returns to the Fortress, full-sized and seeking to harm Batman, the awake Caped Crusader helps himself and takes down the much larger opponent.
It's a nice story, and one that you might easily imagine as an homage to the World's Finest team-ups between these two back in the 1970s and 1980s. So applause to Lemire for that.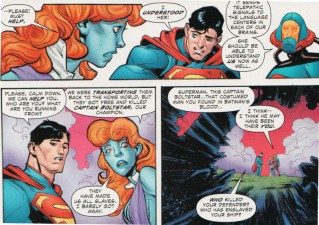 Where this issue falls down is the lack of consistency in the art. When two artists work on a book, you have a situation where either both try to achieve a similar look or both just utilize their own styles and let the reader in on the obvious differences.
Here, Karl Kerschl and Scott Hepburn don't mesh their looks in a convincing manner. For crying out loud, guys; on page 9, Supes looks like Quasimodo from Disney's animated film, The Hunchback of Notre Dame (1996).
DC has a good thing going with this series, so please keep the Superman-with-guest-star stories in the Superman book, and leave this title for the unique stories that are the backbone of this team-up.
Jeff Lemire (W), Karl Kerschl and Scott Hepburn (A) • DC Comics, $3.99 May 7, 2014