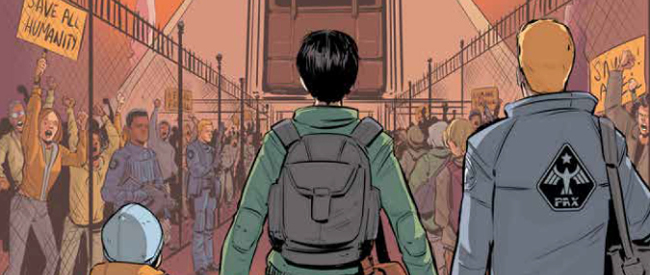 Frank J. Barbiere, Christopher Peterson, and Marissa Louise offer up hard sci-fi concepts and few easy answers in the first issue of their Boom! Studios miniseries.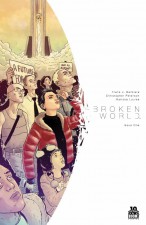 Early in Broken World, an unnamed young man wanders through a deserted schoolyard, headphones around his ears and presumably blaring. He has no claim to fame, other than being part of the unlucky segment of humanity remaining on Earth after a global evacuation: one of "those deemed unfit for the next chapter of human history," as a newscaster grimly intones at the beginning of the book.
But there this lone student is, nonetheless. Alone. Alive. Existing.
Broken World is a testament to empty spaces and the many ways people try to fill them, ranging from the great void of space to the surprising distances that exist between us and the people we think we know best. The book's hard sci-fi leanings are uncommon territory for Boom! Studios, while its emotional heft is a staggering accomplishment for the team of Barbiere, Peterson, and Louise.
Fans of recent arthouse apocalyptic film and TV like Melancholia and The Leftovers will quickly be entranced by the story of Elena, a professor who's hiding a big secret from her husband and son despite the massive asteroid that's hurtling towards Earth. Thanks to some back-channel maneuvering, she's now preparing to leave the planet with her family during the final days of the so-called 'Exodus.'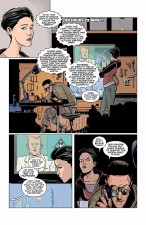 This first issue plays out over the course of Elena's last two days before she's due to join the rest of the chosen in the Arks beyond Earth's orbit.
Barbiere keeps the tension high with an ongoing countdown, but he's not afraid to zero in on a particular scene and let it play out. This deliberate pacing leads to some powerful moments, such as Elena's uneasy conversation with the paranoid purveyor of her forged documents: "You can hold out with your optimism, but I'm gonna enjoy my last two days with beer and classic rock." There's a recognizable humanity to the bad jokes and reassurances – the many ways we fill those empty spaces.
In addition to the looming apocalypse, we're also introduced to one group with a dogma that showcases the darker side of human belief. The Children of the Revelation engage in violent protests and argue for the last denizens of Earth to take the "merciful" way out.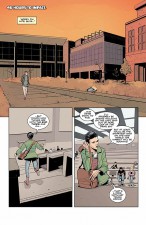 Given the high-concept plot, it's not surprising that there's a lot of story to cover in this first issue. For the most part, the telegraphing feels natural: who hasn't experienced the temptation to go over and over the same details in the face of impending disaster, even when you know there's nothing more you can do?
However, the art team of Peterson and Louise is a large part of why even the less subtle scenes come across with such effectiveness.
Peterson has already delivered impressive work with Alex De Campi in the Z-horror love letter, Grindhouse and with Curt Pires in Black Mask's "cultists in Los Angeles" surreal thriller, Mayday. In Broken World, he and Louise show what they can do with a relatively small-scale character drama.
It may be the end of the world, but these characters are human – real people with no power other than what they make themselves. Throughout this first issue, it's a joy to watch these "actors" express and interact, even in the more dialogue-heavy scenes. To Barbiere's credit, he typically knows when a silent panel will convey a point with even more force.
Even in an age when comics are seemingly in a new renaissance, it's still worth celebrating stories that strike a real emotional chord such as this one. The ending of this first issue turns the concept on its head and promises bold revelations to come, but the first issue of Broken World is more than just a #1.
It's a testament to strong bonds and difficult choices, and the marks both leave behind on the spaces we share.
Frank J. Barbiere (W), Christopher Peterson (A), Marissa Louise (C) • Boom! Studios, $3.99, June 3, 2015