Acclaimed for his focus on the working classes, comic creator Baru has created such blue-collar masterpieces as L'autoroute du soleil and Bonne Année. However, he remains criminally below the radar in the Anglophone world, where only Road To America has seen an English-language release. Canicule (or Heat Wave in English) is his latest masterpiece, and represents a return to form for the creator after two earlier disappointing albums.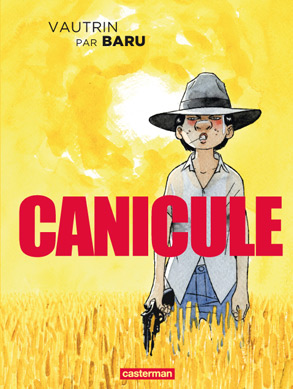 Infamous gangster Jimmy Cobb has reached the end of his luck; haunted by the police at every turn, he takes refuge at a farm in the middle of nowhere, amid a family terrorised by their stepfather.
Among the inhabitants are a sex-crazed granddaughter, a mother out for vengeance on her abusive husband and the youngster Aniello, whose constant beatings by the pater familias make sure he will go to extreme measures to escape these dreary backwaters.
Based upon the novel by Jean Vautrin, Baru turns Canicule into a blisteringly hot crime story full of twists and turns, inhabited by amoral characters. The reader constantly shifts allegiances as characters shift their integrity throughout the story. Just when you think you've got to know a character, the interplay of the various participants forces them into another direction.
Baru turns the novel into a superb fusion of text and visuals, and infuses it with a lot of dark humour. Much of the violence and betrayal is implied and not shown outright, and characters run from one end of the page to another, constantly changing place and loyalty.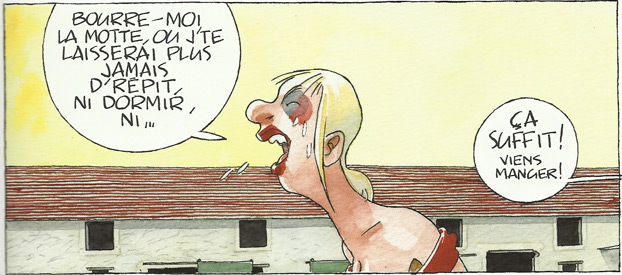 Plot twists happen at every turn, and all the while the mood and tempo of the proceedings threaten to overtake all. A lot certainly happens a lot in these pages, in the events that play themselves out in the microcosm of the farm and its seven major players.
All the while, Baru drowns the pages in blistering yellow and subdued oranges, in his signature watercolor style. The heat is quite figuratively and literally on. His dynamic figure work and body postures let the spit, blood and sweat fly all over the place, and drive up the tension as all of the characters converge on a tense showdown.
As usual, Baru's characters are real people wearing their nature on their face. His designs for the farming people, gangsters, nymphomaniac etc are all so spot on that – coupled with their body language – the reader is entranced immediately and absorbed into the story.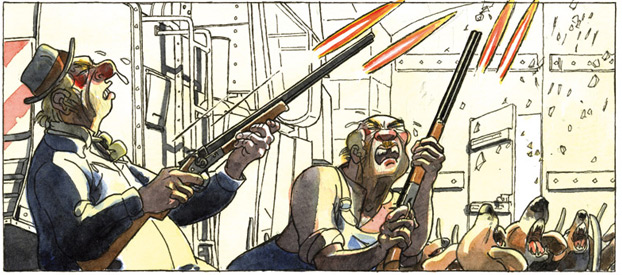 Vautrin's crime novel seems made to order for Baru's artistic skills. In his hands, Canicule is transformed into a scorching uptempo graphic novel where all the players are unpredictable moral monsters driven by either revenge or greed.
Baru's bright colours and eccentric character designs accentuate their working-class background and infuse some humour, while still keeping true to the old adage that we should "never judge by appearances". This is highly recommended, and let's hope that Drawn & Quarterly picks it up for international publication.
Canicule by Baru is published in French by Casterman. It is an oversized full-colour hardcover counting 112 pages. It retails for €18. This review was based on the Dutch edition, published by Ballon Media.