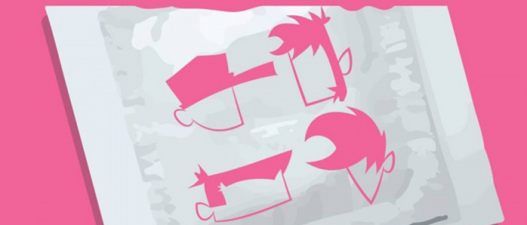 This look at life in Seattle's "gay-bourhood" is graphic, crass, and pretty darn funny, which it owes to Chris Lange's honest writing and the serious sociopolitical issues that lie at the comic's foundation: artistic freedom and human rights.
The Internet has been the single greatest gift to artistic expression. Artists and photographers can show their work without needing to book an exclusive gallery exhibit. Comedians, writers, and filmmakers can create, fund, and disseminate their original works online more widely and far less expensively than if they had to go through the studio system.
And while it's true that the involvement of galleries and movie studios still tend to be the mark of either financial or critical success, what the Internet has created is a venue through which anyone can express themselves artistically and anyone has the potential to experience that work.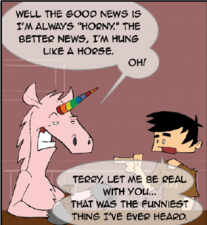 Comics absolutely fall into this category. There are thousands upon thousands of webcomics on the Internet, and what that online venue allows for is a truer artistic voice than a newspaper "funnies" section could afford: essentially, the Internet is censorship-free. And it is only in that environment that Chris Lange's Capitol Hillbillies could possibly exist.
The quasi-autobiographical strip – the first 200 instalments of which are now collected in print in Capitol Hillbillies Volume 1 – chronicles the journeys and exploits of four gay friends living in Capitol Hill, affectionately referred to as Seattle's "gay-bourhood".
Like many others, the strip revolves around explorations of sex, dating, and popular culture by the four main characters. However, where Capitol Hillbillies stands out is in its unashamed frankness.
No punches are pulled in Chris Lange's writing. The crude, the unsavoury, and the uncomfortable are all on full display in this comic. And the best part is that it has so little to do with being gay. Lange writes from that place, but what he exposes through the instalments of the strip are the deviancies, fetishes, desires, and needs that both plague the casual dating scene and make it so exhilarating.
He depicts a journey of experimentation and discovery that resonates no matter where you fall on the spectrum of sexuality, and it's a testament to the brutal honesty of Lange's writing that the strip transcends its LGBTQ label.
This is not an LGBTQ comic: it is a comic for everyone, which features LGBTQ characters. It is crude, disgusting, and hilarious – much like real life, which is infused throughout and highlighted by the inclusion of Lange's commentary on certain strips.

But what I love best about Capitol Hillbillies is how form and content are so well matched in its pages. The casual lifestyles of its characters are full of minor triumphs and glorious failures. It isn't always pretty (in fact, it seldom is), but it is deliciously human.
And that's the point; the LGBTQ movement represents one of our fundamental human rights: that every one of us has the right to be true to ourselves, including whom we choose to love or simply with whom we want to have sex.
Art functions in much the same way; each piece of art will resonate with some people and not with others, but that is exactly why it is all of equal value. It was inspired by something in the artist – perhaps real events, perhaps fantasy – and that artist has a right to self-express as truly as they can. The Internet has championed free expression since its inception, and recent calls to restrict net neutrality are as dangerous to art as anti-gay politics are to human rights.
Capitol Hillbillies may not be the smartest comic, nor the best drawn. It may not stand the test of time, but there is something hopeful about this printed volume. It is a little piece of archived freedom in the form of four guys who love enormous dicks.
Chris Lange (W/A) • Northwest Press, $19.99, July 23, 2014