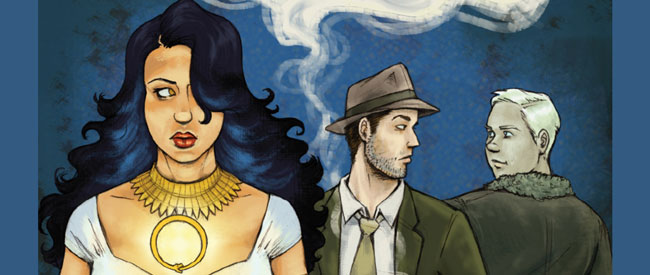 In Dash #1, writer Dave Ebersole and artist Delia Gable cook up an engaging and enjoyable tale of shadowy goings-on in the City of Angels.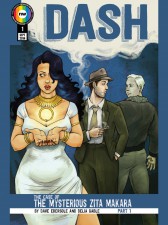 Having brushed off the stardust from SPX, where QU33R, edited by Rob Kirby, picked up the Ignatz Award for Outstanding Collection or Anthology, Zan Christensen at Seattle's Northwest Press has gone back to what he does best – putting out fine comic books with an LGBT slant that reflect better than most the world around us.
Although, in the company's new ongoing crime series Dash, by Dave Ebersole and Delia Gable, that world is a little more remote. The series is set in 1940 Los Angeles – a time of style, glamour and mystery, but also a time of apprehension for a gay PI trying to keep his 'notoriety' under wraps.
The dick in question is Dash Malone, who receives a visit from the mysterious and exotic Zita Makara. She offers him what looks like the most straightforward of slightly shady gigs: handing over a packet of cash and picking up a package in return.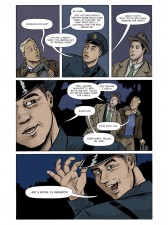 However, Dash's instincts warn him off, and by the genuinely shocking conclusion of the issue, which hints at a supernatural element to the set-up, it seems he was right.
Ebersole's script plays nicely with the conventions of noir (we have first-person narration and an opening scene with a would-be femme fatale client), easing the reader in with the familiar before gently starting to pull the rug from under them.
Dash's life is further complicated by his homosexuality, in an altogether less accepting era. In particular, he's plagued by his fatal attraction to Johnny 'Plink' Plinketts – a shady antiques dealer who sporadically drops into his life.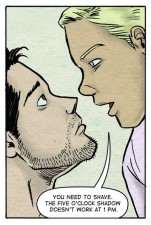 Dash applies the same 'eyes' test in both his professional and personal lives to decide whether he should trust Zita and/or Plink. But while they both fail, Dash chooses not to act on his hunch with Plink; his weakness for a pretty face is a flaw from which he can't extricate himself.
Delia Gable's artwork has a lot of cartoony charm, matching the tone of the story and striking the right balance between clarity and period atmosphere. Her 'acting' is strong throughout, especially in her delightful depiction of Cindy Crenshaw, Dash's sparky receptionist. (The banter between Dash and Cindy also helps to keep the comic's energy level high during its more conversational scenes.)
Dash #1 isn't a book that's going to rock comics to their foundations, but it's an enjoyable and very engaging opener that takes a familiar set-up and gives it a fresh twist. Northwest Press do more than most to embody the mantra they use as their tagline: 'comics are for everyone'.
Dave Ebersole (W), Delia Gable (A) • Northwest Press, $3.99 (print)/$2.99 (digital), September 23, 2014.